The year 2017 for both adult fantasy and YA novels is pretty varied this year. From final books, debuts and everything in between, lots of people are excited for stuff that's coming out. I figured I would show some books I cannot wait for this year.
I have read most of my anticipated releases for January and this month and I'll have reviews, or links to my Goodreads reviews to them soon. For now, here's my list going from March to November. There are lots of other books I do want to check out, these 11 trump all others.
* All dates are subject to change with these listed releases…but hopefully they're not
Snapshot by Brandon Sanderson
First published: February 17th, but also listed expected release date: April 2017
This is a new short story from amazing fantasy author Brandon Sanderson. Anthony Davis is a detective that is on "Snapshot Duty," where society can experience the events in snapshots, especially for court cases. It's also set in the same world as his novella series Legion and MGM recently acquired the rights to it 😀 If you love Sanderson, or want to dip your fingers into his vast cannon, try this short novel and see you think. The article on his website that talks about the MGM rights, as well as  more of the story is linked below 🙂
http://brandonsanderson.com/mgm-options-brandons-forthcoming-novella-snapshot/
2. The Song Rising by Samantha Shannon
Release Date: March 7th
Oh boy was The Bone Season so good! What a cool, intricate and smart series starter. I have the sequel already in my possession and I can't wait to devour it. This sounds like an awesome sequel from what I've heard from early reviews, and I'm glad that they were able to still publish the original artwork. If you love that artwork, please support it by getting the special hardcovers. I don't get why the covers were changed, but the personal hype for me for this book is unreal.
3. Strange the Dreamer by Laini Taylor
Release Date: March 28th
Ever since I met Laini Taylor last year at a book signing, and heard her talk about the process of writing this book, I was so stoked for this to come out this year, especially since the heartbreaking push back to this year. I enjoyed her Daughter of Smoke and Bone trilogy and want to read more by her. I've seen a couple early reviews and it makes me even more optimistic for this hyped release. Plus, if you love listening to audio books, this will be narrated by the impeccable Steve West (An Ember in the Ashes and The Scorpio Races to mention a few)
4. Defy the Stars by Claudia Gray
Expected Release Date: April 4, 2017
I do have a Net Galley copy of this book, but I'm excited to read it. I've been hearing that's a fun sci-fi adventure. I've been wanting to read more of the genre, since I haven't really known what to read. It'll also be my first book by Gray that I've read. So far, it be only a standalone, but hey, adventures in space are always fun 🙂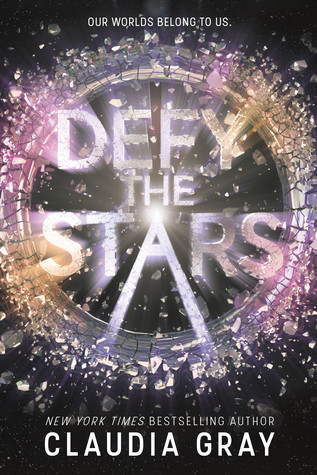 5. The Shadow Land by Elizabeth Kostova
Release Date: April 11th
I read Kostova's debut novel The Historian 10 years ago in high school. It was the first adult novel (that wasn't a classic) that I really loved. It was a rich layered, atmospheric story involving the history of Vlad the Impaler.  So, when I saw on Goodreads that she had a new novel out this year, I immediately got it from Net Galley (I'm currently reading it). It's about a young girl who goes to Bulgaria and ends up with an urn of human ashes in her possession. The book will explore the past of the human remains and possibly about the young girl as well. If you read The Historian, or if you're curious about this author at all, try it and see! I'll have a review for this book up soon once I finish it 🙂
6. The Black Witch (The Black Witch Chronicles #1) by Laurie Forest
Release Date: May 2nd
A Great Winged One will soon arise and cast his fearsome shadow upon the land. And just as Night slays Day, and Day slays Night, so also shall another Black Witch rise to meet him, her powers vast beyond imagining.
A debut novel set in a classic fantasy setting with good and evil witches? Alrighty! I got to read a sample through Buzz Books Monthly and this sample wasn't long enough. I couldn't get enough of the rich setting and the promise of crackling magic and a great world. The blurb listed above (from Goodreads) makes me pumped for another debut novel. Try to get your hands on this once it's released. (I'm dying for a full Net Galley copy!)
7. When Dimple Met Rishi by Sandhya Menon
Release Date: May 30th
I've watched a couple Bollywood films and really enjoyed them. I've always been interested in more Indian  culture. This started getting a ton of buzz on YouTube late last year and I fell in love with the idea of young Indian-American teens that are put into an arranged marriage. The early reviews promise a rich culture, cute characters and a possibly swoon worthy romance. May seriously can't come soon enough!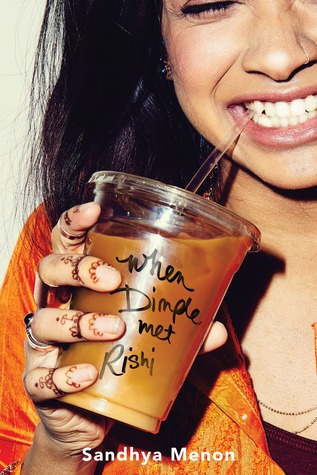 8. Roar (Stealing Storms #1) by Cora Carmack
Release Date: June 13th
I read a sample of this book in a recent edition of Buzz Books Monthly from Net Galley. I love when they do the seasonal compilations that give several upcoming titles. It was interesting to read a sample of an author going to fantasy from new adult. It involves a girl who is supposed to have political marriage and there's storm magic and a looming threat involved. The explanation of the storm magic I got in the sample was pretty decent and I liked the characters as well. I'm intrigued to see how the rest of the book unfolds.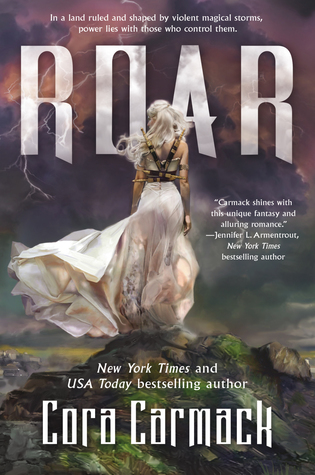 9. The Dire King (Jackaby #4) by William Ritter
Expected Release Date: August 22nd
GUYS! I just found this out today and this shiznit just got real! I went all fan girl, flappy hands faster than a girl seeing Benedict Cumberbatch.  love this series so much and have been dying to find out when this final book will be out. I read all three books last year and love this quirky, folklore filled series set in 1892 New England. I'm beyond sad that this is the final volume, but I can't review this series enough. Sadly no cover yet, but I'll post an update on this series once we get more info and even do a series review. Stay tuned and go try Jackaby 🙂 (I'm praying that Net Galley will get copies of this before release date!)
10. Into the Bright Unknown (Gold Seer #3) by Rae Carson
Release Date: October 10th
The final book in the Gold Seer trilogy just got a cover reveal this month through Rae Carson's twitter! When I saw this piece of art, I forgot about everything around me. This western fantasy series has truly captured my heart. It's set during 1849 America when the Gold Rush was becoming very prominent. It follows Leah Westfall and her gold sensing abilities and how she tries to find peace and understand her gold powers. It's got a great setting, such rich history, some diverse side characters and, as usual, Rae Carson's gorgeous writing. I highly recommend the audio books for this series as well. My heart is sad that this series will be over, but all good things must come to an end. Hopefully it's a great one 🙂
10. Oathbringer (Stormlight Archive #3) by Brandon Sanderson
Expected Release Date: November 14th
After about 3 years, the next hefty tome in this spellbinding, political and rich fantasy will be ours! My husband and I love Sanderson's works. This series is his favorite and we're both stoked to see more of Dalinar's story in this volume. Sanderson doesn't give major details about these details, and while they take a couple years to write, each wait is worth it. Now…I know what you're thinking: But girl, there's at least 1000 pages per book! That's longer than Game of Thrones! They're intimidating. While that's true, don't fear friends. While these books are long, they're fast paced and stuffed past the brim with first class world building, mystery, fight scenes that excite the picky fantasy reader and characters you cannot resist rooting for. The audio books are also fantastic as well. I've listened to both volumes, and trust me, they help make the time go by and make it not feel as long. Kate Reading and Michael Kramer add charisma to Sanderson's phenomenal story that, in my opinion, is far above Game of Thrones. We're still waiting for the cover reveal and stuff, but trust me, the end of 2017 will be epic 🙂
I know this list was a little long, but for real, 2017 yields some great books coming out. Comment below and tell some of your anticipated releases or if you've read any books by these authors and what you think 🙂 Thanks as always for stopping by. Have an awesome day!