This is such a fun tag created Bekah  AwesomeBookNut! She's such a great YouTuber and blogger whose always smiling and positive. Her original video is linked below and then my answers after that. Definitely do this tag if you haven't done in a while 🙂
1. What is a well loved book that you hated?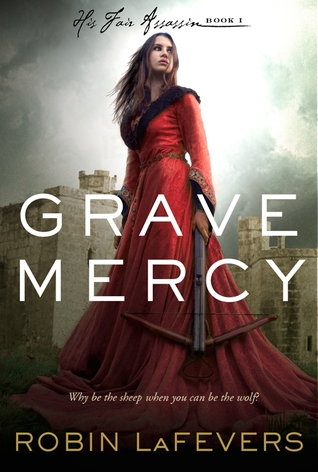 Grave Mercy by Robin LaFevers. I heard about this on many YouTube channels, so I got the audio book from my library. While the time period was interesting, I thought the whole "assassin nun" thing and a "healing power through sex" felt degrading to me and the romance felt creepy as well. Ended up DNF'ing the book halfway through and had to spoil myself for the end, which didn't help.
2. What is a guilty pleasure book?
I don't really think there's such a thing as a "guilty pleasure" book. You read books and you find out what you do or don't like 🙂
3. Have you ever spoiled a book for someone? If so, what book?
I can't think of any. But I always ask when talking to someone about a book if they don't care about spoilers. I don't do spoilers in my reviews as well as in real life.
4. What book made you ugly cry?
I don't cry much in books, but one that I cried while reading was My Name Used to be Muhammad. It's the real life story of was raised extremist Muslim (Al-Quaeda) in Nigeria and his story of how he becomes a Christian, learns to feel hope and overcoming his trials. The ending was fulfilling and beautiful and highly recommend it if you love reading memoirs. I also gained some great education on Islam as a religion and loved what I learned about both the true religion as well as those who do go extreme. (Hopefully that came across alright)
5. What is your latest DNF?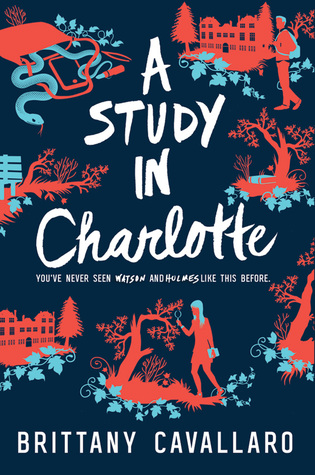 That's the audio book of A Study in Charlotte by Brittany Cavallaro. I had heard decent things and wanted to try a Sherlock retelling. Unfortunately, after almost three hours, I was bored out of my mind. There was no true sense of drama, urgency and the female Sherlock character was just awful, dark and too addicted to drugs that any teenager shouldn't. Plus, with the setting being a prestigious boarding school. the adults were not present and the teenage characters could do drugs, deal drugs and have tons of alcohol on campus…what the crap?!
6. Have you read a book solely due to controversy?
So far I haven't. I'm a mood reader and also have been very picky with my limited reading time. I'll read or listen to something when I get to it 🙂
7. Have you read a book where you questioned the author's sanity?
I'm only limiting this to books I've read personally. One that I can think of is The Black Prism by Brent Weeks. I listened to this on a long car drive and there's was excruciating scene where people talk about both a pregnant woman and the baby were killed and they were just all chilling when talking about it. I was floored by someone could be okay with writing something in such detail. It really upset me and I've been hesitant to pick the rest of the series back up. Explicitly violent books are a major taboo for me. You can reference a thing or two and be done with it, in my opinion.
8. What is the most cringe worthy book you've read?
That goes to both Breaking Dawn by Stephenie Meyer and City of Bones by Cassandra Clare. I had actually pre-ordered Breaking Dawn and after reading it, I've never even touched it again….
SPOILERS AHEAD FOR THESE BOOKS. READ AS YOU WILL
So…let's talk about those books. For Stephenie Meyer's seizure inducing eyesore of a final book is filled with very poor editing, abhorrent dialogue that read drastically different and that imprinting with Jacob with a baby?! This book needed to go back to the editing process before it came out. We could've lived without that questionable content.
As far as City of Bones is concerned, I'll be scathingly honest here. It is never okay to toy with incest! It's wrong, disgusting and how can your characters not question that? Obviously, I've seen that it gets cleared up in the series. BUT! They still stuck their tongues down each other's throats, hormones on rage pleasure mode and they never question this statement if it's wrong. That's an awful way to introduce an already bad relationship. Not only that, but it read like an uncorrected internet fan-fiction (it was a HP fan fiction initially).  There's been hazy stuff going on in general since this was published, but when I read that after high school, this author is not for me.
9. What book have you solely read by the cover?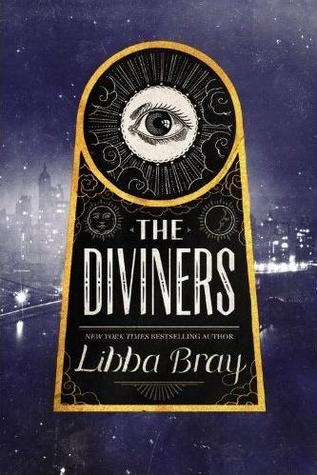 That's definitely The Diviners by Libba Bray. I saw it as a recommendation on Amazon, read a sample and immediately bought the book. The original cover is very alluring and has a 1920's and a supernatural feel that oozes from it's gorgeous cover. I read it in a matter of days and highly recommend if you love reading about the 1920's, people with special abilities or a diverse book to read.
10. Name a book that you're embarrassed to have read.
That goes to The Crown's Game by Evelyn Skye. I had seen a few reviews that tore this book to shreds. But at a book signing, Sabaa Tahir recommended it to me. So I gave the audio book a try…and stopped at chapter 18. Not even the amazing narrator (Steve West) could save this awful, eye rolling rip off. This is a bad rip off of The Night Circus. I had heard that comparison and it already made me wary before the book. Need more convincing of this argument? Read the linked review done by the awesome Emily May of her breakdown of this awful book. I echo all her thoughts completely.
https://www.goodreads.com/review/show/1471417266?book_show_action=false&from_review_page=1
11. Name an unknown book people should read
Please please please read Phantom by Susan Kay. If you love anything about "Phantom of the Opera" this has to be on your shelf. It's from different points of view as the Phantom is born, grows up, joins the circus, becomes an assassin and many other things before meeting Christine. While it was written in 1990, I try to recommend it to everyone who loves the musical, any movie adaptation of it or the original Gaston Leroux novel. It's a beautiful character study of the Phantom as you should really see him. Here's a quote from inside the flap of the book to entice you:
"My mind has touched the farthest horizons of mortal imagination and reaches ever outward to embrace infinity. There is no knowledge beyond my comprehension, no art or skill upon this entire planet that lies beyond the mastery of my hand. And yet, like Faust, I look in vain, I learn in vain. . . . For as long as I live, no woman will ever look on me in love." -Erik, Phantom
12. Name a favorite villain!
That would be the real bad guy in the original Mistborn trilogy by Brandon Sanderson. This enemy is ruthless, cunning and completely unexpected. If you need a good villain in a three book series, pick this one up!
13. Name a favorite book that's outside your normal genres.
I really loved the short story Young Goodman Brown  by Nathaniel Hawthorne. Originally published anonymously in 1835 and later under his own name in 1846, this short story tells of young Goodman Brown who goes into the woods at night to complete an unknown errand in the nearby forest. He encounters something that is very symbolic, shocking and leaves you reeling and studying to find out the meaning of the story. I studied this in two different literature classes and looked at it through many different lenses/tactics. No matter what way you come at it, be prepared to form theories and discover the many hidden things in this fantastic short story.
14. Name a trope you like reading
I actually don't mind stories of people who find out they have a special ability, especially under dangerous circumstances. Many authors have done this well enough that I don't get sick of it. It's interesting to see how far the author raises the stakes with those circumstances, as well as the creative aspect of the ability itself. Some examples of this trope are: Midnighters by Scott Westerfeld, The Girl of Fire and Thorns by Rae Carson, A Great and Terrible Beauty by Libba Bray and of course Harry Potter.
Alright, I know that was a bit long but thanks for reading! I love this tag and I'll just say that if you want to do this tag, go for it and link your post down below so I can see your answers.
Have a great day guys 🙂