Ever since the diversity talk became a hot topic recently, it did make want to branch out more. I mainly read the premise and do a bit of research before I read books. But with a lot of diverse being released within the last few years, I want to jump in. I'm focusing on cultural, ethnic and the fields of disabilities and illnesses both mental and physical. These aren't in any order 🙂
1. american street by ibi zoboi

This is about a Haitian girl who tries to find her place in the United States, especially with her mom detained and living in a new country. A friend of mine went to Haiti after the earthquake to give medical help and assist with surgeries. Her story of her experience with the people and the hope she did see was beautiful to hear and I've always wanted to read about a Haitian family. Now here's my chance 🙂 I currently have this from my library and can't wait to pick it up.
2. city of saints & THIEVES by natalie c. anderson
In Kenya, Tina and her mother try to have a better life after escaping the Congo. But her mother was murdered and now Tina goes back to her mother's previous employer for revenge. I'm not a big murder mystery/thriller person, but I read the first couple pages online and really enjoyed it. I've only read one short based in Africa and want to read more 🙂
3. The weight of feathers by anna-marie mclemore
This magical realism story follows a French family that uses wings and tightropes and a Hispanic family (Palomas) that use mermaid tails that have hated each other for years. But, just like Romeo and Juliet, a love story ensues between the two families. I read the first couple chapters and love how both French and Spanish are used to show the families heritage and personalities. Plus, they're traveling performers 🙂 I always have a soft spot for stories like this. The writing flows like honey and promises a beautiful story.
4. empress of a thousand lanterns by julie c. dao
Release Date: October 10th, 2017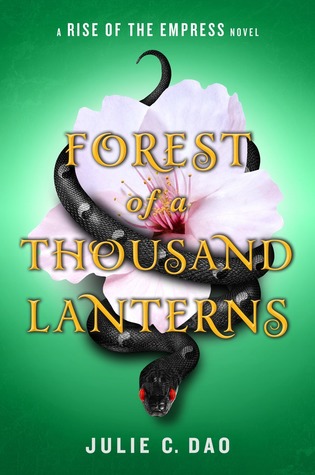 The Wrath and the Dawn meets Snow White and the Huntsman in this dark and mystical East Asian fantasy reimagining of The Evil Queen legend!
That line on Goodreads had me interested immediately. It's an Own Voices fantasy debut novel set to come out later this year. I've been wanting to read more Asian based novels since I've loved books like Memoirs of a Geisha. A young girl has a fortune for greatness, but things get very complicated very fast. This has such potential to be a beautiful exotic gem. Can't wait for October 🙂
5. you're welcome universe by whitney gardner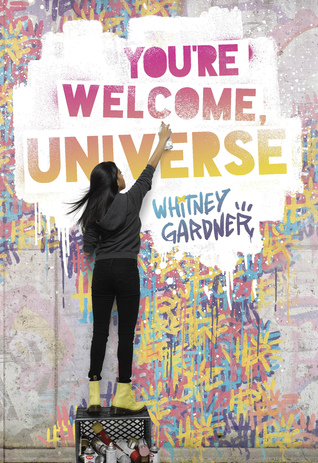 Another debut novel? The pile keeps getting bigger 🙂 This tells the story of a deaf Indian girl who sees her friends name being slandered on the back of a wall of  a school for the deaf, she covers it with graffiti. A girl who stands up for her friend is something we always need. It sounds fun, insightful and a great story that many teens can relate to. *Big shout out to Salmah over at her blog that listed this as one of her anticipated releases*
6. lair of dreams by libba bray
I'm currently re-reading The Diviners in anticipation for this book and the third being released in October. I haven't picked this up yet (shame on me), but I cannot recommend  this series enough. This installment follows a sleeping sickness falling over New York. People start to die if they stay asleep long enough. There's a great amount of diverse in this 1920's series. There's a Chinese girl that finally gets some "screen" time in the book and there's people of color, different religions and one LGBT character that has the dream walking ability. Go check out the first book if you haven't yet. The audio book is superb and creepy.
7. in order to live: a north korean girl's journey to freedom by yeonmi park
Stories like these are ones we only hear whispers of on the news and the internet. That should never be the case. A few channels on Booktube have raved about this haunting and hopeful story of how Yeonmi escapes North Korea, gets caught in human trafficking before finding freedom in South Korea. The courage that people like her have to escape their own country is unimaginable for someone like me who lives in America. This will be horrifying, educational and an important read.
8. i am malala: the story of the girl who stood up for education and was shot by the taliban by malala yousafzai & christina lamb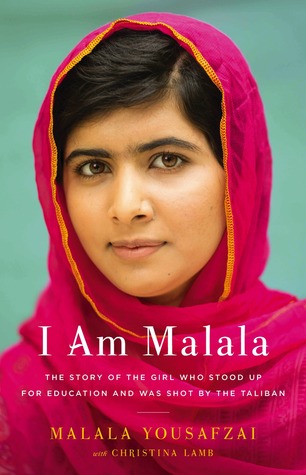 This young girl is amazing and a role model for all girls in the world. Every time I saw her speak, she was genuine, hopeful and unafraid of those who tried to kill her. I've heard bits and pieces of her story, but I want to experience the entire story. She's made a beautiful difference in this world, and I think any young girl needs to read this to remember their freedom, fight for their education and be strong 🙂
9. the paper MENAGERIE and other stories by ken liu
I heard about this book from Kitty G over on YouTube, whose a huge fantasy reader and is always very eloquent in her thoughts. This collection of short stories offers glimpses into Asian countries, outer space, families and magic. His title short story about a boy who interacts with paper origami animals won three consecutive awards: Hugo, Nebula and the World Fantasy Award in the short work category. That shows prominence and power right there! I read one story so far about books that is deep, original and captivating. If you want another option for a diverse Asian book, here you are 🙂
10. iron cast by destiny soria
This book is described as one for fans of  The Diviners by Libba Bray? All signs point to YES! This standalone novel is set in 1919 Massachusetts. It follows friends Ada and Corinne who work at a underground nightclub where they create illusions with their artistic abilities. But when Ada gets imprisoned in Haversham Aslyum, only Corinne can break her friend out. Filled with friendship, women of color, magic and addressing racism, I cannot wait to read this book that seems very underrated.
a few honorable mentions:
Hidden Figures: The American Dream and the Untold Story of the Black Women Mathematicians Who Helped Win the Space Race by Margot Lee Shetterley
Nujeen: One Girl's Incredible Journey from War-torn Syria in a Wheelchair by Nujeen Mustafa & Christina Lamb
Molokai'i by Alan Brennert
A Crown of Wishes by Roshani Chokshi
Nora & Kettle by Lauren Nicole Taylor
Flame in the Mist by Renee Ahdieh
I know this was a long list, but it's so great that so many diverse books are around us. Let us be grateful for what books we receive and show them love. I hope you guys saw some books on this list that you haven't heard of before and that you liked this list. If I read any other books not listed, no biggie. Comment down below and let me know of some diverse books that take place in different countries and especially some with deaf culture and neuro diversity. If I labeled anything incorrectly, let me know. I'm new at talking about the diversity topic.
Have a great day guys 🙂