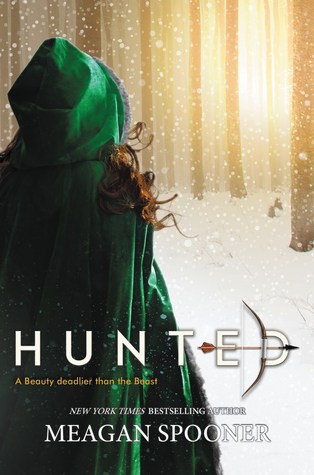 Title: Hunted
Genre: YA fantasy/retelling
Published: March 14th, 2017
Narrators: Will Damron & Saskia Maarleveld
Audio Length: 9 hours,  19 minutes
This book wasn't really on my radar. I've been hesitant of some retellings because I thought Heartless was awful and the first three Lunar Chronicles were too convenient, boring writing style and no threat from the villain. I do love The Forbidden Wish and the classic Beauty by Robin McKinley. But when I noticed that my library was getting the audio book, I randomly grabbed it on a whim. Plus, the new Beauty and the Beast made me want to read it. Holy crap was I glad I read this!
Synopsis: Yeva has always being in the woods and hunting, having been trained by her father. But after her family suffers a large loss of their fortune, their father takes Yeva and her two sisters to live in his cabin in the woods to wait until things get better. But when her father goes missing, after raving about a "beast" tracking him, Yeva ventures out to find out what happened to him. It turns out that the "beast" may be real…
Characters: Yeva is such a wonderful character! She knows how to skin, hunt, tracking, which roots to eat, etc. She's a skilled hunter that loves being in the wild. But she also loves her sisters and father. Her family dynamic was beautiful and heartwarming to read about. All three sisters looked out for each other, believed in one another and were also selfless in many ways. But to me, Yeva IS what a "bad ass" female is. She's: kind, compassionate, smart, brave, selfless, asks questions, communicates her feelings and defends what she knows is right. Her skills to kill do not define her. She works for what she wants and it offers amazing character development.
Solmir is a young man who admires Yeva's skill for hunting and knows that she doesn't prefer the life of spending time with women talking about the weather. He offers marriage after her father goes missing to help support them. In this time  period where women can't do anything after a father/spouse/brother dies, this is a big sacrifice for Yeva to accept. He's a respectable man and both of them communicate! I can't emphasize enough how we all get annoyed when characters don't communicate.
Then, there's the Beast. You get his perspective in this book as well. But his POV's are short, ominous and sometimes creepy. He is cold, threatening and offers a power struggle against Yeva once they meet. But that's all I'll say. No spoilers 🙂
Note: I need to address this now. I've been seeing reviews for this book that there's a "love triangle" and that affected their rating. There is NO love triangle in this book. Yeva does not love Solmir. She thinks she could love him, but comes to love him more like a brother. He helps take care of her family and she's grateful, but no romantic feelings evolve from that. Romance in general in this book is nonexistent for more than 60% of this book. I see love triangles as all three people having feelings for each other and angsty stuff ensues. But yeah, if you don't like this trope like me, don't worry. It's not there. I wouldn't have given it 5 stars if it was present.
Writing: Meagan Spooner is on my radar and I will read everything she writes! This book is written in third person, which seems a bit uncommon for fairy tale retellings. Her writing makes the forest cold, isolated and sometimes lonely. She presents her characters as very human and tests  her characters. They don't get everything they want because the plot lets them. She lets the characters develop themselves naturally and nothing feels forced. Here's an example of what her writing is like:
" BEAST

We always know when the change comes. When a storm approaches, we feel it in the thickness of the air, the tension in the earth awaiting the blanket of snow. We feel the moment the wind changes direction. We sense a shift of power when it is coming.

Tonight, there is hunger in the air. The forest waits for something. We pace, our steps stirring the early snows. Our frustration vents in growls and grunts. Each of us could read the change to come, neither hindered by the other. We could track it, or we could run with it. But we are trapped, and we can do neither. 

We always know when the change comes–but we never know what the change will bring." (opening paragraphs, pg. 1)
Audio Book Narrators: Here's where it might be hard to recommend the audio book. My favorite of the two is Will Damron. His vocal interpretation of the Beast is rough, wild and deep. He brings the character to life and I was always waiting to get his perspective again. But Saskia Maarleveld is one I'm on the fence about. When she reads normal prose, she's good and she does have great accents and having proper annunciation of terms. But when it came to emotions like sadness, urgency and surprise, it wasn't in her voice. I still felt all the emotions in this book through Spooner's great writing, but I'm bummed that the female narrator didn't do a ton like the male narrator did. I've listed the Audible 5 minute sampler so you can listen for yourself.
If you're already a fan of Saskia Maarleveld, you'll love this audio book. I'm gonna give her another chance with another audio book I have and see how I feel there. But I do highly recommend the audio for Will Damron and the great job he does.
http://www.audible.com/pd/Sci-Fi-Fantasy/Hunted-Audiobook/B01N5CI1FC/ref=a_search_c4_1_1_srTtl?qid=1490800375&sr=1-1
Rating: 
Final Thoughts: This book actually helped me escape every time I put in my headphones. I've been struggling with that recently and this was such a revelation for me. A beautiful, bit more mature fairy tale retelling with characters ask important questions, think about their situation, fight for what they want and communicating with each other. If you're looking for  a YA novel that offers meat and more than convenient plots and annoying common tropes, please pick this up. I can't wait to see what Meagan Spooner comes up with next. Comment below if you've read this or want to and let's talk about it.
Have a great day guys 🙂