I personally love that you can read a sneak peek on NetGalley on upcoming releases. It helps me get a feel for what's coming and get a clean slate perspective. I've been very hestitant to read books that have lots of differing opinions recently; if I read or watch too many reviews, I feel those biased thoughts seep into my own reading experience. But I snatched three samples recently and read them, with two being released in June and one already having been out for a while. This are listed in the chronological order that I read them, a very brief synopsis, rating and some thoughts (if I'll read the whole thing or not).
*All pictures are from Gooreads*
1. Once and For All by Sarah Dessen
Release Date: June 6, 2017
Genre: YA Contemporary
Goodreads Synopsis: Louna, daughter of famed wedding planner Natalie Barrett, has seen every sort of wedding: on the beach, at historic mansions, in fancy hotels and clubs. Perhaps that's why she's cynical about happily-ever-after endings, especially since her own first love ended tragically. When Louna meets charming, happy-go-lucky serial dater Ambrose, she holds him at arm's length. But Ambrose isn't about to be discouraged, now that he's met the one girl he really wants.
Rating so far: 
My Thoughts: I've never read Sarah Dessen. Her books have been everywhere, but I actually never heard people talking about her books. But a few ladies on Booktube talk about her books all the time. So when I saw the sample, I wanted to try it. I really enjoyed it! I loved how authentic Louna's voice was. She's a bit of a different teenager from some of the contemporaries I've heard of. She was taught differently and has a very "interesting" mother. But I like that she helped her mom, is pretty responsible and has a great friend Jilly. It was kinda sad that she's cynical about love (her mom's fault), but you can see her vulnerability start to show.
I also liked seeing the wedding planning aspect. My wedding was definitely not like the stuff people do (spending more than 10 grand for example); the excess is not a thing I get with wedding stuff. So it was a different perspective for me to see with other types of weddings. But I do get that choosing colors, dresses, venues and stuff can be complicated. But it's always worth it. The wedding scenes were very entertaining and I had to keep reading. The sample ended when I really wanted more though! I'm waiting for this come out now and read the whole thing. Sarah Dessen has a great writing style and a way to capture a teenager's girls voice. Go check out this sample if you haven't already 🙂
2. Roar by Cora Carmack (Stormheart #1)
Release Date: June 13th, 2017
Genre: YA fantasy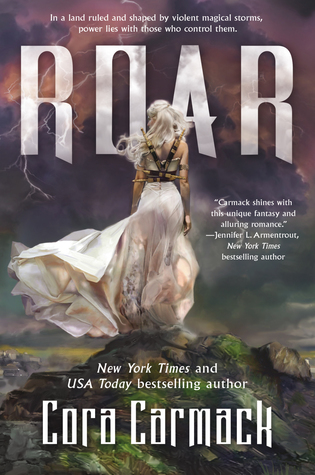 Goodreads Synopsis: Aurora Pavan comes from one of the oldest Stormling families in existence. Long ago, the ungifted pledged fealty and service to her family in exchange for safe haven, and a kingdom was carved out from the wildlands and sustained by magic capable of repelling the world's deadliest foes. As the sole heir of Pavan, Aurora's been groomed to be the perfect queen. She's intelligent and brave and honorable. But she's yet to show any trace of the magic she'll need to protect her people.
Rating so far: 
1/2
My Thoughts: I had a very short sample of this way back in January, and initially, I thought it was a decent fantasy debut for Carmack, whose only written new adult stuff. But now with reading a longer sample, I'll admit that I'm hesitant. While I'm very intrigued by the concept of harnessing the power of storms and the different "storm hearts", the male character killed this sample for me. This book shows an offensive male stereotype; it baffles me that this trope is still somewhat popular in literature. Cassius, the male love interest and the one Aurora has to marry, thinks about "picking her up over his shoulder" and "wanting to conquer her." This type of aggression and cocky behavior was offensive to me. Men are not always like this and it's a trope that feels forced. I also think that it could've been toned down a lot. He does take Aurora over her shoulder and takes her up the stairs because "her dress is too long." He either could've grabbed some of it to help her walk up the stairs, or carry her the normal way. But..nope, insert the aggressive, possible douche bag love interest trope. I know many people hate this stereotype as much as me.
I will read the full novel once it's released, but only through the library. I'm not spending full price on a book that portrays this male behavior. Maybe there will be deeper character development? I'm not holding my breath, but we'll see. I also feel like the writing was way too simple for me. But with time, and reading other books, maybe I'll warm up to it. I personally don't recommend this sample, but read it if you want to see for yourself.
3. The Dire King by William Ritter
August 22nd, 2017
Synopsis: This is the final book in the Jackaby series, so I'm releasing NO info of this book. But Jackaby is a man who can see the supernatural and Abigail Rook is an English girl who comes to America and becomes Jackaby's assistant in fun and creepy mysteries 🙂
Rating:
 (a.k.a no surprise)
My Thoughts: GUYS! When this became available over the weekend, I flipped out and read it in one night. Now…the three month wait for this full book is gonna be hard. The beginning of this final book takes place very soon where the last one left off and you start to try and find out what the big picture is. Jackaby had some hilarious lines that made me snicker and I like how things are unfolding in a fun way with the stakes getting higher. If you need a new series to read, this final book is out soon and you'll have four amazing books to marathon. I'm pre-ordering this one immediately.
These are the sneak peeks I've read of books set to be released. I love that NetGalley offers excerpts from books that you can immediately read and give feedback; it gives you a taste of what the book is like and gets you excited for something you might not have found out about. Let me know if you're excited for these books. Thanks for stopping by and have a great day 🙂