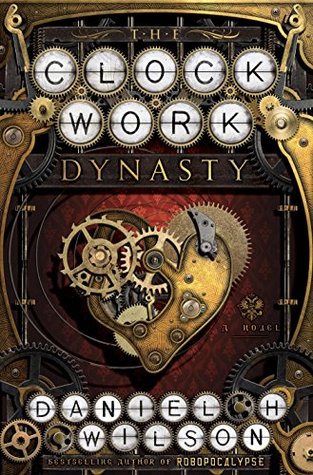 Title: The Clockwork Dynasty
Genre: Adult Science Fiction
Release Date:  August 1, 2017
*I received this e-ARC through NetGalley in exchange for an honest review. No quotes are used in this review per request of the publisher. All thoughts are mine.*
Goodreads Synopsis: Deep in the rugged landscape of eastern Oregon, a young anthropologist named June Stefanov uncovers an exquisite artifact – a three-hundred-year-old mechanical doll – which is evidence of what she has spent years searching for. This is no ordinary doll…it is proof of a living race of ancient automatons that, she believes, exists to this day. Ingeniously hidden inside the intricate doll is a message, addressed to the court of Peter the Great, czar of Russia.
In 1725 Russia, Peter and Elena, two human-like mechanical beings known as 'avtomat, ' are brought to life under the guise of Peter the Great. Their struggle to serve in the court of the czar while blending in, and to survive amid those who wish to annihilate them, will take Peter and Elena across Russia, Europe, and, ultimately, across the centuries to modern day.
Daniel H. Wilson's masterful new novel seamlessly interweaves past and present, exploring a race of beings that lives undetected among us. As June learns more about the 'avtomat' doll she has discovered, she is quickly drawn into a fierce and poignant battle that has spanned the centuries – and will ultimately affect the survival of this ancient race
pros:
History: Being someone who is interested in history, it was nice to see different time periods in this book. It was a nice touch to see Peter go through the times of: Peter the Great, World War II, the war in India against England, etc. I liked reading about the historical events at the time instead of only one period of time.
Present Day chapters: The chapters focusing on June in the present were the best parts. I feel like the tension and plot building was the strongest in those chapters. It did give me a Terminator vibe with a robot and a human figuring out how to stop a bad guy. That added a bit more entertainment to the earlier sections of the book.
Voice: The author did do a very good job at showing the thought process of an A.I. You see that they don't care for trivial things, or don't understand people's emotion. The voice of the robots can be very dry or simplistic and that felt like true to them. You see through Peter's eyes as how a robot would see the world.
cons:
Pacing: Having the chapters go back and forth between the past and present every other chapter was annoying. The majority of the past chapters started getting slow and difficult to pay attention to once I got halfway through. I wish we got something like: three present chapters, one past, two present, etc. Breaking it up would've felt nicer and kept my interest. The ending also felt extremely rushed and ending too easily with how much building you get towards the end. I hate endings that are talked up for so long and then they're done within a chapter.
Characters: I didn't connect to any of the characters. The robot characters felt and acted a bit too human for me. Although they are a form of very advanced technology, they didn't reflect the fact that they were essentially robots. I also felt like June was just a pawn to see the story differently. I didn't see much of a change in her. She was just the type of person who was shocked at all the robots all the time. Peter did have some good moments of showing humanity, but other than that, I didn't care much for him.
Confusion: I agree with a couple other reviewers that I was confused through chunks of the story. I had to re-read passages or even half of a chapter to try and grasp what was going on. I felt like the author just kept jumping deeper into the story with barely an explanation.I also didn't understand why the robots couldn't evolve or understand how they were made and replicate that technology. If they're made from something so superior, and been around for centuries, how can they have nothing? That felt like a cop out for lack of reasoning and explanation. It felt too dense for a book under 400 pages.
Linked below is another reviewer that I have similar thoughts connected to this book. While I liked a bit more than this reviewer, she captured many of my same feelings as well. I will also link a positive review to show the contrast as well.
*I recommend you try this book if you're a huge science fiction fan. I do not recommend specifically science fiction much anymore, which is probably why I didn't enjoy this as much. Since I read primarily fantasy, I could not get immersed into this book. But if you know someone whose looking for more science fiction, I would recommend this to try when it's released.
Rating:   
I hope you all enjoyed this review. I'm sad that I didn't like this as much as I hoped, but what can you do until you read it? Have you read this? Are you excited for it? Let me know in the comments. Have a great day everyone!