During Book Expo, people were able to get the "Game Changers" set from Penguin. It consists of five ARCs of upcoming YA novels: Warcross, Jane Unlimited, There's Someone Inside Your House, Forest of a Thousand Lanterns and What I'm Seeing Without You. NetGalley offers this compilation, but the excerpt version. I had heard about these upcoming titles through various Booktube channels and wanted to give this excerpt a shot. So should you be excited for these books? Let's go through each one! These are in the chronological order that they are in the compilation.
1. Warcross (Warcorss #1) by Marie Lu
Release Date: September 12th  2017
*Contains the first 2 chapters*
Goodreads Synopsis: For the millions who log in every day, Warcross isn't just a game—it's a way of life. The obsession started ten years ago and its fan base now spans the globe, some eager to escape from reality and others hoping to make a profit. Struggling to make ends meet, teenage hacker Emika Chen works as a bounty hunter, tracking down players who bet on the game illegally. But the bounty hunting world is a competitive one, and survival has not been easy. Needing to make some quick cash, Emika takes a risk and hacks into the opening game of the international Warcross Championships—only to accidentally glitch herself into the action and become an overnight sensation.
My Thoughts: I read the first chapter of this book recently through the Fall/Winter Buzz Books. I was blown away by how engaging and immersive this chapter was, having not read anything by Marie Lu yet. So I was hoping that I would get to read more content in this compilation. Getting another chapter just added more to my NEED to have this book. To me it had: breakneck action, great pacing, sharp dialogue and overflowing with potential. Emika felt like a bounty hunter character, giving me some major Cowboy Bebop feelings. While you don't read of any actual gameplay in Warcross in the first two chapters, it was smart to hold back on that. Marie Lu immediately shows what life for Emika is like, surrounded in emerging poverty and the rise of Warcross. So as soon as I finish my current audio book, I'm grabbing one of Lu's other novels to get submerged into her writing style. I'm jumping onto this bandwagon and waiting for this book!
2. Jane, Unlimited by Kristin Cashore
Release Date: September 19 2017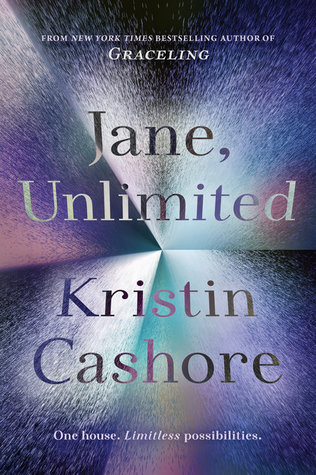 Contains First Chapter
Goodreads Synopsis: Jane has lived an ordinary life, raised by her aunt Magnolia—an adjunct professor and deep sea photographer. Jane counted on Magnolia to make the world feel expansive and to turn life into an adventure. But Aunt Magnolia was lost a few months ago in Antarctica on one of her expeditions. Now, with no direction, a year out of high school, and obsessed with making umbrellas that look like her own dreams (but mostly just mourning her aunt), she is easily swept away by Kiran Thrash—a glamorous, capricious acquaintance who shows up and asks Jane to accompany her to a gala at her family's island mansion called Tu Reviens.
My Thoughts: This is the biggest sample in this compilation, which was only one long first chapter. This is another situation where I haven't read anything by Kristin Cashore. My husband enjoyed her first series but I haven't gotten to it yet. But my first impression of this book was boredeom. The entire sample is them getting off a boat, going through this room, looking at this piece of art, making random obscure references and talking like a TV show person and not a real person. The pacing was slow, awkward dialogue and nothing to make me want to read more. Other samples in this compilation has things like: murder, chase scenes, layered character motivations, a mystery element etc. But I got nothing out of this book. This wasn't for me, but I'll read her first series in the near future.
3. There's Someone Inside Your House by Stephanie Perkins
Release Date: September 26th 2017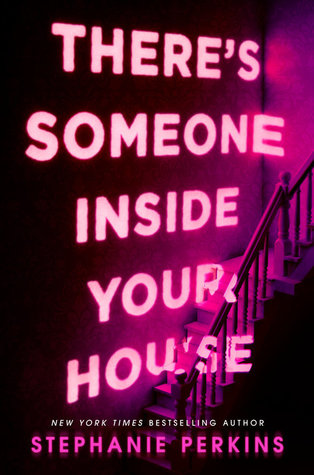 Contains First 2 Chapters
Goodreads Synopsis: One-by-one, the students of Osborne High are dying in a series of gruesome murders, each with increasing and grotesque flair. As the terror grows closer and the hunt intensifies for the killer, the dark secrets among them must finally be confronted.
My Thoughts: First of all, I have to applaud how vague this synopsis is. I tend to be wary of how detailed a Goodreads synopsis can be; when you find out details that are spoiled in the synopsis, it makes you want to flip your snack and drink. But this vague blurb was interesting itself. The actual sample? Clever, creepy, diverse and so much fun! I've seen some murder movies like Wait Till Dark, Psycho, Identity, Split and they all have an atmosphere of dread about them. The first opening line of this book gave me some creepy feelings and it didn't let up at all. I also loved how the author had a super clever reference to an Alfred Hitchcock film at the end of chapter one. I don't read horror, but I do enjoy the old fashioned murder movies from way back when. Stephanie Perkins has shown a flawless transition from writing contemporary to a horror mystery. There's even great references to being in a high school musical production and Sweeney Todd. I'm now pumped for this book and everyone needs to look out for it.
4. Things I'm Seeing Without You by Peter Bognanni
Release Date: October 3rd 2017
Contains First Chapter
Goodreads Synopsis: Seventeen-year-old Tess Fowler has just dropped out of high school. She can barely function after learning of Jonah's death. Jonah, the boy she'd traded banter with over texts and heartfelt e-mails. Jonah, the first boy she'd told she loved and the first boy to say it back.  Jonah, the boy whose suicide she never saw coming.
My Thoughts: This was interesting to say the least. The authors shows very well how Tess is unraveling with all that's happened. Her inner monologues ramble on and she even tries to deny what's really feeling. The messages they sent back and forth had their own unique voices to them and showed that sadness that Tess carries. But sometimes, the rambling did make me lose interest a little. I think I need to be in the right mood to read or listen to this. But while it was hard to focus at times, I'll give it a shot once it's out. This was "middle of the road" for me.
5. Forest of a Thousand Lanterns (Rise of the Empress #1) by Julie C. Dao
Release Date: October 10th 2017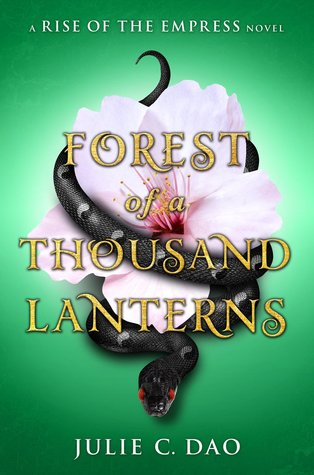 Contains First 4 Chapters
Goodreads Synopsis: Eighteen-year-old Xifeng is beautiful. The stars say she is destined for greatness, that she is meant to be Empress of Feng Lu. But only if she embraces the darkness within her. Growing up as a peasant in a forgotten village on the edge of the map, Xifeng longs to fulfill the destiny promised to her by her cruel aunt, the witch Guma, who has read the cards and seen glimmers of Xifeng's majestic future. But is the price of the throne too high?
My Thoughts: This is the second longest excerpt in this compilation. I had seen this on Goodreads not longer after the cover was revealed. I have been wanting more fantasy books that deal with different cultures, since I love books like The Girl  of Fire and Thorns. I thought this was impressive, creepy and a fantastic set up. This uses dark mystical magic dealing with card readings and symbols meaning certain things, along with the use of blood. The main character's aunt is one creepy witch of a woman. The author gives a great beginning that shows the poverty Xifeng grows up in. Through smaller, quiet moments and dialogue, the author flawlessly gives us bits of what's to come without being overbearing. I did squirm a bit because the mention of snakes brings up my deep fear of them, which is a nod to the author. It appears that this could be a villain origin story and a compelling and dark one at that. I usually stay away from darker stories, but to me, this is what Flame in the Mist should have been with characters I'm invested in. Julie C. Dao's debut novel will be a dark Asian fantasy that should satisfy fans who love Rae Carson and Leigh Bardugo.
There you have it! I highly suggest going on the "Read Now" section on NetGalley and snagging this compilation if you're dying for sneak peeks of upcoming books. My favorite was undoubtedly Warcross. Which one are you excited for?  Have you read these sneak peeks already? If so, which is your favorite?