Holy crap…the first half of the year is over! There's been some awesome stuff for the first half of this year: new Guardians of the Galaxy, puppy growing like a weed, trailers for upcoming movies and I gave this blog a face lift! I hope you guys have enjoyed it; I feel like it reflects my style taste and is a much more inviting format. With reading, I managed to finish a few things.  Here they are in the order of when I finished them:
Total Finished Books: 5
Audio Books: 2
Sampler/Compilation: 1
DNF'd: 2
1) The Clock Work Dynasty by Daniel H. Wilson

READ from June 3-4
Rating: 2 stars
I was sent this E-ARC from NetGalley back earlier this year in exchange for an honest review. I sadly learned that science fiction isn't the best genre for me. There were a few things that I liked, but it's a series I won't continue.
Mini Review: The Clockwork Dynasty
2) A Fierce and Subtle Poison by Samantha Mabry
Read from June 4-7
Rating: 4.5 stars
This was available from my library Overdrive and wanted to give it a go and I was really surprised by it. I had heard mixed reviews months earlier, but I personally don't understand the negative reviews. This re-imagining of a classic Hawthorne story was gorgeously written, diverse and mysterious. If you love magical realism, you need this book!
5 Reasons to Read A Fierce and Subtle Poison
3) The Queen of Attolia by Megan Whalen Turner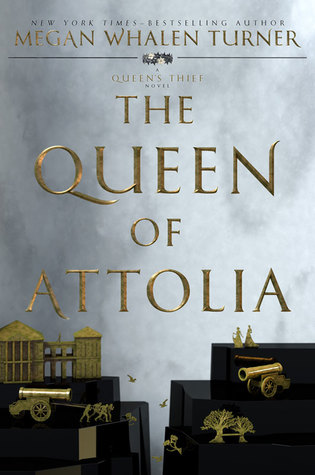 Listened to from June 3-11
Rating: 5 stars
This blindsided me to put it lightly. I mildly enjoyed the first book of this influential series. But I'm so so happy that I listened to my co-workers! This book gives you what a sequel should: shocking moments, more world building, stunning plot and writing. (Not to mention an awesome narrator and updated covers) This blew me away. It's still my favorite in the series so far. If you guys read the first book and weren't completely invested, this book will prove you wrong and grab you in a vice and not let you go until you're done 🙂
Double Review: Queen of Attolia and Strange Alchemy
4) Strange Alchemy by Gwenda Bond
READ from June 5-11
Rating: 2 stars
This was another NetGalley from earlier this year that I finally picked up. This is a revised version of her first novel Blackwood, but I didn't see that it was revised. The teeangers didn't talk like normal teenagers, forced romance and the fact that the author said in the author's note that she changed the structure of law enforcement for this story. That made me cringe and I can tell that she did that to make everything easy for the main characters. Another book that wasn't for me. The mini review for this is linked above with Queen of Attolia. 
5) Penguin Teen Game Changers 2017- Sampler
This was available on the "Read Now" section on NetGalley. All these books were featured at BEA 2017 and very hyped up. So I jumped on this to see what I thought. I really enjoyed 3 out of the 5 books: Warcross, There's Someone Inside Your House and Forest of a Thousand Lanterns. All three had great samples and had the proper endings to make me die to get them. If you're curious about these upcoming titles, go grab this sampler and see for yourself 🙂
5 Game Changers from Penguin Teen
6) The King of Attolia by Megan Whalen Turner
LISTENED FROM June 12-27
Rating: 3.75 stars
A solid sequel in this Mediterranean, Greek inspired fantasy series. This one continues the story from the ending of book 2. I liked it, but this was the most confusing in the series so far. I think stuff was revealed and happening to subtly that I had to backtrack a lot, which I never like. Steve West continues to shine as the narrator, but I should've read the physical copy instead. I also just didn't connect to the dramatic stuff that happened in this book. Fingers crossed that I like the fourth book when I pick it up in the future.
Mini Review: The King of Attolia
DNF'D BOOKS
DNF'D after 12 chapters
Another retelling that followed way too close to the original source material, boring pace and just plain trying too hard. I wanted to enjoy this Rumplestiltskin retelling, but it just didn't happen.
DNF'D after 100 pages
*insert audible gasps*
This just didn't grab me. I heard pretty good hype about this debut novel. But with what I did read, there was a couple small tropes thrown in that I really didn't like and I felt like nothing actually got moving as much as I hoped. I'll give it another try in the future, but at the time I was reading this, I was deep in a reading slump/problem.
Another wrap up is done! If you've read any of these, please let me know! I'm hoping next month is better than this one; this reading slump/weird thing bit me in the butt at the worst time. I hope you enjoyed this post and have a great day everyone!