First of all, I hope that everyone had a great 4th of July if you live in the US!
This is a topic that always has people interested. I think that lately, people are starting to not like seeing romance in practically book that's coming out (especially YA). So I'm sure some people were happy to have this topic. Sam admitted that it can be a difficult one, but she allowed books where the romance is very minor. I'm gonna be in that category, so let's get started! These are in no order.
1) Snapshot by Brandon Sanderson
This short story is a detective mystery, which is very different compared to the long list of fantasy books that Sanderson has written. It's set in a time where the government can use "snapshots" to find people and solve crimes. But if you change something in the snapshot, even if it's as small as waking someone up when they need to be somewhere, the consequences while unpredictable, can spiral out of control and become dangerous. This world was cool and I wanted more of it so much. Plus, the ending was the most clever thing Sanderson has done in his career. It might be for everyone, but if you pay attention to the story, the ending makes sense. If you're a huge Sanderson fan, grab this one right now!
2) The Word and the Void trilogy by Terry Brooks
This trilogy takes place in our world before Shannara begins. It tells the story of Nest, a young girl who lives in the Mid-West. She knows that magic exists because of her grandmother and one night, she sees a massive tree that's bleeding. John Ross is a Knight of the Word and he's looking for Nest to aid her in the coming of the demons. I read this trilogy as a teenager a few years after loving The Elfstones of Shannara. You can totally read this trilogy before any of his other books (I'm so glad you can). It's a story of discovery, looming chaos and characters trying to figure out their destiny. If you're intimated by a lot of adult fantasy that's out right now, try this one. The writing is very accessible and some of the characters are closer or at about a YA age.
3) The Queen of Blood (The Queen of Renthia #1) by Sarah Beth Durst
This first book in a high fantasy trilogy takes place in a world where people live in the trees. Barely anyone lives below the heavy tree canopies. There's also elemental spirits that help maintain this world; the queen of the land is the main one that controls the spirits. They can get out of control and do nasty things, which opens this first book. Delaina is a young girl who goes to the palace to train and learn her powers. This book focuses on world building, Delaina's character arc and the mystery of why the spirits are unraveling. With no romance, it's very accessible to the YA audience since it's technically adult fantasy. But the world is beautiful and some very nasty creatures. I also recommend the audio book which is done by Khristine Hvam.
4) Clariel (Old Kingdom #4) by Garth Nix
This fourth volume in the Old Kingdom series is a villain origin story. Clariel is an a romantic person who only wishes to live in the woods, away from society. Her story of how she discovers her abilities and entanglements with both charter magic and free magic gives a solid story to this beloved series. You could read this first, since it takes place 600 years before Sabriel. If you need a fantasty book with no romance, especially with female character, grab this one.
5) Half a King (Shattered Sea #1) by Joe Abercrombie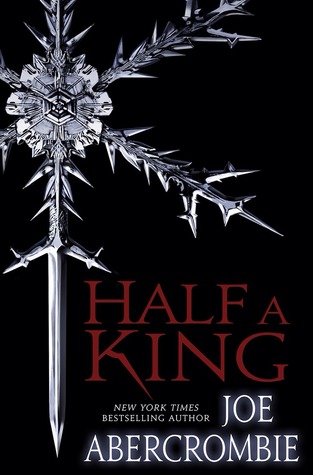 This first book in an adult fantasy trilogy centers around Yarvi, a young man with a maimed hand. He's the heir to the kingdom and no one takes him seriously. But after an attempted murder, Yarvi sets out to get revenge on the ones who wronged him. While I didn't continue with the series, it's a good stand alone story about how one man, whose weak and scared gathers up courage to take his rightful place. From the first page, you hate all the persecution Yarvi gets from practically everyone. But his story arc was really awesome to read and I recommend it for adult fantasy readers.
What books with minor to no romance do you recommend? Any fantasy ones? Let me know in the comments 🙂