Alright guys, we've reached the last half of the year. Huge book releases are coming out, finales will end the chapters of some series and debut novels to capture our attention. This list consists of books that are expected to be published between August through October (there's not new releases in November and December to list). I will not repeat any books that was on my original post way back in February because I wanted to share my excitement about other books.  But these will be in anticipation order…and yes, ranking them was kinda hard. Here's my first list that had a few:
Many of these books are sequels to series that I've really enjoyed, authors I've discovered or have read NetGalley samples of and am dying to get my hands on them. Let's jump in and keep salivating for these books!
12. Wild Beauty by Anna-Marie McLemore
Expected Release Date: October 3rd 2017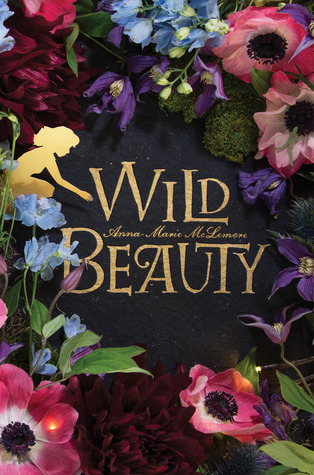 This book has gotten so much buzz over the entire year. This author seems to be capturing people's hearts with her writing and magical realism stories. This one piqued my interest because it sounds similar to Practical Magic (enjoyed the movie) and that the characters seem to be authentic. While I haven't read her other books yet, the premise sounds great and I'm crossing my fingers that I'll fall in love with her storytelling 🙂 But why is this at the bottom you wonder? Because first world problems with rating books lol!
11. Invictus by Ryan Graudin
Expected Release Date: September 26th 2017
This was one at BEA that many Booktubers grabbed. It's been blurbed as Firefly meets Doctor Who and tells the story of a guy whose a timetravler and tries to steal something on the doomed Titanic. Since I haven't read any of Ryan Graudin's books yet, this is a bit lower on the list. The plot sounds really fun and the cover really edgy and shiny though. I have hope that it'll be good 🙂
10. Wicked Like a Wildfire (Hibiscus Daughter #1) by Lana Popović
Expected Release Date: August 15th 2017
I saw this book on Goodreads late last year before the cover was revealed. It sounded like a fun fantasy that sounded pretty unique. Then Roshani Chokshi that it was written as if Guillermo Del Toro had directed Practial Magic and that had me dying for any length of a early sampler. While that hasn't happened yet, I'm still stoked for this book. Her writing sounds like it's very flowery like Laini Taylor, whose writing I do enjoy. It also takes place in Montenegro which I know nothing about. I think that if you love Laini Taylor and her lush writing, keep your eye out for this debut novel.
9. Even the Darkest Stars (Even the Darkest Stars #1) by Heather Fawcett
Expected Release Date: September 5th 2017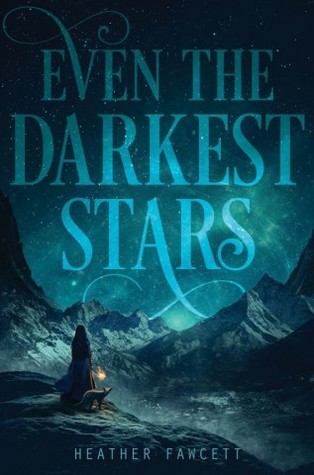 Oh man, this cover gives me all the feels! It reminds me of the snowy mountains in Doctor Strange and Lord of the Rings. This cover separates itself from popular
"in your face" covers and gives a subtle, dark winter sky that's just gorgeous. Set to be the first in a duology, it's the story of a girl named Kamzin whose always longed to be one of the Royal Explorers. When an unexpected opportunity comes to show her ability and desire for exploring, she goes off on a journey with avalanches, ghosts and other dangers at every turn. This series is also heavily inspired by Mount Everest. Bonus points for a clever plot! I've also heard that this main character gets stuff done, no matter how tough the decision is. That immediately reminds me of Yeva from Hunted and I'm here for this book 100%!
8. An Echo of Things to Come (The Licanius Trilogy #2) by James Islington
Expected Release Date: August 22nd 2017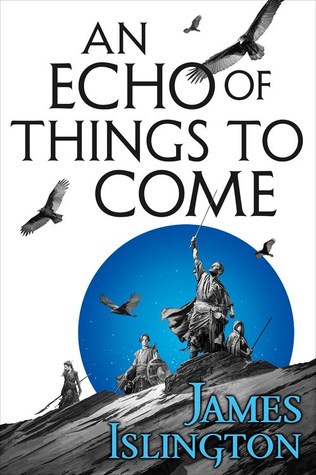 The only adult epic fantasy pick on this list definitely deserves it. The first book The Shadow of What Was Lost is such a fun and immersive series. It's very accessible to YA readers as well, since many of the main characters are teenagers still. But this has been such a refreshing read because it has: positive friendship, smart teenagers, unexpected and shocking moments, developing magic and one looming, scary story arc. If you love authors like Brandon Sanderson, you'll feel right at home here. This series is set in a world where they was an ancient war with the Augurs, gifted people who could foresee the future. Now, gifted people are feared and enslaved to some degree. But when young Davian is told that something is coming to invade their world, he sets off with his friend Wirr on a long, epic journey across the world. You follow Davian, Asha, Wirr, Caeden and many others. If you're dipping your toes into epic fantasy, or one to tide you over until your next anticipated release, you'll love the first book and be dying for book 2 like me.
7. Beasts Made of Night by Tochi Onyebuchi
Expected Release Date: October 31st 2017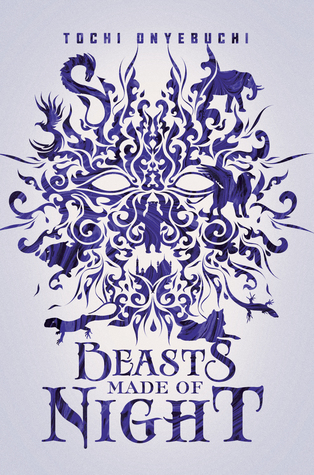 I read a sample of this in the Fall/Winter edition of Buzz Books and was blown away by this upcoming debut novel. This African fantasy tells the story of a world where people are called "Sin Eaters" who devour these Sin Beasts that someone releases due to their sin. Tattoos of this monsters also show up on their body, making them feared by normal people. Taj is a very talented aki (sin eater) and he's taken to the royal palace to deal with a Sin Beast and immediately faces his destiny. I never see any African style fantasy books being published in  YA, so this is very exciting. The writing felt very different as well. I liked how this magic system feels normal and something very scary. Taj has a great perspective and the stakes felt very real as the sample ended.  Reviews have been talking about the complexity of the world, stunning world building and a caring but fierce male character. So stoked to pick this up come Halloween!
6. Forest of a Thousand Lanterns (Rise of the Empress #1) by Julie C. Dao
Expected Release Date: October 10th 2017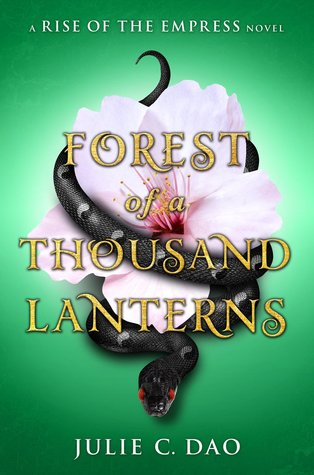 I have to say that first of all, my fear of snakes was magnified while reading this sample. Big props to the author for making me cringe and almost gag from the mention of snakes in this book. This dark fantasy has been getting a lot of hype as well; it was included in the "Penguin Teen Game Changers" set at Book Expo (BEA). It follows Xifeng, whose poverty stricken life will not stop her from being empress. I've been seeing that it's pitched as a villain origin story. The writing was very harsh and atmopsheric for this Asian fantasy. The dirty clothing, dank shacks and harsh personalities felt so real in this author's effortless words. The hints of magic was also a great bonus; you get just enough to be interested. Here's many high hopes for this debut novel!
5. There's Someone Inside Your House by Stephanie Perkins
Expected Release Date: September 26th 2017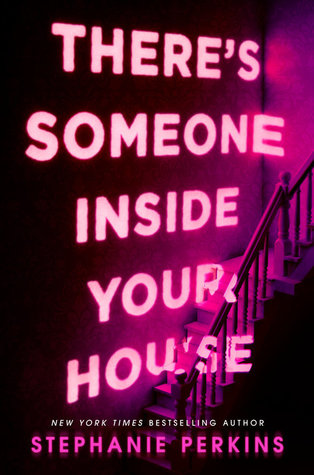 This is hands down the most surprising book on this list. I don't read any kind of horror stories and I have never read anything by Stephanie Perkins. It was very surprising when we all heard that she was writing a horror novel. So when I saw the sample on NetGalley, I figured that I would give it a shot. I was very pleasantly surprised by this! The author gives a few clever nods to older slasher movies. It gave me major vibes of Psycho, What Lies Beneath and I Know What You Did Last Summer. Also, the way they cut off the sample was pure genius to make you invested to read more. I hope I still feel the same way after I read the whole thing.
4. Before the Devil Breaks You (The Diviners #3)
Expected Release Date: October 3rd 2017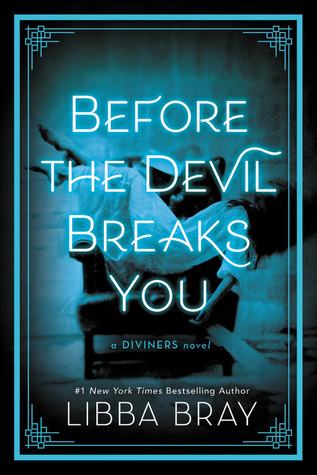 Yeah yeah I'm not liking the many cover changes either. But I really have high hopes for this third book in this urban fantasy series. The first 2 books really didn't give you any answers to the overarching plot which kinda bummed me out. So when I found out that this will be a more plot driven book, it made me feel better. This better give me more creepy feelings, revelations and further character developments. I am also hoping for more of a balance between the characters; I wasn't a fan of Henry in book 2 and missed seeing a lot of Jericho, Theta and other side characters. Fingers crossed guys!
3. Warcross (Warcross #1) by Marie Lu
Expected Release Date: September 12th 2017
I've read the first 2 chapters now and I am DYING for a copy of this. There's been lots of hype surrounding Marie Lu as an author for years now, but I just hadn't jumped on the band wagon yet. My husband liked her Legend trilogy much better than the Divergent series. But while this book sounds very similar to stuff like Ready Player One and Sword Art Online, I am confident that we'll get an action packed, twisty story set in the future in a cool game. I can tell that Emika Chan will be a character that I can have fun reading about. The sample demanded my attention the whole time and that's been saying something lately. I'm now in line with the many many book people waiting for this book.
2. All the Wind in the World by Samantha Mabry
Expected Release Date: October 10th 2017
Not too long ago, I was swept away in Puerto Rico, reading about a young man who wonders if a poisonous girl is real in Mabry's debut novel A Fierce and Subtle Poison. I had actually read this sample first before the debut novel and this felt a bit like magic when I read the first 50  pages through NetGalley. It's set in a futuristic world where water practically doesn't exist and our two main characters Sarah Jac and James must survive the dry desert. When they hear about work at a ranch Real Marvelous, they go there despite firm warnings of the secrets there. It's rural, unforgiving, dusty and dangerous. But I also felt that romance between the two main characters within the pages as I read. They felt like a real couple with secrets and personal problems. I am very confident that I'll be whisked away again in Mabry's second book and October can't come soon enough.
And my number one spot?
1. A Poison Dark and Drowning (Kingdom on Fire #2) by Jessica Cluess
Expected Release Date: September 19th 2017
The magicians want her to lead.
The sorcerers want her to lie.
The demons want her blood.
Henrietta wants to save the one she loves.
But will his dark magic be her undoing?
A dark cover has never looked so gorgeous! After falling in love with the creepy mythology and Henreitta's spirit in the first book, the struggle for this sequel is SO real! This book seems to be focusing on the mystery of where the Ancients came from, as well as the effects of Rooks' abilities. The reviews have been very encouraging so far. I'm glad that I'm seeing more positive reviews for this series. I love how it's Regency England (essentially) but I understand the language and I'm not annoyed by the overused tropes with this time period. These Ancients are nasty, mysterious and genuinely threatening. I cannot wait to see what Henreitta faces in this sequel. I'm not sure if this is only a trilogy or not, but Jessica Cluess is quickly proving to be an auto read author for me! *Fingers deeply crossed for an ARC*