Sometimes, the first book in a series can put people off. They want more world building, character development, etc…it's always a list of why people don't always like the first book. But this topic shows the series that are worth plowing through to get to the good stuff. My picks do have solid first books, but with the amount of knowledge, development and action you get in the later volumes, makes the reader appreciate where things end up. There may be a couple repeats here, but that just shows how much I love them 🙂
1. The Amulet series by Kazu Kibuishi
This graphic novel series follows a  young girl, brother and family that move into their grandfather's old house after he passes away. Emily finds a magical amulet and they're thrust into a magical world filled with talking animals, nasty evil elves and a dark power that constantly looms over them. The art is stunning to look at alone and it has great messages of family, facing your fears/being brave and trying new things. It's great for younger readers to get into as well. If you haven't tried this fun series, you need to.
2. The Dresden Files by Jim Butcher
While there are people are getting tired of these installments, I personally don't get the negative reviews out there. This on-going urban fantasy series is required reading for major fantasy fans! It has a snarky, cocky and often heartbroken character who deals with some crazy crap. There's even monkeys throwing flaming monkey poop at him as he tries to rescue a box of puppies, a zombie dinosaur and even Santa Claus. Jim Butcher takes tales, legends and popular mythos and twists them into scary, creative and fun books. If you're unsure of reading such a long series, give it the first three books. The first one is a foundation book that sets up the character and how he solves crimes. The second book amps up the blood with violent werewolves. But book three offers an ending that really got me and the consequences are hanging in the background for a majority of the series. You also get some characters that are real, tangible people that you root for and cross your fingers that they have a good ending. Plus…there's a horny talking skull that will have some insults or quips that will make you burst out laughing. Yes, Harry is not a perfect person. But no one is.
Give it the first three books and see what you think. As you dive deeper into this world, there's a dark story arc that truly brings up the body count, broken spirits and a heavy does of uncertainty. Every book is worth very page as Harry runs into problems, tries to solve them and also uncovering some of his family secrets as well 🙂
3. The Pendragon series by D.J. MacHale
This book series came on my radar the same that another series on this list did. I was in junior high school and bought the first book in this 10 book YA series almost 15 years ago! I've re-read a few of them since it's been finished and it's amazing! It starts with 14 year old Bobby whose MVP at basketball, popular at school and likes his best friend Courtney. But when his uncle Press comes to visit after a long time, he reveals that Bobby that him and Press are travelers! They're also tasked with stopping Saint Dane, a shape shifter that's determined to destroy every territory in the universe. Each book covers a different timeline or planet. There's 3 different versions of earth, a water planet, a tropical island, a jungle planet, a technology planet and many others. What I loved about this series is seeing Bobby grow as he learns about failing, importance of integrity and fighting for good. He encounters other Travelers as well that help along with the way and it's a great diverse cast. This is another series for young boys that has a fun narrative, easy writing and great world building.
4. The Jackaby series by William Ritter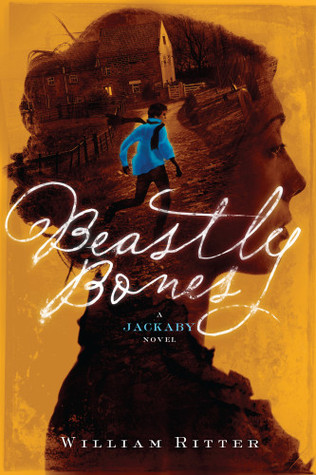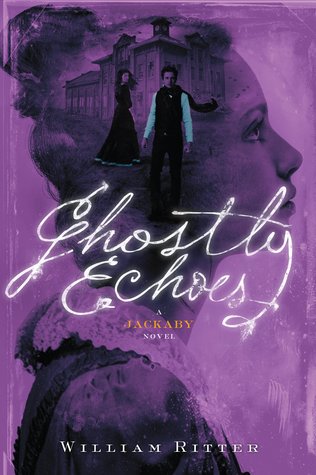 A.K.A. NO surprise to anyone 🙂
The first book in this quartet is essentially a standalone mystery that's fun and a bit mysterious. But things slowly start to come to  light at the end of book two. By the end of Ghostly Echoes, you become invested in the fate of the characters, looming evil and wondering about their fates in the final upcoming book. I love how the author lures you into this series, because the things that are brought to light are honestly surprising. The mysterious truly become dark and dangerous. Ritter also weaves folklore in unique ways and the humor and great platonic relationship between Jackaby and Abigail is so much fun to read. If you liked the first book, but want more, trust me, you will get more.
5. Cirque Du Freak series by Darren Shan
I purchased the first book of this 12 book series back in 6th grade at a book fair. The cover was scary and I was really into vampire books at the time. Over the next few years, this became a major favorite to me as a teen. This follows a boy named Darren (same as the author's name and it's first person…clever) who gets turned into a vampire and the world/lore that he falls into. It's dark, sometimes funny and Darren is a great male character that grows a lot as time goes on. If you have a little brother, cousin or son that's getting older and needs something to try, give them this series. Plus the original artwork is really freaky and will draw horror/supernatural fans in.
Honorable Mentions
The Midnighters trilogy by Scott Westerfeld
The Gemma Doyle trilogy by Libba Bray
The Old Kingdom series by Garth Nix