With the recent T5W post being about your favorite children's books, it really got me nostalgic. Then, the Monthly Recommendations group labeled this month as "Oldies." I'm a huge nostalgia person and was over the moon with a couple "memory lane" posts pretty close together. So here's some books and series published before 2010 that I loved as a teen or now as an adult. Given my memory one a few of things is vague since it was forever ago since I read them, but I still get that nice feeling of when I did first read them.
1. The Forbidden Game trilogy by L.J. Smith
*Enter in the rioting laughter of the cheesy 90's covers*
Oh yeah these look bad now, but this trilogy was creepy, fun and imaginative to my young mind. This was the first series I read by this author and I loved every book. This centers around a girl and her friends who buy a mysterious white box that has a game inside. But after getting sucked into the game, they fight again Julian, the ruler of this game world. From a demonic fun house, their worst fears and a creepy obsession, this series was so much fun. I remember seeing them in the library and had to read them, since I had never read a book that made you get sucked into a game. They did re-release this trilogy in a much better cover now as well. It's really cheesy now, but I read the first book a couple years ago after a decade and it was fun enough to go back to it. If you need a real cheese fest, check these out and just have fun 🙂
2. The Darkangel series by Meredith Anne Pierce
Sadly, I only read the first 2 books in this trilogy. I had tried reading the third one when I was younger, but it must've flown over my head. But I do remember loving this supernatural fantasy about a young girl who tries to break the spell on a vampiric darkangel. The fantasy world was cool and the little twist on the vampire myth was fun. What was nice about this series is that it was more focused on a "coming of age" story and finding yourself for the girl character. There is romance in it, but this is a much better vampire fantasy compared to some of the crap that's out  now.
3. The original Vampire Diaries quartet
First Published: 1991
This is an unpopular opinion now, but I personally think the original book are better than the overblown TV series that became way too long and boring to keep interested after 4 seasons. These books yes are dated, cheesy and might not be great pieces of literature now. But to me, I was freaked out by these covers when I was really young, even though I was really drawn to them. So after having a nightmare about the first cover, I went to to the library the next day and got the first two. (Yep, makes me laugh too LOL) They were engaging, quick reads that furthered my hunger for vampire books when I was younger. But to be honest, the things in these books that didn't make it to the TV show are much better for the story. For example:
The brothers are from the Renaissance era
Katherine was a pale haired, sickly girl who as terrifying as she first was in the TV show
Elena had her friend Meredith (never in the show) who was brave, sporty and was a good complement to the trio of friends
The conflict between Katherine and Elena and the two brothers is bloody and a great finale
You can read the original 3 books and stop after that. The fourth one, which introduces Klause, is optional if you want more. The newer crap they published isn't even written by L.J. Smith anymore and worth no one's time. But regardless of the TV show, I still enjoy these books.
4. The Silver Kiss by Annette Kurtis Klause
First Published: 1990
Yep there is a vampire trend on this list, but it just goes to show the stuff I enjoyed as a teen. This book came to me in junior high school and I've read it 7 times since my teenage years. It's the story of Zoe, whose mother is in the hospital, her friend is moving away and feels lost with her family problems. Then she meets Simon, who comes to her house in the middle of the night. It's a story of letting go, handling grief and battling your loneliness. There's also one of the creepiest demon children ever. Why have I read this 7 times? Great story, more mature characters and quietly powerful moments.
5. Joan Lowery Nixon books
Much like the next author on this list, this dominated the mysteries for younger people in the late 70's into the 2000's before her death in 2003. For me, I really got sucked into mysteries when I was younger. I remember seeing Joan Lowery Nixon's books on the library book shelves and the premises of each book got me intrigued. I've read at least 10 (if not more) of her books. They all revolve around seances, kidnappings, haunted places and murders. She also won the Edgar Award for Best Young Adult Mystery 4 times in her career! That never happens anymore with YA books, so young girls should really try these books if they like mysteries. They can be a little bit dated, but the writing was really good and I loved each book that I read.
6. Lois Duncan Books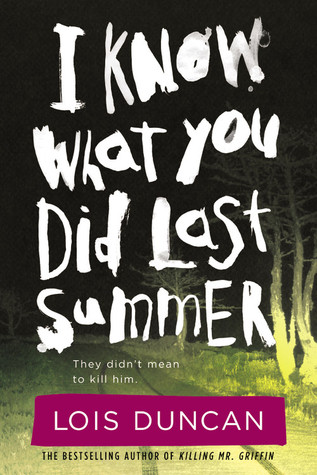 As early as the  1950's, this lady was the next step up in YA mysteries after you read Goosebumps. From seances, murdering a teacher to intense situations that made my eyes glued to every page. I read at least 8 or 10 of her books as a teen and I love seeing teens now check them out at the library. Despite many of them being written at least 30 years ago, Lois Duncan reminds influential for her contribution to YA literature. You may remember seeing Jennifer Love Hewitt run for her life in the 1997 slasher flick of the same name as her book. I highly recommend her books if you're looking for older mystery books, or know younger kids looking for something a bit scary to read.
7. Esperanza Rising by Pam Muñoz Ryan
First Published: 2000
This lovely little book was on my book shelves for many readers after buying it from the Scholastic Book Fairs that many US schools had. (If you remember those, fist bump) This is a wonderful story about a girl named Esperanza who lives in a beautiful ranch in Mexico, having fancy dresses and a comfortable life. But when the Great Depression looms over her family, they make the journey to California for a new life. She learns about the struggles of finances, hunger and hard labor work. I remember my eyes being opened to a culture that's my own and I did gain more appreciation for working hard to earn what I want. This book also won 3 awards when it came out in 2000 and I highly recommend this standalone for young girls who want to read about a culture that's different from theirs. I previously mentioned this in my Monthly Recommendations: Contemporary post.
8. Phantom by Susan Kay
First published: 1990
This, to me, is the Phantom story fans have been needing. Susan Kay takes us on a dark, tragic and entrancing character study of Erik when he's born up until he meets Christine. You see his bat crazy mother, the circus, being an assassin in Persia, all the while seeing him trying to come to terms with his appearance. He's still the dark genius we all love, but there's just so much more to this story that the musical never touched. Christine doesn't come until the end and that part can seem a bit rushed to some people, but if you've always wanted more about him than the musical gave you, grab this book. It is a bit harder to find, but I know Amazon and AbeBooks have copies. That gem cannot be missed!
9. Renfield: Slave of Dracula by Barbara Hambly
First published: 2006
I remember my best friend reading this in high school and loving it. She's a huge creepy/supernatural fan like me and I had to read this. This is the Dracula story, but from poor Renfield's perspective as he goes mad being Dracula's servant. It's dark, creepy and totally worth it if you're a big Dracula fan.
10. Companions of the Night by Vivian Vande Velde
First published: 1995
Published in the same year as Sabriel by Garth Nix, this is another great vampire standalone story. When Kerry's little brother forgets his stuff animal at the laundromat, she goes back in the middle of the night to retrieve it. But she gets caught up in a dangerous hostage situation when a group of men drag in a bloody young man. Set in one night, this intense story is about survival and secrets. This had me gripped from page one and I finished very quickly. This story packed a punch for a such a short standalone. This isn't a romanticized vampire story either. Instead, it's an organic and dark story that needs to be read by more people.
11. The Midnighters trilogy by Scott Westerfeld
Published: 2004-2006
When I saw these at my library as a teen, the plot alone sold me on reading this trilogy. It's set in the Midwest, where Jessica moves to with her family. One night, at the stroke of midnight, time freezes and she's the only one that can move in this frozen time. But when she sees that a couple kids from her high school can do the same thing, they discover that something dark lurks in this frozen time. I remember loving the fast paced adventure this series offered. I also remember loving the friendship between all the main characters. My memory fails me after that, but if you've been a fan of Scott Westerfeld, this is his lesser known series that needs more love. It's very original, fun and a great series to marathon. Another re-read on my long list of stuff to read again.
12. The Gemma Doyle trilogy by Libba Bray
Published: 2003, 2005 & 2007
Set at the end of the 1800's in a English boarding school, Gemma Doyle discovers that she has visions like her mother. Through dangerous secrets, she discovers magic and the dire consequences that come along with it. I marathoned this series back in early 2016, after loving The Diviners by this author. This is a fun story that has paranormal elements to it, growing female friendships and the different stages a young girl went through at the time. I read the last  250 pages of the first book in 1 day and I knew I had to keep going. This was one of those rare series where it took me less than a week to read each book, which isn't common for me anymore. People do have problems with the series now, but when I read them, I loved being shocked by the revelations that Libba Bray held really and well and her use of magic in England. I'm not a fan of the Regency England tropes that always stay the same, but this series turned a few of those on their heads and that made it more fun. If you love her Diviners, series, you'll enjoy this 🙂
13. The Ragwitch by Garth Nix
Published: 1991
After I loved Sabriel as a young teen, I picked up this book since I knew that Garth Nix had a couple previous books. This one follows the story of a brother and sister who come upon a demonic spirit within a doll and the struggle of defeating it. The sister even becomes possessed at one point! This story freaked me out as a teen since I hadn't read much like it. While it's been over a decade since I read it, it's one that fans of his work need to check out. It's a solid stand alone and different from his other fantasy books. He created a really cool atmosphere and a story about survival and the love between siblings. Again, another re-read that needs to happen soon.
Have you read any of these? Have you heard of some of these older releases? Do you tend to read stuff you read as a teen to see how you view it now? If you've read any of these, let me know what you thought of them. I hope you found another fun book to read from this list. Have a great everyone!