The group has talked about series that are worth it, favorite finales and such. But many of us don't usually like the middle books in series. But this topic highlights your favorite "second books." I'm slightly cheating on this, since most series I'm mentioning are longer than a trilogy. But these are the books in the middle of a series that really amped things up or were more memorable than the other installments. These are not ranked in any order, so let's jump in!
1. Falcondance (Kiesha'ra #3)
This series, and author, was a big part of my junior high years. This series about shapeshifters in different kingdoms was really fun. But of all the 5 books, I remember loving this third book the most. This follows characters from the falcon kingdom, and they're stern attitude, politics and the magic was the most fun. While it's been more than 10 years since I read it, I felt like the falcon kingdom was much less dramatic than the first two books, making it my favorite.
2. Rebel Angels (Gemma Doyle #2)
I marathoned this series early last year after falling down the Booktube hole and after I loved her other book The Diviners. This second book in this awesome trilogy took me on a fantastic rollercoaster! Libba Bray is so talented with writing twists and revelations as this series escalated. Gemma and her friends are trying to understand the magic they possess, as well as Gemma figuring out how to balance her life in 1896 and the horrifying visions. I had no idea what would come as I read and I would read 100+ pages a day until I was done. I had to go book three immediately after to see how the series ended. If you're a fan of Libba Bray but haven't checked out her first series, please do! It's a fun fantasy series with female friendships, figuring out who your friends are, your family and yourself.
3. Days of Blood and Starlight (Daughter of Smoke and Bone #2)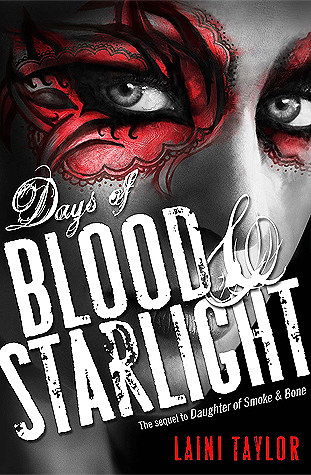 Oh man this second book was dark, full of magic, war and plain epicness! I listened to the audio book for this whole trilogy, but this was one was the best. You see the fantasy world that Laini Taylor created and it shows the war going on between the angels and chimera. Karou starts using the magic that she had been taught and it was also less focused on the romance. The romance in this series was not great for me (Akiva annoyed me), so seeing the harshness of war, tragedy and violence was so great. I also met Laini Taylor and got this book signed by her and she was so nice! If you were hesitant about the first book, try this one and see if the dark atmosphere suits you better 🙂
4. Lirael & Abhorsen (Old Kingdom #2 & 3)
Now, you'll see that this is two books. But if you watch a few interviews with the author, he states that he wrote this as one big novel. But the publisher didn't approve the idea, so it was broken up in 2 books. This follows Lirael and her story of finding out who she is among the dangers of the Old Kingdom. I loved this story so much because I related to Lirael with being down on yourself at times and being afraid of change. But she has such a beautiful character arc and of course, the Disreputable Dog steals the show every time! This dog is snarky, loving and brave as every loyal canine companion is. Her interactions with the cat Moggett is also hilarious. With 5 being out in this series as of now, this story is my favorite with its main character, talking animals and nasty undead and evil necromancers. I'll never shut up about this series 🙂
5. Shadows of Shelf (Mistborn Era 2, Book #2)
*NOTE: You need to read the original trilogy before reading this second series due to spoilers for how the original series ends and other Cosmere stuff that comes up.*
With the fourth book out in 2018, this book is the middle book in the second era of the Mistborn series. This takes place 300 years after the original series and we follow Wax, a middle aged man who gets caught up in some serious stuff with his uncle and other dangerous people. His loyal sidekick is the brilliant Wayne (who steals every moment he's in and I think he's one of the best written character of Sanderson's written) as they figure stuff out along the way. This second book follows Wax as someone begins hunting him and messing with him mentally and emotionally. You see more of his past, get introduced to new characters and a book that ripped my heart out. The impact of this book on a few of the characters have stuck with me since I've finished it and it remains a favorite in the Mistborn world. If you've read the originally trilogy, please pick these books up! They're shorter books, but still packed with brilliant characters, evolving character arcs and the ever masterful magic and creatures 🙂
Dun dun dun! There's a few of my favorite "middle/second" books in series. What books are your favorites? What makes them memorable next to the other installments? Share your favorite second books in the comments 🙂