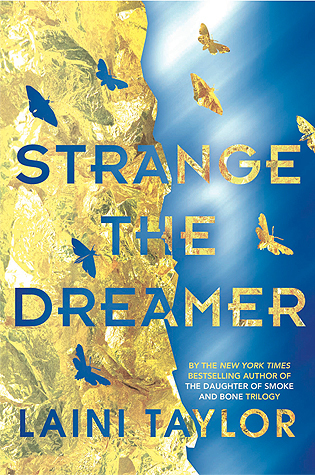 Title: Strange the Dreamer (Strange the Dreamer #1)
Genre: YA Epic Fantasy
Pages: 532 (US hardcover)
Release Date: March 28, 2017 by Little Brown
Audio Book Narrator: Steve West
Synopsis: For 200 years, the city of Weep has been forgotten by the world. No one remembers its real name and the events that happened have settled into myth. But for Lazlo Strange, an orphaned librarian, Weep is everything to him. For years, he's studied this lost city, curious of what happened to it. When a caravan from Weep arrives in the city he lives in, he's taken on a journey to that lost city and its fate…
I did try to attempt listening to this book back in April of this year, but I wasn't feeling it. But lately, I had wanted some book to really take me on a journey. So I picked it back up and it's another favorite of the year. I'm on the hype train for this book; it's a masterpiece from Laini Taylor with full of wonder, mystery, war and amazing characters. Here's five reasons why you should experience this book.
Step Up for Laini Taylor: While I did enjoy her Daughter of Smoke and Bone trilogy, I never believed in the romance between Akiva and Karou. Plus the finale felt very underwhelming, convenient and disappointing. But this first book in her new duology is a major step up from her previous series. This is an epic fantasy set in a huge and completely new world Laini Taylor has created. The writing has also improved a lot. The author herself said that while she push back the release date, the hard work was worth it and she's proud of the final product. I can see how much time she spent over this passion project of hers; everything feels natural in this world and the way the story moves along is magical and expertly done.
Narrator: If you do audio books, you can't miss this one. Steve West continues to wow me with his vocal range and skill. He's the perfect person to give Lazlo a voice. He also shows good range for voicing the female characters as well. There's also interlude music between the parts of the book and it just makes you think of a looming dessert on your way to a fantastical world. Ever since I listened to him voice Elias in An Ember in the Ashes, this guy can do no wrong. This audio book is required for fantasy lovers.
Proper Placing and Plot: I will say now that I completely disagree with many people who have said something like "the first 100 pages or so is really hard to get into, it's really slow in the beginning" blah blah blah. I didn't think that at all. In the first 100 pages, she's showing you this world through Lazlo's eyes. You see his upbringing, his discovery of Weep and the obstacles he faces before leaving the city of Zosma. You see how the culture works in this vast city and the situation he gets himself into. Stuff like this doesn't feel like "slow pacing" to me. It's an introduction so you're not just thrown into the story and you have to catch up with everything. Laini Taylor shows you bits of what this world is like before you leave Zosma and travel across the dessert towards Weep. Once you get there, and you see the perspective of Sarai, things start to slowly unfold of characters fates, intentions, etc.
Writing Style: I liked her writing in her trilogy but I feel like this book was even better! Yes, she has a more "purple prose" style but it works. She digs deep to uncover details of describing stuff like dreams, location, feelings and magic. It's totally true that the words in this book have literal magic in them. Her writing swept me away and Steve West brings the magic of these words to life in the audio. Here's a couple quotes to show her writing style:
"Names may be lost or forgotten. No one knew that better than Lazlo Strange. He'd had another name first, but it died like a song with no one left to sing it. Maybe it had been an old family name, burnished by generations of use. Maybe it had been given to him by someone who loved him." (pg. 7)

"Sarai had entered into an idea of the city, and it was the most wonderful thing she had ever seen. It danced over her senses, the way the dream sun danced over the domes. Every color was richer, richer than real, and there was so many of them. If the weaver of the world had kept the snipped ends of every thread she'd ever used, her basket might look like something like this. There were awnings over market stalls, and rows of spice shaped into cones. Rose and russet, scarlet and sienna. Old men blew colored smoke through long painted flutes, etching the air with soundless music." (pg. 216)

"It was fog-tongues of white vapor extruding between the knuckles of the fur-dark hills- but it moved like a living thing, with a curious, hunting intelligence. At once light and dense, there was something about it, almost serpentine.  Unlike fog, it didn't merely drift and settle, tumbling downward, heavier than air. Here and there, tendrils of its curling white churn seemed to rise up and peer about before collapsing again into the tidal flow like whitecaps sucked back into the surf." (pg. 365)
5. Characters: These characters are unforgettable to me. Lazlo Strange is a young man with no family or recollection of where he came from. But he's full of dreams that he desperately wants to achieve. He's selfless and kind to others. He's willing to accept what people have done and never give up. His character arc we see in this first book is beautiful to see unfold. Sarai is a girl with an unsettling ability and she grew on me as she tried to figure out what was going on, as well as figuring out her feelings. Eril-Fane, better known as the Godslayer, is a man whose guarded and has much for the reader to uncover. Many other of the side characters are fully fleshed out with interesting personalities, beliefs and views on the problem in Weep. There are some who take a major back seat for now, but with what you do get of all these characters, they're compelling.
Recommended Reading Age: I would recommend this book for older teens, since they are vague references to sex, blood shed and adult relationships. It's not explicit, but there are deeper topics like war, murder and sexual feelings. It's also a slower book that does require your attention, so I think that older teens that really want something to sink their teeth into, be aware of those topics before going in.  I personally wasn't bothered by anything that I read; it was vague enough that I didn't have to skip any pages. But there's definitely emotions to be felt with those topics.
Overall: I love this book so much. I have no idea why I couldn't get into it earlier this year, but now with the full experience, it's a beautiful book that deserves all the love it's been given. It's romantic, epic and grand in every sense. I never wanted to leave this world once I finished the last page. I also book 2…right now…I'm praying we'll get it next year.
Rating: 
Have you read this book yet? What are your thoughts on it? Have you listened to the audio book? Let me know! I need to talk to people about this book lol 🙂