With the book community becoming bigger on the internet, book recommendations and hype are almost everywhere. I feel like Booktube keeps getting bigger every year. We do find books that people talk about, whether it's new or a favorite and we pick up because of their suggestion. That word of mouth is crucial for authors finding more of an audience. Here's five books that I read or listened to due to either Booktube or any bloggers. Most of these are from Booktube, since I watched it almost religiously before I started my blog but there's at least one or two that I found from bloggers. These aren't in any order and unpopular opinions may be in order as a disclaimer. Let's jump in!
1. Roseblood by A.G. Howard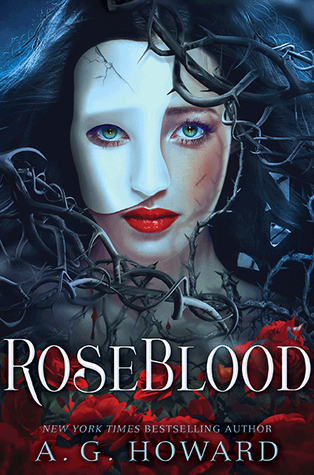 Read Because of: Booktube
I had seen a couple Booktubers get ARC's of this book a few months before it came out back in January of this year. When they said it was a Phantom of the Opera retelling, I immediately became interested. Although it did get a few bad reviews right before it got published, I still got a copy on hold from the library. I ended up really enjoying this book; I don't get why this has a 3.3 rating on Goodreads. The author did a great job at creating a modern version of the story, with some nice nods to the original tale. I can see one small thing (it's a spoiler) being a bit annoying to people, but the spoiler has two different labels in the book when there should only be one so I can see that. But despite the bad reviews, I think it's worth looking to. The atmosphere is perfect, I enjoyed the main character and the interesting reveal is something I don't see often in literature. This is a good retelling to check out if you like reading lots of retellings.
2. A Madness So Discreet by Mindy McGinnis
Read Because of: Booktube
If you watch Booktube at all, you might have heard of Trina's channel "Between Chapters." She co-created the "Monthly Recommendations" group on Goodreads. She's also a huge Mindy McGinnis fan. So when she mentioned this book, I was really interested so I got a copy for Christmas. Then I read it and…it didn't work out. The first 15% or so was brutal and dark, hard to read but compelling. Then the actual murder mystery investigation stuff felt silly and I just couldn't connect to it or take it seriously. I also didn't like how something was handled at the end; it seemed like a cheap way to end the story. I've been hesitant to pick up any other books by the author since this was so disappointing. We shall see…
3. The Accident Season
Read Because of: Blogger (JenAcideByBibliophile)
She wrote an awesome review about this book and how much she loved it back in March of this year. I had barely heard of this book and got it from my Overdrive app not long after I read her review. I read the book in two days and while I didn't enjoy one major aspect I feel like problematic, I still admire the author's writing and how atmopsheric the book was. I am trying the next book by this author. It's reviews like hers that just inspire to get the book immediately. Awesome job girl!
4. Midwinterblood
Read Because of: Premise/Cover at Library
I remember working one day and seeing this book in the YA paperbacks. The title was interesting so I read the premise of the book and decided to check it out. Plus, it won the Printz Book award. It's the story about seven time periods and how they all connect by two people. It had a really eerie island atmosphere at the beginning but I hated the ending. It felt so cheap and sudden that I didn't feel any closure. I also didn't care for any of the characters; I feel like the seven different stories kept changing so they felt repetitive and didn't give enough time to care. So I took it back to work and I'm not sure if I'll try something by this author again. Sadly that's how reading goes sometimes…
5. The Road
Read Because of: College
I had a novel writing class in college where we had to read a book for a term project. Out of all the books on the list, I remember just picking this one randomly since I had vaguely remember seeing it at Barnes & Noble a few times. This 2007 Pulitzer Prize winner tells the story of a father and son as they wander through a barren America after some unknown apocalypse. They only have themselves, coats, a pistol and a shopping cart of belongings. This author is unique because he doesn't use quotations with dialogue and it's understandable that it can mess with you while reading it. This is one of the bleakest and darkest books I've ever read. Cormac McCarthy did a great job with the story, but I will never read it again. It's painful, dark, bleak and also disturbing at times. I can respect his writing talent but I won't be visiting his other novels. If you do like reading that stuff…then go ahead and check it out…but be warned for dark stuff ahead.
There we are everyone! There's a ton more ways that I read because of blogging/Booktube and such, but I'll stick with these 5 for now. Have you read any of these? If you have, how did you know about them? What other books have you read due to blogging/Booktube/social media/etc.?