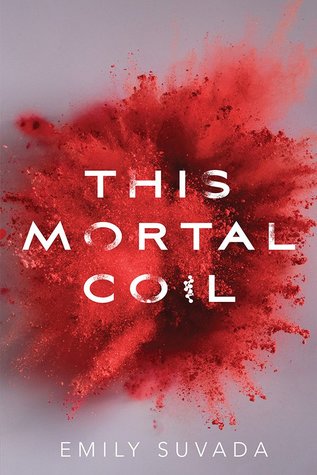 Title: This Mortal Coil (This Mortal Coil #1)
Genre: YA Science Fiction
Release Date: November 7, 2017 from Simon & Schuster
Format: PDF ARC
*I received an ARC from NetGalley for this blog tour. But like usual, all thoughts are my own. Quotes from the book will not used*
Goodreads Synopsis: Catarina Agatta is a hacker. She can cripple mainframes and crash through firewalls, but that's not what makes her special. In Cat's world, people are implanted with technology to re code their DNA, allowing them to change their bodies in any way they want. And Cat happens to be a gene-hacking genius. That's no surprise, since Cat's father is Dr. Lachlan Agatta, a legendary geneticist who may be the last hope for defeating a plague that has brought humanity to the brink of extinction. But during the outbreak, Lachlan was kidnapped by a shadowy organization called Cartaxus, leaving Cat to survive the last two years on her own.
When a Cartaxus soldier, Cole, arrives with news that her father has been killed, Cat's instincts tell her it's just another Cartaxus lie. But Cole also brings a message: before Lachlan died, he managed to create a vaccine, and Cole needs Cat's help to release it and save the human race. Now Cat must decide who she can trust: The soldier with secrets of his own? The father who made her promise to hide from Cartaxus at all costs? In a world where nature itself can be rewritten, how much can she even trust herself?
When I saw that this was on the next FFBC tour, I wanted to give it a try. I had heard a few people on Twitter say that this was a good sci-fi book and I am thrilled to be apart of this tour! There will also be a giveaway on a Rafflecopter thing at the end of the review. But let's jump in to the review! Here's five reasons to read this debut novel.
True Science Fiction: I've read some YA sci-fi before and to me, the science fiction elements never really take off for me. But this one is scary, detailed and simply brilliant! The author does have a scientific background and you can see how much work goes into this book. In this futuristic setting, people have a panel in their arm. There's apps that fix your skin, ocular tech to enhance your vision, wires in your body…your DNA can be re coded. This novel shows what the future could be like if we become even more attached to this technology and it's scary at times. Panels are ripped out, wires injected into the spine, wires to pull out bullets…it's crazy stuff. The novel also focuses a lot on coding as well; it's not difficult that many people won't get it. I found all the science fascinating and refreshing to read from. This is the most detailed and well thought out YA science fiction I've ever had. If you're looking for a YA novel that's much more science related, pick this one up.
Unpredictable: I was making several guesses as I was reading this book, seeing what would happen as it unfolded. When you do read lots of YA books, you can see similar tropes, story threads and other things that make a book either awful or just a bit disappointing. But this book is completely unpredictable. With a fast pace that barely lets you have room to decipher what's going on, another bombshell creeps its way in. The author balances movements of safety, thinking and planning with mayhem, betrayal and even tender moments. This book has lots of layers to it and the truth is very well hidden 🙂
Sinister/Dark Story: This book surprised me with how dark, twisty and intense this story got. There's moments where you see the "Wrath": a state people go into, slightly similar to a zombie, where they attack people and eat the flesh of their victim. The way to become immune to this virus is that people have to eat the flesh of the infected that are in the safe stage to stay immune before the victim becomes a Hydra cloud. There's also lots of wires being injected into people, ripped out panels, squirming wires (you getting sick yet?) and other creepy science stuff. The true intentions  you start to learn are pretty crazy and the author doesn't sugar coat anything. She gives you dangerous situations and never changes them; things stay pretty intense, which kept me enthralled.
Great Writing: Emily Suvada is such a great writer and her debut novel shows her skills at writing science fiction. The way she describes the science is easy to understand, with great word choices that make it flow. But what really shines is Catarina herself. The author puts this character through some earth shattering experiences and you see how Cat is vulnerable, furious, scared, uncertain and also wanting to do the right thing. By the end the book, I can see a fantastic story arc with her and it's one of the best main character introductions I've read in a while.
Refreshing Read: For me, I think that as I've read lots of YA books, it's sad to see a lot of the same tropes, story lines, character arcs, etc. used over and over. I've been disappointed where the ending is always happy, everyone gets what they want, the story is too romance heavy and other stuff. But this book is NOT that. To me, this debut novel is refreshing because it doesn't rely on common trends to become a bestseller. It has great writing, a detailed concept and world building with a character that truly has herself pushed beyond any normal limit. Looking for something all new? You don't want to miss out on this one 🙂
ABOUT THE AUTHOR
Emily Suvada was born and raised in Australia, where she went on to study mathematics and astrophysics. She previously worked as a data scientist, and still spends hours writing algorithms to perform tasks which would only take minutes to complete on her own. When not writing, she can be found hiking, cycling, and conducting chemistry experiments in her kitchen. She currently lives in Portland, OR, with her husband.
TOUR SCHEDULE
I highly recommend you guys follow the rest of this blog tour right before the book's release. There's awesome interviews with the author, book reviews and other great stuff. I also recommend signing up with these great ladies who run the blog to participate in future tours. Here's the link for the entire tour schedule:
http://fantasticflyingbookclub.blogspot.com/2017/10/tour-schedule-this-mortal-coil-by-emily.html
Giveaway
There's a fun giveaway for all you guys! You could win a finished copy of this book, which trust me is really worth it. Check out the Rafflecopter down below to enter and best of luck!
Rafflecopter Giveaway https://widget-prime.rafflecopter.com/launch.js