Every year, we read books by authors that impress, inspire or blow us away. So, it's appropriate to gush about our favorite new authors every year so more people can (hopefully) experience these authors as well. These authors for me have impressed me as far as writing, imagination, pacing/etc. These aren't in any order but I have loved these authors this year 🙂
1. Sarah Dessen
I loved this contemporary books when I randomly got it from Overdrive this year. This wasn't sappy, overly dramatic but instead showing great friendship, a genuine relationship and a great character trying to navigate around her family's choices.  After only one book, Dessen took me back to my teenage years of having the summer to have new adventures and the joy of finding new friends. I cannot wait to read more books by her.
2. James Islington
This first book in an epic fantasy trilogy really stood out to me when I listened to it. This was originally self published for a couple years before getting picked up by a publisher. I heard about this book on Kitty G's YouTube channel. This centers around three characters, two of them being friends and another with a mysterious past and there were quite a few genuine surprises. Islington brings epic fantasy to a very approachable level  like Sanderson does. While a little bit of it dragged, this author has a huge imagination and this first book took me on a really fun ride.
3. Katie Bayerl
This 2017 debut novel about a sister trying to figure out if her sibling was an actual saint while her small town believes so was emotional, brilliantly written and truly portrayed small town talk, loss and the unknown so well. With three perspectives you read, you see many angles of this family and the quest of a sister knowing her sister really was. While I listened to this in the first half of the year, I still remember being inspired by this family story and wanting to know what happened next. I can't recommend this underrated book enough 🙂 Fans of realistic contemporaries like Dessen's work would enjoy this.
4. Cat Winters
With three books under my belt, this woman writes paranormal historical fiction in a fast paced, meaningful and addictive way. From spirit photography, ghosts, racism and coming of age, Cat Winters is a master writer! I have loved all three of her books for bringing bits of historical that's not common to life. Blackbirds brought the mass panic of the 1918 Spanish flu and spirit photography to a scary, but thrilling read. Steep and Thorny Way is a brave story of a biracial girl trying to figure out who killed her father, as well as a finding where she fits in the world. Odd & True is a fun and sometimes unflinching look about the bond between two sisters and the Leeds Devil they seek after. I first heard about this author from the Booktuber Kayla Rayne. I also met this wonderful author this year and her passion for history is felt in every page of her books. If you read historical fiction, or need a new author to marathon, Cat Winters is the author for you.
5. Julie Berry
Man this book and author made an impact on me while I read this and not long after finishing it. Set in the 1300's in Spain during the frightening Inquisition, it follows Botille and her sisters when they find Dolssa nearly dead. It's a powerful tale of looking at people as they are, listening to them and the power of belief as well. This book is bold because it tackles a scary time in history, yet holds beauty and hope in it as well. It's also a book set in a religious time period. Now I really want to read Berry's other works and can't wait fo more by her.
6. Meagan Spooner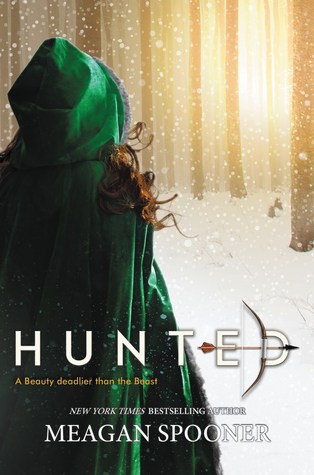 It's funny that after I watched the live-action remake of Beauty and the Beast and while not loving it, I was in  a desperate mood for a retelling of Beauty and the Beast. This book had just come out, or was close to coming out so I grabbed the audio book from the library. It's about Yeva, a girl who was raised to hunt and love the woods from her father and how she goes to hunt down the beast that her father claimed was watching him. It's a beautiful character study of Yeva, who wants to belong in society, but also knows she loves nature and the woods. You see how she wants something, but ultimately doesn't know what she wants. I know it sounds vague, but it's THE best re-telling I've experienced since listening to The Forbidden Wish last year and I'm not a huge retelling fan. Spooner nails the uncertainties of life and trying to find what you want in the world and it's a book to experience at least once.
7. Samantha Shannon
I still haven't read the other books yet and I do the walk of shame sometimes :p But after randomly buying this at a used bookstore on vacation last year, I read this clear back at the beginning of the year and was blown away. Shannon had this book published when she was like 21 and the amount of imagination, writing, world building and craft in this book for a debut novel is crazy. I compare her to Brandon Sanderson when it comes to masterful world building and the explanation of someone having powers. It centers around Paige, who is a dream walker, in a futuristic London where clairvoyancy is illegal. The underground ring of Paige's group of clairvoyants is diverse and very likable and the plot progressed in an awesome way. If you read a lot of SFF with lots of world building books and intense plots, do pick this up. Book four is out next year and I need to catch up.
2018 Author TBR
So here's a few authors I don't think I'll get to this year, I will do so next year. Given, these are authors I have NOT read yet:
Neal Shusterman
Agatha Christie
Michael J. Sullivan
Paolo Bacigalupi
Jodi Meadows
Jennifer A. Nielsen
Of course there's more authors than that, but those are few I've been wanting to get to, but haven't yet. Have you read any of these authors? Who are some "new to you" authors? Which authors do you recommend?