A new year is pretty much here and that means more books are coming out. Hotly anticipated debut novels, series installments or finales are almost upon us. These are the top 20 books of next year that I can't wait to get too (with a few honorable mentions). While too many of my anticipated releases this year didn't work out, I'm hoping this year will be better. Now, just because a book isn't on here doesn't mean I'll read it. There's a few I'm interested in, but I'm trying to go in as blind as possible to see what happens. Plus, these are just 16 plus a few I'm looking forward to; they're not ranked at all 🙂
Honorable Mentions
Unearthed #1 by Amie Kaufman and Meagan Spooner (January 9th)
Pacifica by Kristen Simmons (March 6th)
Barbed Wire Heart by Tess Sharpe (March 6th)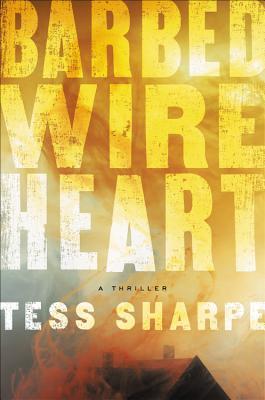 16. Brief Cases by Jim Butcher
Expected Publication Date: June 5th 2018 by Ace
This sequel anthology to Side Jobs contains more Dresden Files short stories. When I saw Butcher at a comic con earlier this fall, he talked about some fun stories that will be in here. This will also come out before the 16th Dresden novel Peace Talks, which I'm praying comes out this year. WARNING: Goodreads will tell you in the description of when these short stories take place in the anthology. You need to be caught up on all 15 Dresden books before reading this anthology to avoid spoilers. Luckily I have #15 to listen to and then I'm all caught up for when this anthology comes out. Can't get enough Dresden 🙂
15. The Light of All That Falls (The Licanius Trilogy #3) by James Islington
Expected Publication Date: August 7th 2018 by Orbit
When I listened to the first book in this trilogy earlier this year, I could tell that Islington could be a new SFF favorite author of mine. I loved how he's like Sanderson; great world building, characters and plot without being excessively graphic. While I still need to listen/read the second book, I still think this will be a memorable series for me. Luckily, I've got time catch up before next fall comes around.
14. The Bone Season #4 book
Expected Publication Date: 2018
While I still have only read the prequel novella and the first novel in this series (yep, still the walk of shame), I still excited for the fourth installment to come. Catching up on this series in 2018 is going to be really exciting. Plus I'm glad you can still buy the original covers 🙂
13. Girl at the Grave by Teri Bailey Black
Expected Publication Date: August 7th from Tor Teen
So…this book's blurb says that it's: Early Libba Bray meets Stalking Jack the Ripper and William Ritter's Jackaby series in this richly atmospheric Gothic tale of murder and romance in 1850s New England." Ummm…YES! I'm sad that I have to wait until August, but that blurb immediately sold me. Valentine is believed to be a murder in a small town but one person, Rowan Blackshaw is the only one that believes her. It sounds like a fun and engaging historical fiction 🙂
12. Sky in the Deep by Adrienne Young
Expected Publication Date: April 24th from Wednesday Books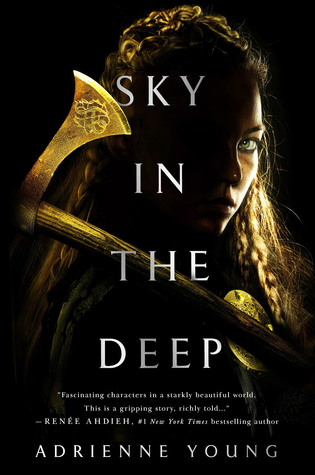 The good news is that this book got moved up from July to April! I first heard of this from Owlcrate's YouTube channel who read it recently and loved it. It centers around Eelyn who fights with her clan to survive, surprised to see her brother (who had died 5 years before) on the side of the enemy. This book clearly shows influences of a promising Viking age novel and it sounds like a breath of fresh air from other popular books.
11. Shadowsong (Wintersong #2) by S. Jae-Jones
Expected Publication Date: February 6th from Wednesday Books
This is the conclusion to the Wintersong duology and takes place 6 months after the events of the first book. I had no idea this sequel existed until recently but I'm excited for it. The first book has gotten more mixed reviews in the last several months, but I think this sequel has potential for answering a few more burning questions and more character development. Fingers crossed!
10. Beyond a Darkened Shore #1 by Jessica Leake
Expected Publication Date: April 10th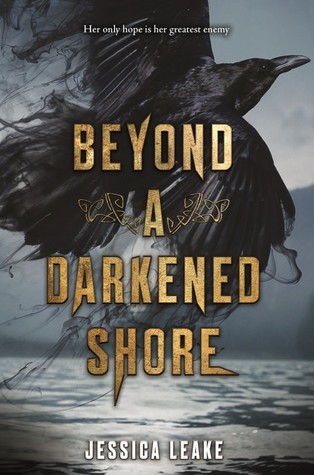 This standalone fantasy novel takes place in a Viking inspired world where two nations are at war and our female protagonist starts seeing a crow that foretells destruction. The crow leads her to a young man leader and how they try to overcome their adversity to save their world. This is another plot type story that I never get sick of; I love the thought of nations coming together, despite their upbringing and differences to save the world they live in. We need more stories of people coming together like this and I have a feeling I won't be disappointed.
9. Ash Princess by Lauren Sebastian
Expected Publication Date: April 28th
I originally saw this on Twitter; someone I follow had liked the page where some source like Entertainment Weekly had an article about the cover reveal and it caught my eyes immediately. It's the story of a young girl whose mother, the Queen of Flame and Fury, was killed and as she's grown up, she's inherited the title of "Ash Princess." From what I can tell, it's the kind of story where a young girl tries to take her kingdom back. I do love stories like this, with The Girl of Fire and Thorns being similar in plot. It's a trope I never really get sick of, so April sounds promising.
8. A Sorrow Fierce and Falling (Kingdom on Fire Book #3) by Jessica Cluess
Expected Publication: Fall 2018
The conclusion to this historical fantasy is coming at about September 2018 according to the author on her Twitter page. I just love that these books make the Victorian era accessible for me with  nasty monsters, an amazing heroine I look up to and nice mystery elements. Plus, the covers are stunning 🙂
7. The Wicked Deep  by Shea Ernshaw
Expected Publication Date: March 6th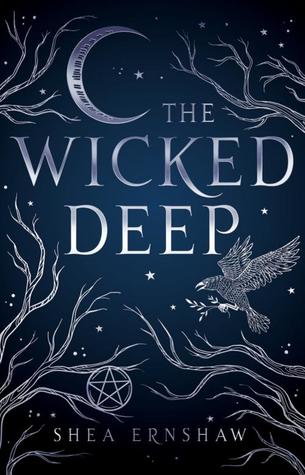 The blurb for this book says it's "Hocus Pocus meets Practical Magic" and is about two sisters who were drowned 200 years ago and how they return each summer and how love gets in the way. Early reviews have praised the salty town atmosphere, writing style and great messages. Definitely one to look for if you like witchy books 🙂
6. The Beloved Child by Melissa Ostrom
Expected Publication Date: March 27th
This book is blurbed as "Pride and Prejudice meets Cold Mountain" and is set in New Hampshire 1807. Harriet is the oldest daughter of a farming family. Her mother thinks their neighbor Daniel is a good match for her. But when Harriet's brother decides to go strike out in New York, she disguises herself as a boy and goes with him. Along the way, they battle sickness, opposition and emotional growth as Harriet comes to decide what she really wants. I've been loving how YA has been publishing more Western type YA books. The setting in All the Wind in the World is dusty and treachourous and the Gold Seer Trilogy is the wild west, filled with strangers, finding your family and speckled with gold. This book seems to make another statement that YA Westerns aren't dead and I want more of them.
5. Furyborn (The Empirium Trilogy #1) by Claire Legrand
Expected Publication Date: May 22nd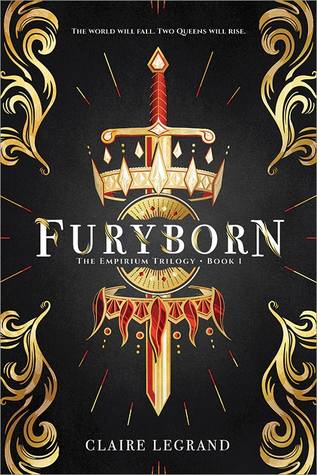 It has an official cover now! This book also appeared in my Twitter feed and it sounded dark and appealing from the synopsis. It tells the story of how the fate of two queens will be intertwined and how they might save or doom their fate. Early reviews praise everything from the complex world building to character motivations. Being a fantasy reader, I seek detailed, original world building and stories that try to tell something new. I've been very interested in Legrand's work for some time and this sounds like a YA epic fantasy that appeal to my critical reading tastes. If it's like Strange the Dreamer, this could be a new favorite. I also got a physical ARC of this in my November Fairyloot box so I'll be reading this early next year.
4. Everless (Everless #1) by Sarah Holland
Expected Publication Date: January 2nd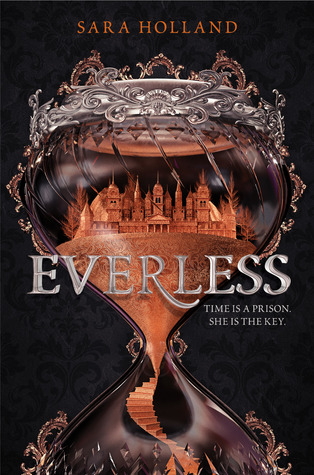 I read an early sample of this upcoming debut novel in a Buzz Books Fall/Winter edition earlier this year and it was so captivating, original and so much fun. The magical system deals with time being bled from you and used as payments. People have grown accustomed to draining their blood to pay off debts or save themselves. Jules and her father were once house servants at Everless and she goes back to try and save him. I never seen a different, kinda scary and original magic system like this anywhere. Plus, this cover is just stunning! I'm excited to see what else this debut novel brings 🙂
3. The Lost Metal (Mistborn #7)
This is the final book in the second era Mistborn books following Wax, Wayne, Maresi and Steris. While it's later in 2018, I'm dying for this final volume. I will miss these zany and endearing characters but I have to know what other awesome Cosmere stuff might come to play.
2. A Reaper at the Gates (An Ember in the Ashes #3)
Expected Publication Date: April 10th 2018 by Razorbill
Many of us are beyond ready to be back in this desert world full of tension, looming war, magic and amazing characters. I just know that Sabaa Tahir will pull out all the stops with crushing our souls. April can't come soon enough. I have some hope for a bit of happiness for Helene, Elias and Laia, but we never know. Bring it on!
1. The Muse of Nightmares (Strange the Dreamer #2)
Expected Publication Date: 2018
Oh man oh man oh man I NEED this! Ever since I finished Strange the Dreamer earlier this year, I've been in a book hangover for this conclusion. So far it's still planned for 2018 and I hope that remains to be true. I have to know how this stunning series ends and while I wish it could be more books, I have no doubt that Laini Taylor will give us a spellbinding conclusion.
What books are you guys looking forward to? Have you heard of some of these lesser known titles? What top books are you excited for in 2018?
NOTE: Since Christmas Day is on Monday, I'm not posting that way. My regular schedule will resume on the following Wednesday after the holiday. Merry Christmas everyone!