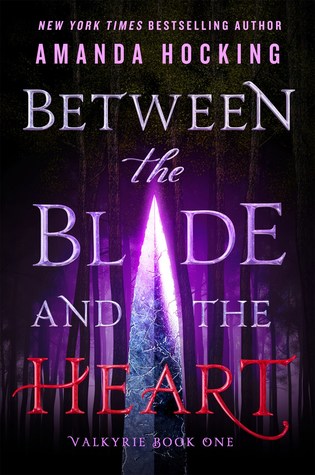 Title: Between the Blade and the Heart (Valkyrie #1)
Genre: YA Urban Fantasy
Publication Date: January 2, 2018 by Wednesday Books
Format: Kindle ARC
* I received this ARC through St. Martin's Press and NetGalley in exchange for an honest review for this blog tour. All thoughts are my own and quotes from the book won't be used.*
Synopsis:  When the fate of the world is at stake, loyalties will be tested. Game of Thrones meets Blade Runner in this commanding new YA fantasy inspired by Norse Mythology from New York Times bestselling author Amanda Hocking.Valkyries have one great responsibility: to return immortals to the afterlife by slaying them. As a Valkyrie, Malin has always known that the balance of the world rests on her ability to carry out orders. But when Malin discovers that her mother spared the life of an immortal who was destined to die, her world is thrown into chaos.
About the Author
Amanda Hocking is the author of over twenty young adult novels, including the New York Times bestselling Trylle Trilogy and Kanin Chronicles. Her love of pop culture and all things paranormal influence her writing. She spends her time in Minnesota, taking care of her menagerie of pets and working on her next book. You can find her at her social media links:
Twitter: @Amanda_Hocking
Website: http://worldofamandahocking.com
When I was invited to participate in this blog tour, I was curious of how I would enjoy another Hocking novel. Her previous one Freeks was just a fine, but forgettable book. But I wanted to give the author another chance, since this one had Norse mythology in it which has been getting more popular. Since this book is already out now, I'm still doing a mini review to not give much away.
PROS
Learning about Mythology: I liked learning about some mythological creatures and deities in this book. I had some small Norse knowledge, but it was cool to read about some famed weapons, creatures and other Norse elements. I wasn't entirely sure how much was actual mythology and what was the author's creation, but most of the mythology stuff was cool to read about.
Settings: There were a couple settings in the book that were well described and added more atmosphere to the story. One  night market was fascinating and an ancient, almost Byzantine setting had great details about the place and made it a bit more exciting.
Two Decent Side Characters: The only characters I cared for enough were Oona, Malin's friend and roommate and Asher, the love interest. Both had good intentions and felt the most realistic of all the characters. They also had great lines about being yourself and trusting in your instincts.
CONS
World-building: For an urban fantasy book, the world building was way too bloated with having every supernatural creature in the story.  The story stops momentarily to describe every creature the MC interacts with and the mixing of different creatures made it a bit confusing and busy. I've read urban fantasy series with a more balanced focus on certain creatures, but this one didn't succeed in doing that. I would've liked to have seen a Norse mythology only urban fantasy book to make the story more focused and relevant with the MC being a Valkyrie.
Convoluted Romance: Even though it seems there is a bisexual "love triangle" in this book, you just know who Malin develops feelings for and the plot takes a backseat for a good amount of the book to only focus on the romantic problems of the characters. Nothing is a surprise and I felt no chemistry between  Malin and her actual love interest. Although, people looking for a diverse read will be pleased to see that Malin is bisexual and her ex-girlfriend is present in the book and her sexuality isn't the point of the story. I didn't mind it at all, but the romantic stuff the author does include didn't do anything for me.
Sexualized Characters: This is what made me angry. I do not like seeing authors sexualize almost every character in their novel. Not only is it unrealistic to real life, but it's also distracting and not great character building. Every female has "ample cleavage" showing, shirts that come up and show their stomachs, guys have to have abs of steel and be sculpted by the gods or what have you. It's all the attractive people getting together and to me, that creates a false sense of reality and doesn't reflect real life. I didn't like reading about all the women who were scantily clad or had tight shirts on; there's so much more to us as females than wearing tight stuff all the time. I know this doesn't bother some people, but I'm definitely not the target audience for this. But I also think this needs to stop being a trend in romance heavy novels.
Not for YA audiences: Again, this is a personal preference for me. But I feel like this book is more adult fantasy than YA, due to the excessive sexual situations, drinking, drug use and other mature matters. I think this book is miscategorized and belongs on the adult SFF sections. While it's not as graphic as other urban fantasy books, I do feel the mature situations and the MC being 19 doesn't belong on YA shelves. If you do have teens that love to read, I don't recommend this for teens if you don't like them reading graphic content.
Plot: The concept of the story is very eye catching and intriguing. But in the end, I was disappointed with this first series opener. A couple things were brought up concerning Malin but they don't even get touched on or mentioned again. I can see with leaving answers to questions for further books, but it felt like these things were completely thrown out and didn't even matter. Plus, while the plot does take itself seriously, the romantic elements are very cheesy and with no chemistry that I couldn't take this book seriously. All the romantic things were the main focus for chunks of this book, instead of getting true answers and moving the main plot along. The real events didn't even happen until the last 15% of the book; I wouldn't DNF'd this book if I hadn't been sent a review copy for this tour.
Overall: Sadly I am not the audience for these types of books. I have given this author two tries now and she's not an author for me. But if you do like her books, I would say to give this a try if you already like this author. But this was very sexualized and convulted for me to enjoy.
Rating:   
1/2 stars
What did you think of this book? Despite the review, are you interested/not interested in this book? Do you have any book recommendations with Norse mythology?