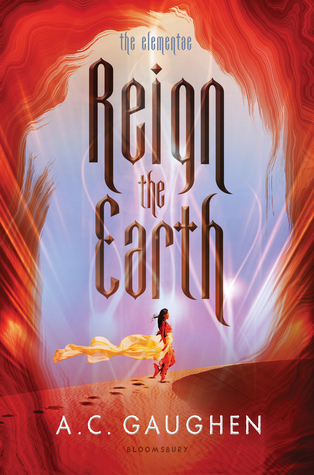 Title: Reign the Earth (Elementae #1)
Genre: YA Fantasy
Release Date: January 30th, 2017 from Bloomsbury
Format: Kindle ARC
* I received this ARC from the publisher via NetGalley in exchange for review. The publisher requested the review to be posted within a month minimum prior to the book's release. No quotes from the book will be used. All thoughts are my own.*
Goodreads Synopsis: Shalia is a proud daughter of the desert, but after years of devastating war with the adjoining kingdom, her people are desperate for peace. Willing to trade her freedom to ensure the safety of her family, Shalia becomes Queen of the Bonelands.
But she soon learns that her husband, Calix, is motivated only by his desire to exterminate the Elementae—mystical people who can control earth, wind, air, and fire. Even more unsettling are Shalia's feelings for her husband's brother, which unleash a power over the earth she never knew she possessed—a power that could get her killed. As rumors of a rebellion against Calix spread, Shalia must choose between the last chance for peace and her own future as an Elementae.
I saw this book on NetGalley and was immediately intrigued by this upcoming fantasy release. I haven't heard anyone in the blogging community or Booktube talk about this, so I had no expectations going into this book. This author is known for her Robin Hood Scarlet trilogy and this is a new fantasy series revolving around elemental magic. And I was very surprised by this book. Here's the breakdown:
Plot/Pacing: The synopsis of this book, I can happily say, stays true to what's in the book. Shalia is married off to this awful guy and becomes queen to a land she has no idea how these people act, believe, etc. Shalia is a "fish out of water" in her new situation. But she asks questions to the people there to learn their ways and she learns a lot about the land she now rules with her husband. She also uses that knowledge to make life better for the kingdom (ex: letting women work to support their families), even though Calix doesn't always approve right away. The plot flows very well as she learns about the land, getting caught up in the resistance problem, dealing with her husband and also discovering what awakens her earth powers. While part of it did feel repetitive at times, I was surprised at what happened over the course of this first book. The author covers a lot of ground in this first book, which will help the other books expand the world and magic even more. The ending surprised me  as well, providing some scenes that I didn't think would be in a first book, which has been rare for me.
Characters: I also give this author so much credit for her characters staying consistent; this is a gripe I've had with some YA series. But Shalia is such a shining character; she reminds me a lot of Elisa from The Girl of Fire and Thorns, with this story having her discover who she's becoming and what she really wants. She's had a sheltered point of view of what love is like, but her marriage opens her eyes to what love really means. She is selfless, loving, but also strong in many aspects. She takes the high road to people who look down on her, especially her husband. This book has been called a "feminist" fantasy and I can tell that the author shows what I think is true feminism in Shalia's character development. There's a great friendship between her and a side character Adria as well and her friend Kata. Calix is not a great person; while he has done some good things for his kingdom, he's a stubborn and controlling man. There is a shred of humanity left in him, and his siblings and Shalia do see that in him despite all he's done. I never liked or trusted that he would change, but the author did a great job at showing that small thread of humanity that didn't make him one dimensional. There's also Galen the king's brother that I think was developed fairly well in his and Shalia's conversation. But I do think more of his character will be saved for future books.
But I think my favorite character besides Shalia is her brother Kairos, who goes with her upon being married to watch over her. Him and his hawk Osmost give comfort and protection to Shalia as she enters her new life. This was a sibling relationship that's real, funny and touching. Parts of their relationship reminds me of my brothers, which was nice to see. I liked how fierce he was to protect her, but also try to understand where she was coming from. I will also mention that one of the side characters is on the LGBTQ+ spectrum and Shalia and her people are people of color. So if you're looking for a diverse read, these elements are present.
Themes/Messages: The messages/themes throughout this book spoke to me so much! This book is being called a "feminist" fantasy like I mentioned and the themes in here reminded me of the 2017 Wonder Woman movie, so if you've been needing more of that, this book should satisfy that. This book shows that being a ruler is about talking to your people, letting them support their families, what peace could truly cost, the importance of family, thoughts on being a mother and also standing up to opposition without sinking down to its level. I loved that Shalia, as well as every character, used their words (and actions) to communicate how they felt. She does stand up to Calix's cruel actions by reminding him of the consequences of his choices, trying to present peaceful ideas and also never stooping down his level to get even. Shalia is a fantastic example of the strength in people that teens need today. I also like that themes such as family, pregnancy/children and marriage is discussed. The way that Shalia learns how love grows between a married couple is true (about what love really means), at least from my experience. *Note: The marriage between Shalia and Calix does show emotional abuse and one moment of physical abuse. These actions are never justified and you see how Shalia doesn't become an abuse victim. But the author shows these things to show how ruthless people can be, but that you don't need to accept that kind of behavior.*
Writing: This was the weakest point for me in the book. There were a few places where the writing didn't flow very well or had weird sentence structures. I did have to read a few of those at least twice to understand what was going on. There was also too much of the word "kiss" and its varieties in this book, but this is a nitpick thing. People were just kissing Shalia too much, whether it was her husband or family members. But other than those small things, I do want to check out her other books. When Shalia has her true moments in conversation with people like Kairos, Calix or Galen, the author's heart of this book truly shines. The author's note at the end was also touching and gives the book even more heart and depth and it's worth reading after finishing the novel.
Overall: The first book to finish in 2018 is a great book, with a lot of heart, great themes, strong characters and a lot of ground covered for a first book in a series. The only small cons that I have is that the romance was a bit too fluffy when it didn't need to be and a couple things happened regarding their relationship that happened too soon, a few confusing written passages and it's about 20 pages too long. But I can forgive those much more than I have done for other YA books. This book has great discussion topics for teen readers, librarians and parents as well. If you're looking for another series to start, go grab this one when it hits shelves on January 30th 🙂
Rating: 
.25 stars
Have you read this book? If so, what did you like/not like about it? Are you excited for it? What other elemental magic books would you recommend?