Happy Friday everyone! Since I don't have  book review to share, I figured I would share what I've gotten from my library recently as well as some fun book news that's this year so far. I'll have the twitter links for the book news or Goodreads links so you can go learn more for the news at the end 🙂 But first, here's my library check outs.
The False Prince (Ascendance Trilogy #1): I found out that this author is coming to my library at the end of this month! She's a localish author to me and her books are really popular, so I thought I would pick up her debut novel to see what I think. I hope to read it before the event. It follows a boy who becomes a fake prince of a kingdom and I just here nothing but great things.
The Madman's Daughter (Madman's Daughter #1): I have heard that this story is a mash up of Gothic stories, with this first one being a re-imaging of The Island of Dr. Moreau by H.G. Wells. It follows a girl whose father is the Dr. Moreau character who does forbidden experiments. I do love Gothic type books; they just seem to speak to me. I'm also glad I know nothing about the original story, since I can go into this pretty blind.
The Strange and Beautiful Sorrows of Ava Lavender: I have currently started this book and it's interesting. This popular YA book is a magical realism book about Ava Lavender, who was born with wings and it's a family saga from what the description tells you. So far, the writing is really good but it is a bit strange. I figured I would try her first book since I have an ARC of her next one on my Kindle. I've heard glowing things, so I hope it goes well.
Reign of the Fallen #1: When I heard that this was a necromancer fantasy, I immediately jumped on board. Many of you know that I adore the Old Kingdom series by Garth Nix, which also has necromancers. I'm curious to see how this author handles this fantasy story and I have heard good things as well.
Shadowsong (Wintersong #2): Now I'm not going to lie, I'm nervous about this book. Some reviewers that I really like didn't like this sequel at all for reasons I won't say quite yet. But if you've been following this book at all, you'll know that it's divided people like the first one did. It follows Liesel after the events of Wintersong and we'll just see how it goes.
Before She Ignites (Fallen Isles Trilogy #1): I did haul this library book last year…and didn't get to it. But it caught my eye again and I swear I'll read it this time lol. It's about a girl who was named after a peace treaty between island nations, but we find her in prison as she tries to escape. I have also heard that it's a great book for anxiety representation which is very promising, and it has dragons 🙂
Lips Touch Three Times: This is one of a couple books left by Laini Taylor that I haven't experienced yet. This book has three short stories that all revolve around a kiss and the consequences that follow the kiss. Her husband Jim Di Bartolo also has some pretty illustrations in it, so I'm stoked to finally read another book by her.
A Conspiracy of Stars (Faloiv #1): I forgot to include this in my original pile but this is a science fiction novel in a new, planned duology. I know Heather from the Sassy Book Geek did a review of this late last year (I think) and she really enjoyed it. It's about how humans have come to this planet called Faloiv and how they try study the plant life on the planet and how a female scientist starts to uncover some secrets. I've hardly heard anymore reviews on this book, but the comparisons to the James Cameron movie Avatar makes it sound really cool 🙂
FUN BOOKISH NEWS
Cover Reveals
Oh man there's been some fun cover reveals recently on Twitter. Here's the two that I found and love:
Expected Publication Date: January 15, 2019
This past week, author A.G. Howard released this pretty cover about her upcoming book that's a retelling of The Princess and the Pea, based off of Hans Christian Andersen's tale of the same name. It's about a girl named Lyra, whose incapable of speech or sound, grows up in a dark forest after being shunned and raised by her wicked stepmother. Meanwhile, a prince of another kingdom is dying and the only way to save him is to marry his equal, a princess of light. But before Lyra can be wed to him, an impostor princess comes and takes everything over and Lyra has to fight, despite not having a voice. I do admit that it sounds interesting as far as the story, but I did love her Phantom of the Opera story so I hope I enjoy this one too.
You can read about the cover reveal on the author's website here:
http://authoraghoward.blogspot.com/2018/02/stain-cover-reveal-giveaway.html?spref=tw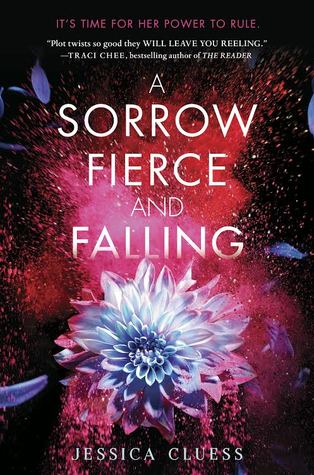 A Sorrow Fierce and Falling (Kingdom on Fire #3)
Expected Publication Date: October 16th, 2018
Holy crap…another amazing cover! This final book in this trilogy is out in October and it's just crazy. I do have to still finish the second one (walk of shame) but I loved the first one so much. It follows Henrietta, who can burst into flame and how she and a group of others fight against the seven Ancient monsters that rule England in the Victorian era. It's got creepy monsters, fun Gothic elements and an amazing female protagonist. I highly recommend this series; it's the perfect time to get caught up before the last book 🙂
You can see the author's twitter stuff about the cover here:
https://twitter.com/JessCluess/status/961334366172409856
SKY IN THE DEEP BOOK TRAILER
Uh this made my week! The wonderful author Adrienne Young shared on Twitter the trailer reveal for her upcoming debut novel! If you haven't heard of this amazing, hotly anticipated release, it's a Viking story about a girl who sees her brother whom she swore died five years ago on the battlefield. I read the first chapter last month and fell in love with it! Here's the link to check out the trailer; I'm not a book trailer person, but this completely sold me 🙂
MORE UGLIES BOOKS!
Yep you see right! Starting September 2018, we're getting more books set in the Uglies world! This will follow the events after the original series, following a girl who was raised from birth to always be someone else, an impostor. That's all I care to know, but I'm so excited we're going back to this world. I read the three books back in 2013-2014 for the first time and loved them. I have always been curious of what the consequences of Tally's revolution after the ending of the series and it's coming true! According to Westerfeld himself, there will be 4 books total in this new series and September can't come soon enough 🙂
And finally…
WE HAVE A RELEASE DATE FOR THE MUSE OF NIGHTMARES! Freaking October 2, 2018! Someone shared this on Goodreads this week and I flipped my lid! Strange the Dreamer completely deserves all the hype and I've been dying to know when it comes out this year. Now I have my answer and my wait time and I'm totally okay with it. It gives me time for a re-read 🙂 I hope the date doesn't change, but for right now, I can't wait to see how this story ends; I'm terrified to say the least. While I haven't seen Laini Taylor talk about it on Twitter yet, you can see the link for the info on Goodreads here:
https://www.goodreads.com/book/show/25446343-muse-of-nightmares?ac=1&from_search=true
I hope you guys enjoyed this post; I had to share all the great book stuff that's happened recently. Have you read any of the library books I got? Which one should I read first? What do you think of the book news? Any of these you're excited for the most?