Today, on the holiday of love, I thought I would spread some more book love with adding more 2018 books to the list of "new releases I'm excited to read." I've been seeing reviews of these, some have been recently announced and also just plain curious on others. If you missed my first list of 2018 books I can't wait to read, you can see it here:
This new list isn't in any order at all; I just wanted to spread the word about these upcoming books so they can get more love. While a couple only say they're coming out in 2018, all these dates are subject to change (although I really hope they don't…)
Brightly Burning by Alexa Donne (May 1st)
Goodreads Synopsis: Seventeen-year-old Stella Ainsley wants just one thing: to go somewhere—anywhere—else. Her home is a floundering spaceship that offers few prospects, having been orbiting an ice-encased Earth for two hundred years. When a private ship hires her as a governess, Stella jumps at the chance. The captain of the Rochester, nineteen-year-old Hugo Fairfax, is notorious throughout the fleet for being a moody recluse and a drunk. But with Stella he's kind.
But the Rochester harbors secrets: Stella is certain someone is trying to kill Hugo, and the more she discovers, the more questions she has about his role in a conspiracy threatening the fleet.
I actually read a sample of this in the newest Buzz Books, which you can read in the "Read Now" section from NetGalley and I highly suggest you go read this sample! While I've only seen 2 films versions of the classic Bronte story, I can't wait to for this one! I loved seeing how grounded Stella is as a character and the feeling of loneliness in space, uncertainty of the future and also wanting to get away from the life you live so strongly. The pacing in the beginning chapters was so great; it was so easy to read and keep swiping for the next page. I'm also curious to see if Donne will twist the classic story to make it her own, but either way, I'm stoked for this one!
Isle of Blood and Stone by Makiia Lucier (April 10th)
Brief Goodreads Synopsis: Nineteen-year-old Elias is a royal explorer, a skilled mapmaker, and the new king of del Mar's oldest friend. Soon he will embark on the adventure of a lifetime, an expedition past the Strait of Cain and into uncharted waters. Nothing stands in his way…until a long-ago tragedy creeps back into the light, threatening all he holds dear.
I didn't want to include the whole synopsis because this debut novel sounds like the less you know, the more intriguing it will be. From what I do know, it sounds like it'll be really fun with a great adventure, map making, traveling to different islands and many secrets. This is a book I actually haven't been hearing anyone talk about, but I'm getting really excited to support another debut author 🙂
American Panda by Gloria Chao (Available Now)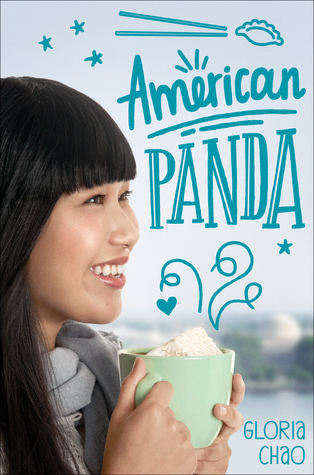 I've been seeing glowing reviews about this Own Voices story about a Taiwanese American girl who doesn't want to be a doctor like her parents want and that she has a crush on a Japanese student in her class. I've seen adorable posts from the author on Twitter, sharing her excitement about this book and fun fan interactions. I don't know anything about Taiwanese culture, so I had to add this adorable book my TBR to smile and learn about another culture 🙂
Ink, Iron and Glass by Gwendolyn Clare (February 20th)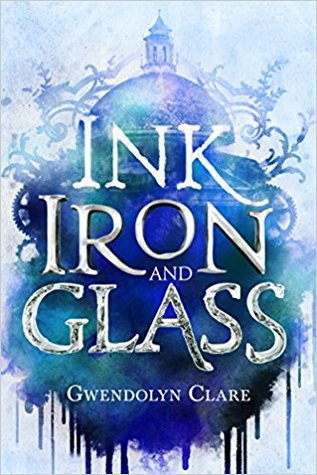 Goodreads Synopsis: Can she write a world gone wrong? A certain pen, a certain book, and a certain person can craft entirely new worlds through a branch of science called scriptology. Elsa comes from one such world that was written into creation by her mother—a noted scriptologist.
But when her home is attacked and her mother abducted, Elsa must cross into the real world and use her own scriptology gifts to find her. In an alternative 19th-century Italy, Elsa finds a secret society of pazzerellones—young people with a gift for mechanics, alchemy or scriptology—and meets Leo, a gorgeous mechanist with a smart mouth and a tragic past. She recruits the help of these fellow geniuses just as an assassin arrives on their doorstep.
The fact that this fantasy world uses scriptology as the magic system sounds very fascinating. I think there's always a hint of magic of using a pen to bring something to life, whether it's a story, poem or piece of art. With it being the first in a duology, I'm curious about how this one will play out.
The Bird and the Blade by Megan Bannen (June 5th)
Goodreads Synopsis: As a slave in the Kipchak Khanate, Jinghua has lost everything: her home, her family, her freedom … until she finds herself an unlikely conspirator in the escape of Prince Khalaf and his irascible father as they flee from their enemies across the vast Mongol Empire. On the run, with adversaries on all sides and an endless journey ahead, Jinghua hatches a scheme to use the Kipchaks' exile to return home, a plan that becomes increasingly fraught as her feelings for Khalaf evolve into a hopeless love.
Jinghua's already dicey prospects take a downward turn when Khalaf seeks to restore his kingdom by forging a marriage alliance with Turandokht, the daughter of the Great Khan. As beautiful as she is cunning, Turandokht requires all potential suitors to solve three impossible riddles to win her hand—and if they fail, they die.
I originally saw this on Twitter last year; someone I follow shared the post about the cover reveal and I was immediately sucked in! This is actually based off of an ancient poem and takes place in the 13th century?! Sounds amazing right? I love YA books that delve even further into history, such as the amazing Passion of Dolssa. It sounds like a fantastic historical romance debut that I need to get my hands on! 🙂
Contagion by Erin Bowman (July 4th)
Goodreads Synopsis: It got in us. After receiving an urgent SOS from a work detail on a distant planet, a skeleton crew is dispatched to perform a standard search-and-rescue mission. Most are dead. But when the crew arrives, they find an abandoned site, littered with rotten food, discarded weapons…and dead bodies. Don't set foot here again. As they try to piece together who—or what—could have decimated an entire operation, they discover that some things are best left buried—and some monsters are only too ready to awaken.
A science fiction horror story being the first in a duology? Sign me up! This book sounds terrifying just from the vague synopsis. I saw the author talk about this upcoming book on Twitter and while I don't read horror stuff, I'll read this in heartbeat! It gives me slight Unearthed vibes with receiving a transmission from space and going to find what the origin of that message, but it also sounds similar to the Alien films. I hope to be scared out of my wits when this hits shelves 🙂 (I hope to get an ARC of this….)
Pitch Dark by Courtney Alameda (February 20th)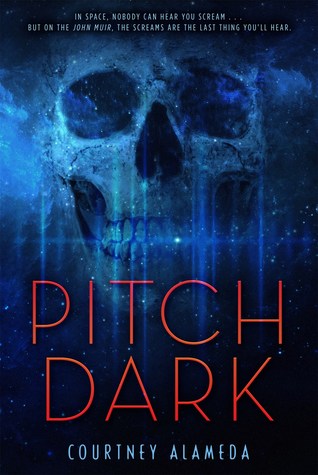 Goodreads Synopsis: Set against a future of marauding space scavengers and deadly aliens who kill with sound, here is a frightening, fast-paced YA adventure from the author of the acclaimed horror novel, Shutter. Tuck has been in stasis on the USS John Muir, a ship that houses Earth's most valued artifacts—its natural resources. Parks and mountains are preserved in space.  Laura belongs to a shipraiding family, who are funded by a group used to getting what they want. And they want what's on the Muir.  Tuck and Laura didn't bargain on working together, or battling mutant aliens who use sound to kill. But their plan is the only hope for their crews, their families, and themselves.
In space, nobody can hear you scream . . . but on the John Muir, the screams are the last thing you'll hear.
Ok, I'm going to read this! I've been hearing some really good things about this science fiction/horror type story. It sounds similar to the previously mentioned Contagion and I hear good things about the author. Again, I'm not into horror at all but I'm down for a good thrilling story set in space fighting for survival. Luckily this one comes out soon 🙂
A Court of Miracles #1 by Kester Grant (Fall 2018)
Goodreads Synopsis: In the dark days following a failed French Revolution, in the violent jungle of an alternate 1828 Paris, young cat-burglar Eponine (Nina) Thenardier goes head to head with merciless royalty, and the lords of the city's criminal underworld to save the life of her adopted sister Cosette (Ettie).
Her vow will take her from the city's dark underbelly, through a dawning revolution, to the very heart of the glittering court of Louis XVII, where she must make an impossible choice between guild, blood, betrayal and war.
This one doesn't have a cover yet, or official release date, but it has been moved from 2019 up to this year on Goodreads, so I'm hoping that's true. But this is a diverse fantasy book set in France with EPONINE as the main character! Yep you heard right; the author says that this is "a diverse fantasy reimagining of Les Miserables and The Jungle Book"!  I've always been wondering more about Eponine as a character, whom I only know from the popular musical. But for those of us who wanted Eponine to have her own story, it's going to happen! This is one that I desperately need an ARC of and experience this magically upcoming story 🙂
There you have it everyone! If you're excited about any of these books, definitely share on social media so these wonderful authors know how excited we are for their books! Hopefully you found an upcoming book you never knew about as well. Are you excited for any of these books? Which ones do you want to read the most?