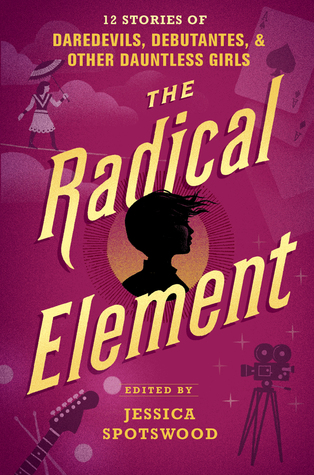 Title: The Radical Element (A Tryranny of Petticoats #2)
Authors: Various (listed below in the review)
Genre: YA Anthology
Release Date: March 13th 2018 from Candlewick Press
Format: Kindle ARC
*I received this from NetGalley in exchange for an honest review. This doesn't affect my rating and all thoughts are my own. Any quoted lines can change in the final version.*
Goodreads Synopsis: To respect yourself, to love yourself—should not have to be a radical decision. And yet it remains as challenging for an American girl to make today as it was in 1927 on the steps of the Supreme Court. It's a decision that must be faced whether you're balancing on the tightrope of neurodivergence, finding your way as a second-generation immigrant, or facing down American racism even while loving America. And it's the only decision when you've weighed society's expectations and found them wanting. In The Radical Element, twelve of the most talented writers working in young adult literature today tell the stories of the girls of all colors and creeds standing up for themselves and their beliefs—whether that means secretly learning Hebrew in early Savannah, using the family magic to pass as white in 1920s Hollywood, or singing in a feminist punk band in 1980s Boston. And they're asking you to join them.
When I saw this anthology on NetGalley, I wanted to give it a try since I haven't read YA anthologies before (don't get me started on the college ones X.X) I was very surprised by this one too; I loved so many stories and really enjoyed seeing these different girls with their own character arcs to go through. I'll go through these stories in order they're in, give a tiny synopsis, thoughts, a rating and also include at least one line from each story that I really enjoyed.
*Note: I don't know very much about the different LGBT spectrum, so if a story is diverse in the LGBT spectrum, I will just label it as LGBT+ if I don't know the specifics to avoid any mistakes. If you know the LGBT+ aspects in these stories, you can tell me below in the comments.*
1. Daughter of the Book by Dahlia Alder (1838 Savannah, Georgia): "Tell them I'm Jewish first."
This story revolves around Rebekah, a girl who really wants to learn more of her Jewish religion in her village in Georgia. Although at the time, women were not taught anything from their scriptures (the Talmud and the Bible I believe) and the men believe they should only  stay at home to raise children and keep a kosher home. I loved this story so much! I hardly know much  about the Jewish religion and I learned so much; it was lively and beautiful and it was amazing to read about a YA protagonist wanting to learn more about her religion so willingly. Dahlia Adler brought this story to life with its positive messages and a wonderful author's note explaining the history of the time and her own inspiration for this story.
Rating: 5 stars
2. You're a Stranger Here by Mackenzi Lee (1844 Nauvoo, Illinois): "Nauvoo is rippling, the whole city torn up like roots, tumbling with soil as they scratch their way to the surface, with the news that Illinois has been watered with our prophet's blood."
This story is from the perpsective Vilatte, a girl from England, whose mother joined the Church of Jesus Christ of Latter-Day Saints (the Mormon church as people know it by) when she's really young. Now with her being older, they are in Nauvoo where Joseph Smith (the prophet) is murdered and this story shows an unflinching look at what these people went through in the 1800's. Windows were broken, people tarred and feathered, abandoned homes and murder is the history that's always in the church's history. Mackenzi Lee truly captures this history and what these people went through and I completely understood the fear and doubt in Vilatte's perspective; when you're surrounded by good and people kill you for it, you wonder why all of this is happening. I know a lot about the church's history and I appreciate how accurate this story is and that a YA book surrounds this time in history. I do feel however that the ending was a bit too sad  and you don't get any of the author's personality in the author's note; I wanted to know why she chose this story to write. But other than that, I really enjoyed this and it means a lot to me to see this in YA.
Rating: 4 stars
3. The Magician by Erin Bowman (1858 New Mexico Territory) (LGBT+?): "Ray wasn't a cheat. She was a magician."
This story is about a girl named Ray, who is an expert card dealer. She's a dock worker in the New Mexico Territory, whose hiding her actual gender a secret. When the company she works for goes on a mission to scout new land up the river, she goes despite having her gender being revealed and the consequences that result from that. This was an okay story for me; I felt like Ray's personality was too distant for me to care about her. Sure she was good at cards, but that and the fact that she doesn't know who her parents are the only two major things we know about her. She was fearless against the grizzly men on the boat and I liked the historical things I learned but this didn't grip me.
Rating: 3 stars
4. Lady Firebrand by Megan Shepherd (1863 Charleston, South Carolina): "That was plantation life: tradition masking something uglier. If Rose had her way, it would have ended long ago."
HOLY CRAP this was my favorite story! I loved this one so much. Rose and Pauline live in the South, having been in the North during the Civil War to help destroy the South's supplies. They create a masked vigilante named Lord Firebrand to hide their actual identities. The tension of their mission was palpable and I wondered what would happen to them. Rose, whose in a wheelchair, is so smart with science is the brains of the operations with Pauline, a colored woman, right by her side. Their friendship was beautiful and you get enough background on how they meet to cement their bond. I need a full length novel on them SO badly; the ending is an evil cliffhanger! Plus, the author's note that talked about women being spies during the war made me want to read more history 🙂
Rating: 5 stars (a million if I could)
5. Step Right Up by Jessica Spotswood (1905 Tulsa, Indian Territory): "Up here, I am strong and beautiful. Up here, no one can touch me."
This story revolves Ruby, a girl in Tulsa who loves the circus. She wants to be a tightrope walker, after seeing a woman do it when the circus came. Unfortunately, she lives with her mother, sister and abusive uncle who tries to prevent her from standing up and being who she sis. This story truly captures the innocent look and magic of the circus. The way Spotswood describes the circus did give me a bit of Greatest Showman vibes. Ruby also is in love with a girl who has a boyfriend, but it's clear on the page that she wants to love a girl back one day. This was a really solid story with a great message at following your dreams and great moments between sisters. I enjoy Spotswood's writing and I look forward to reading more from her. This didn't blow me away, but I'm still glad I read it.
Rating: 3.75 stars
6. Glamour by Anna-Marie McLemore (1923 Los Angeles and the Central Valley, California): DNF
I sadly couldn't get into this one. Many people rave about how beautiful this author's writing style is and I didn't really get that here. I kinda feel like the prose danced around things instead explaining it plainly and at times I read things a couple times because I was confused. I like that it's a look into old Hollywood and a girl struggling with her Latin heritage when many people looked down upon many people of color at the time. I do know that the love interest in transgender (there's an explanation in the author's note and the author is married to a trangender man) but I couldn't see that he was. Granted, I didn't finish this story so I don't know everything. But the pacing and some of the writing didn't do it for me, but I will give her another try in the future.
Rating: None since I DNF'd
7. Better for All the World by Marieke Nijkamp (1927 Washington D.C.): "I believe I may be starting to understand what Aunt Elizabeth meant.  Given time, I could grow to love myself."
This is set at the time where the Eugenics movement caused millions to be sterilized due to mental illness, skin color, being "feeble minded" etc. It was a time where people were shunned and rejected if they didn't have the "winning genes." A girl named Carrie Allen, an autistic girl, wants to be a lawyer since she's been following the famous Carrie Buck case that happened in 1924. I have a family member on my husband's side who is austitic and this story helped me see a glimpse into what they think. I understood her wanting to fit in and find somewhere to belong. But also, she doesn't think the same. I felt like I could understand her, as she tries to explain how she feels and the boy she meets as they watch court cases together. I appreciate what I learned from this story in many ways and it felt like a very authentic voice from Carrie.
Rating: 4 stars
8. When the Moonlight Isn't Enough by Dhonielle Clayton (1943 Oak Bluffs, Massachusetts): "Before the war, moonlight used to taste like sugar and butter and fresh cream. Mama would fold in the ingredients until it fluffed up like meringue."
Man those two opening lines made me really hungry. This is the second magical realism story in this anthology, following a family of father, mother and main protagonist Emma. They are a colored family who have traveled a lot and her parents avoid the war, while they could help, because of their family secret. Emma discovers what she really wants to do with the war looming over them and has to make a difficult decision. At first, I wasn't sure why the moon was so important in the story, but it all makes sense and Dhonielle Clayton creates, to me, a very original take on magical realism with the moon. I did love the paranoia of the war and the sense of the threat and wanting to defend your country. It reminded me a lot of In the Shadow of Blackbirds by Cat Winters, so if you're a Cat Winters fan, you'll love this. Emma was a one of my favorite characters in this anthology; while she loves her family, she knows that doing the right thing is better than doing nothing. I'm dying to read more by this amazing author!
Rating: 4.5 stars
9. The Belle of the Ball by Sarvenaz Tash (1952 Brookly, New York): ""Women aren't funny." -James Powell/ That lit the appropriate fire."
This is about Rosemary, a girl who wants to be a comedy writer and doesn't want to be a New York socialite like her mom was and still thinks she is. Rosemary is also very inspired by the iconic comedy show I Love Lucy and this was another favorite for me. It shows how she struggles with writing her comedy, her friendship with Sandra and also trying to love her mother, despite them having different ideas on life. The writing was witty and appropriate for the time period; everything feels authentic. This was a really unique story looking at a different way to writing and I loved how Rosemary handled everything in the end. If you love comedy or especially I Love Lucy. you'll really enjoy this.
Rating: 4 stars
10. Land of the Sweet, Home of the Brave by Stacey Lee (1955 Oakland, California): "My smile-Oba's smile- is hardly a Cupid's bow. More like a scythe, curved, and glinting with iron."

STACEY LEE IS QUEEN! This is my second favorite in this anthology. It follows Lana, who I believe has Hawaii, Chinese and Japanese in her heritage but mainly she's half Hawaiian, half Japanese. She enters a contest to be the next Miss Sugar Maiden, to be on the cover of a sugar box and there's a money prize. Lana is so proud of her heritage and her parents are lovely and I want to see more of these parents in YA. While she does endure prejudice (this time period and WWII gave a negative impression on island people), she stands up for herself but doesn't completely stoop down to the mean girls level. The finale is simple, unexpected and powerful. I could also list several lines of how perfect Lee's writing is. Her historical fiction novels have been highly acclaimed and I need to read  her other stuff now. It's stories like this that make you smile, learn and appreciate life so much more.
Rating: 5 stars (a million if I could)
11. The Birth of Susie Go-Go by Meg Medina (1972 Queens, New York): DNF
This story was about a girl whose family was from Cuba and living in Queens. She's more of a rebellious teen who can't stand her strict parents and their Cuban culture. I ended up skipping the rest of the story after a couple sections because she just wasn't likable; I felt like there wasn't a real reason for her acting out and some "family secret" they had. I did learn some about how Cuba came to accept Communism from the author's note, but this too slow and I couldn't click with it.
Rating: None since I DNF'd
12. Take Me With U by Sarah Farizan (1984 Boston, Massachusetts): "I used to have a life, until a war ripped me away from it."
This final story is about a Iranian girl living in America and how her and her 6 year old cousin meet Mai, a Japanese girl whose in a rock band. Soheila misses her family back in Iran, the current revolution taking place there and doesn't feel like her aunt accepts her despite her kindhearted uncle. I enjoyed a good amount of this story, seeing her adjust to America and it's terms, style and music. Her enchantment to current 80's music and friends is very interesting. However, it felt anti-climatic. When the end came, her transition felt a bit too sudden and there wasn't any communication to the characters in that situation. I get her struggles and her ultimate decision in the end, but I think she had enough in her to actually communicate and step back. Other than that, this was a solid story to end the anthology.
Rating: 3.75 stars
Overall Rating: 4 stars for the whole collection
If you're a fan of YA anthologies, please check this one out. There were so many POVs that expressed interest in so many things and handle many topics. I'm definitely going to give more anthologies a chance in the future. A huge thank you to the publisher and NetGalley for the review copy!
Have you read this collection? Did you like the previous one A Tyranny of Petticoats? What other YA anthologies do you recommend?