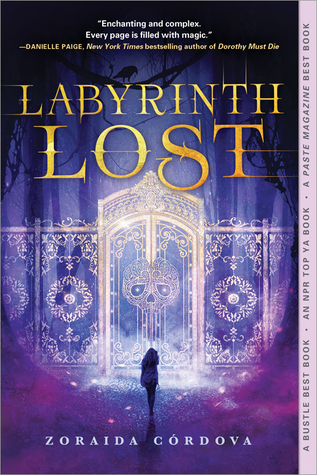 Title: Labyrinth Lost (Brooklyn Brujas #1)
Author: Zoraida Córdova (Debut novel)
Published: August 1st 2016 from Sourcebooks Fire
Genre: YA Urban Fantasy
Format: Personal book, 314 pages (US paperback)
Synopsis: Alex is a bruja but hates having magic. On her deathday, she casts a spell to get rid of her magic, only to make her family vanish into the realm of Los Lagos. So she sets out to Los Lagos with Nova, a brujo boy she doesn't trust to save her family.
I met this author at the Salt Lake Comic Con last year and loved meeting her. I had heard pretty good things about the book, but it took me a long time to finally read it. I had the mood to read it, so I grabbed it and dived in. I do want to note that this is an own voices for a Latin American urban fantasy and that the main character is bisexual as well. So for any Latin teens looking for something to read and relate to, they should try this one. With that said, here's the breakdown of my enjoyment of the book:
PROS
Family Dynamic: This was by far my favorite part of the book. Alex and her sisters, mother and other family members are so much to read about. Her and her sisters make witty comments at each other, fight sometimes and her mother is fiery when she needs to be. I also loved some appearances by her ancestors (particularly a great-great grandmother who was hilarious). But they love each other fiercely in their own ways and I loved how they worked through their differences and loved each other no matter what.
Mythology: The fantasy mythology that the author created was really cool. Alex's death day is a cool event and the author's note explains where she drew inspiration from and it's really cool to see. Each brujo/bruja family also has a "Book of Cantos" which contains family history, spells and other cool stuff. Each chapter header also includes snipets from different Cantos and those little bits of world building was fascinating.
Messages: Another huge thing I loved were the messages of: how important family is, fixing your mistakes and accepting yourself despite things you don't like about yourself. I liked seeing how Alex dealt with having magic and other deeper issues she has throughout the story. But it just feels so huge to me to have messages of keeping your family close, that they matter most and accepting yourself. I feel some messages like that get lost in some books, but this one gave me good feelings while reading it.
Ending: The ending had something happen that I predicted would come up, but it was still really well done. It opens much more about the other books to come in the series and it made me happy to see it happen. I hope that it's addressed and becomes a subplot in the next books, since I think it brings even more potential for the family dynamic and character growth.
Main Character: I did warm up to Alex throughout the book. She has a fiery personality and she kinda reminded me of myself at times with not feeling like you fit in and having certain people understand you really well. I also liked that she did her best with her circumstances in the novel as she traveled to Los Lagos, having no idea what was ahead. Sure, she didn't make some good decisions along the way and her mistake is pretty huge. But I just admired her love for her family and being strong despite being afraid. She's a character that impressed me and one I think many girls can look up to with her courage.
CONS
Villain: While the villain did have some good moments, they ultimately didn't feel threatening by the end. I feel like the final confrontation wasn't very exciting and that she didn't put up as much of a fight. I liked where their origins, but wasn't the best villain I've read about.
Convenience: While this does happen in books, I do feel like Alex had a couple situations handed to her instead of her working for them. There were times where she needed to use her magic, but someone was telling her what to do and making it too easy for her. I do kinda go back and forth on this, but I did feel kinda annoyed at how convenient things went. I go off my initial reactions while reading/listening to a book and that happened enough times to kinda annoy me.
No Chemistry: So I've heard in many places that this novel has a bisexual love triangle, but I felt no chemistry between Alex and Nova. Nova is the guy who helps Alex get to Los Lagos, but he does have some motivations of his own. But he thrown to the side so much that I felt no chemistry between these two at all. His development was severely lacking until past the 200 page mark, then stuff was thrown in about him which like a last minute thought to be honest. He had potential, but he sadly suffered from my next point.
Pacing: The point where things got really uneven was about halfway through the book. The beginning of the book is amazing, but then it started to lose a bit of steam. The journey portion felt a bit too long, there was some meandering and the ending was completely rushed. I feel like this book needed another 50 pages to lengthen the ending to give it more intensity, closure and an actual final battle that would feel satisfying. While I did read huge chunks of this book every time I picked it up, the pacing wasn't great by the last half.
Overall: I do recommend this debut novel if you're looking for more urban fantasy, as well as another diverse read. This series has a lot of potential for cool magic, Latin American family dynamics and mythology and fun characters. The next book does follow one of the other sisters, so I'm interested to see what happens next.
Rating: 
1/2 stars
Have you read this book? Have you wanted to? Are you excited for the next book coming out? What other urban fantasies do you recommend?