This weekly list was created by Lainey @ gingerreadslainey but is not being run by Sam from @thoughtsontomes. The GR group is linked here:
This week's topic is children's books you want to read as an adult, or ones that should be visited as adults. I think this is a fun topic because I'm sure there's books we read as kids that we love so much, have things that flew over our heads or we're just curious in general of how we think of a kid's book when we're older. These are all books/series I have read as a kid and want to re-read in the future. They're in no order as always 🙂
1. A Wrinkle in Time by Madeleine L'Engle
Of course with the movie being out in most theaters now, I want to revisit this book. I had to read this for school more than 15 years ago and I only remember the basic plot and a couple character names. It's a short book and has stayed popular for more than 50  years since it came out. I'm curious to see what I pick up from this children's classic as an adult and then see how the movie tackles the material.
2. The Westing Game by Ellen Raskin
I had to also read this for school at the same time as A Wrinkle in Time and this one has also been popular for the last 40+ years. I remember really enjoying how the main character Turtle Wexler tries to solve this murder mystery after a man dies and leaves his fortune to a bunch of strangers. Since I have been inching my way towards more mystery novels, this classic kid's book should be a fun trip down memory lane.
3. The Inkheart Trilogy by Cornelia Funke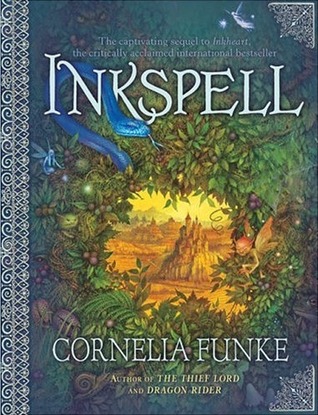 It's been 15 years since this first book came out?! Way to make me feel old! But I picked up this first book in the popular trilogy back at an elementary school book fair and fell in love with the concept of certain people reading a book out loud and something coming out. I would love to revisit this because I'm curious of what flew over my head as a kid and also to escape back into this fun story 🙂
4. Island of the Blue Dolphins by Scott O'Dell
This is another case where I don't remember anything about this book other than I know I read it in elementary school. I know it's about a girl stuck on an island with her brother. It's also interesting that almost all the books on this list are Newberry Award winners. But I would like to revisit this book to see if I start remembering things when I start it and just see how much I enjoy it.
5. Fear Street books by R.L. Stine
He may have written so many Goosebumps books, but R.L. Stine also wrote a ton of Fear Street books, stories meant for a bit older kids/early teen audiences. These books littered my childhood as much as candy wrappers! I read almost all of the 51 books listed on GR for Fear Street. This one is just a freebie; I want to see how much I either laugh at these books, or just read it for the cheesefest and be done afterwards. Since I loved the paranormal books so much when I was young, do they stand up to being older?
What books do you want to read as adults? What children's books do you still want to read? Have you read any of these and if so, what do you think of them?