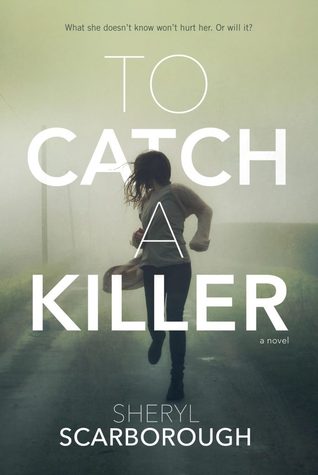 Title: To Catch a Killer (Erin Blake #1)
Author: Cheryl Scarborough (Debut)
Release Date: February 7th  2017 from Tor Teen
Format: Audible Audio Book
Length: 9 hours, 36 mins
Narrator: Christy Carlson Romano
Goodreads Synopsis: Erin Blake has one of those names. A name that, like Natalee Holloway or Elizabeth Smart, is inextricably linked to a grisly crime. As a toddler, Erin survived for three days alongside the corpse of her murdered mother, and the case—which remains unsolved—fascinated a nation. Her father's identity unknown, Erin was taken in by her mother's best friend and has become a relatively normal teen in spite of the looming questions about her past.
Fourteen years later, Erin is once again at the center of a brutal homicide when she finds the body of her biology teacher. When questioned by the police, Erin tells almost the whole truth, but never voices her suspicions that her mother's killer has struck again in order to protect the casework she's secretly doing on her own. Inspired by her uncle, an FBI agent, Erin has ramped up her forensic hobby into a full-blown cold-case investigation. This new murder makes her certain she's close to the truth, but when all the evidence starts to point the authorities straight to Erin, she turns to her longtime crush (and fellow suspect) Journey Michaels to help her crack the case before it's too late.
I originally read an excerpt of this on NetGalley more than a year ago and I remember reading it really quickly. I hadn't read any YA mystery/thriller books back then so I liked it. But time went by and I forgot about it until I had a couple Audible credits and decided to get it. And…this was insufferable to say the least. I ended up DNF'ing this book after 4 hours and 30 mins. Here's my thoughts on the aspects of the story:
Writing Style: For me, this was way too simple and dry for me. I felt no emotion from the writing with Erin dealing with the death of her teacher and the memories of her mother. The writing is very much like "I did this. He said this. I thought this." for so much of the book. Occasionally, the author tries to put in fancy sentences to give "cool" descriptions of things but it doesn't really work; it made the writing all over the place.
Characters: This is my biggest gripe with the story. Erin is one of the stupidest, cocky and disrespectful characters I've ever read in a long while. She's fascinated by forensics which is cool at first, but when she takes this case with her dead teacher upon herself, she completely disregards her aunt as her guardian. She lies to her friends and constantly thinks that the law enforcement are morons. She keeps thinking she can do better than them and is more skilled than them, but with listening to half of it, she only uses her forensic skills twice! She's all rude and snobby talk/thoughts (it is first person POV) so I couldn't ever root for her. She also falls for Journey Michaels way too fast.
Now Journey was on the scene with Erin when their teacher was found, so he kinda gets involved with the whole thing. He's a sports guy at school and frankly, he warms up to Erin way too quickly. They both all act interested in each other, despite him getting in trouble because of her and I just didn't get it. I feel like there was a chunk of the book missing in a way where their relationship was established. They're also trying to clear Journey's dads name of a crime, which felt like an unnecessary plot line to me; it distracted from the person who killed their teacher.
Plot: This started out interesting enough to keep reading at first, but this quickly falls into an awful CW drama show, with boring segments of drooling for a boy at school, boring day to day routines before anything actually happens. I know you have to establish a bit of the character's life. BUT when your teacher is dead, with possible threads to your mother's murder, shouldn't there be a curfew on the town with a killer out there? Shouldn't this main girl freak out more and actually be scared? That's never there at all. She's acting like it's no big deal and only wants the credit for finding the killer. No thanks…
Narrator: This lady was pretty dry at times. She has that snobby edge to her voice to match Erin's personality, which could be a good thing, but she didn't make any other voices for the other characters. She never tried at all. Her voice was the same for everyone, which could confuse people for a few seconds if you're not paying attention. Also, her voice would go higher on some words and then go back to normal so it was weird. Not a narrator for me.
Overall: This book has tropes that to me were beyond redemption. When a girl thinks she is smarter than law enforcement, acts like a robot when it comes to a killer being loose and not even caring about her guardian or friends is terrible. I live and know officers in my area and they're amazing people and to see this character portray them as slow and stupid was offensive to me. Also, you can guess who the killer is within the first couple hours so that doesn't help the author at all. Also, seeing only two instances where she actually uses her forensic skills doesn't help the reader at all to keep going. I don't recommend this book to anyone who wants to care about their characters, an actual plot line and of course, a very negative view on law enforcement.
Rating: 
What YA mysteries do you recommend? Do you like the audio book or the physical format of YA mystery/thrillers better?