Happy Monday guys! So over the weekend, my hard drive died in my computer! I've been a bit MIA due to that and my awesome husband trying to fix it. A couple other problems came up while getting it back up, but so far things are back to normal 🙂 Let's jump into the double review.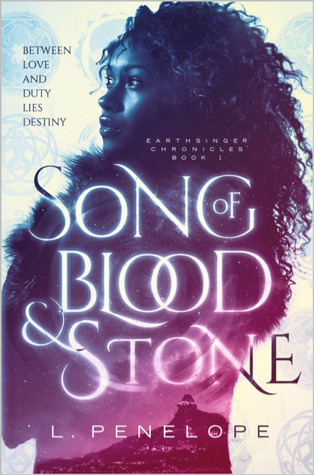 Title: Song of Blood and Stone (Earthsinger Chronicles #1)
Author: L. Penelope
Genre: New Adult Fantasy
Publication Date: May 1st 2018 from St. Martin's Press (originally self-published)
Format: Kindle ARC
* I received this ARC from the publisher directly via NetGalley for a blog tour in exchange for review. All thoughts are my own, but I have dropped out of the blog tour*
Goodreads Synopsis: Orphaned and alone, Jasminda lives in a land where cold whispers of invasion and war linger on the wind. Jasminda herself is an outcast in her homeland of Elsira, where her gift of Earthsong is feared. When ruthless soldiers seek refuge in her isolated cabin, they bring with them a captive–an injured spy who threatens to steal her heart.
Jack's mission behind enemy lines to prove that the Mantle between Elsira and Lagamiri is about to fall nearly cost him his life, but he is saved by the healing Song of a mysterious young woman. Now he must do whatever it takes to save Elsira and it's people from the True Father and he needs Jasminda's Earthsong to do it. They escape their ruthless captors and together they embark on a perilous journey to save Elsira and to uncover the secrets of The Queen Who Sleeps. Thrust into a hostile society, Jasminda and Jack must rely on one another even as secrets jeopardize their bond. As an ancient evil gains power, Jasminda races to unlock a mystery that promises salvation.
DNF @ 12%
So I was excited at first for this blog tour, since the publisher directly contacted me to be apart of the blog tour to celebrate this book coming out. But I as started reading reviews for this book, I realized that this book has sex scenes and that it's more new adult due to that content. So because of that, I have dropped from the blog tour because of that personal decision.
But only did I DNF the book for that, but the writing was completely not for me. If you follow me on Goodreads, I updated my reading my status with a couple of quotes from the ARC copy I was reading and it's bad guys. Here's the examples:
"Her dress was drab and tattered, but her smooth skin was a confectioner's delight. His stomach growled. When was the last time he'd eaten?" (4% mark)

"He'd been trained to work through pain, to put it in a box until he had as many boxes as he needed to keep moving, keep fighting. He had lost count of his boxes, and they'd stopped helping." (8% mark)
That's just the most prominent passages I could think of. The writing still felt self-published instead of having some work done by a major publisher. In addition to the writing, the author could not balance the intense situation the main character and her love interest were in. She saves him from him being laid on the road, very injured, but then the guys looking for him stay in her house. One of them wants to rape one of them, but instead, the author uses these chances to insert "witty and romantic banter"? Nope.
When the guys is tied to a tree and men are sleeping in your house that could assault you or even kill you, you're flirting with him and falling for him? The seriousness was completely thrown to the side to start developing the romance. You should check out LaRonda's Review where she talks about this too. She is also an own voices reviewer 🙂
But yes, this book was not for me. I wish I had known about the adult content before agreeing to the blog tour, since I do not read that kind of adult content in books. I also think the writing and pacing needs some major work, since it doesn't feel like it comes from a prominent publisher.
Rating: None since I DNF'd it
_____
Title: East
Author: Edith Pattou
Genre: YA Fantasy/Retelling
Pages: 494 (US paperback)
Publication Date: September 1st 2003
Format: Library Book
Synopsis: Rose, the last child of her family, was born to replace her dead sister. But her mysterious birth makes her superstitious mother try to contain her. When a white bear appears at their door, asking to take Rose away, he promises her family prosperity they once had and health. Rose agrees and as she travels with the bear, she comes to an empty castle, where a mysterious stranger comes to visit every night. In the discovering his identity, she loses her heart and finds her purpose, she realizes her journey has just begun.
So I saw the sequel (out in October) on NetGalley and decided to pick up the first one. It's 15 years between these books which is crazy! I got this from the library and this was a quick read despite it's length. Here's the break down 🙂
Plot/Setting: This takes place in the 1500's and starts in Norway, where Rose and her family live. The author did research on the history, location and language which really shows. Also, you see places like Greenland and mentions of Finland, Iceland and Denmark. It's really cool to read about these settings and hear mentions of how people lived back then. The author also shows nautical skills and skills of surviving in the icy wilderness in Rose's journey. This was one of my favorite aspects of the book. It was refreshing to read a retelling of "East of the Sun, West of the Moon" not only since I don't know the tale, but in the ancient Nordic countries. It's rich and realistic.
As far as the plot, there was a little bit of disappointment for me. My favorite parts of the story was the first half, with Rose and her family life and then when she's in the castle with the White Bear and the mysterious stranger. I loved seeing the dynamics of Roses's parents and siblings. They love each other but have disagreements, especially the superstitious mother who wishes to contain Rose in the home. But the best part was the castle Rose stays in. The details of the food, clothing, Rose's skill at the loom and the tales that are told are simply beautiful. Pattou's first half of the novel completely captivated me and I kept reading chunks of it at a time.
However, I felt like Rose's journey story took a bit too long. Her time in the castle is cut too short in order to lengthen her journey to find the White Bear after some events happen. While it shows her determination and growing affection for the bear on her journey, I felt like their relationship wasn't developed enough before her journey began so I wasn't completely attached. Her journey felt too long and stuffed with events, when the time in the castle could've been lengthened a bit longer. The ending was also a bit too convenient as well, but I still enjoyed how it ended and I wonder what the sequel will bring.
Characters: This book is told in many POVs: Rose, Neddy (brother), White Bear, The Troll Queen and Rose's father. I liked how you see what her family is up to while Rose is away and develops their characters and you also come to care for them. The Troll Queen, the antagonist, was the least developed unfortunately. Her motivations were way too simple and you don't get a ton of background of her magic or why she went through with her decisions. The strongest POV chapters for me were Rose and Neddy, showing the loving bond between siblings and also Rose's strength to fix her mistakes and her growing love and courage. But one POV I wanted more of was the White Bear; his chapters were way too short and didn't help developing his character as much as Rose. I'm hoping the sequel will fix that.
Overall: This older title is totally worth checking out if you want a fresher take on a retelling when it comes to the original tale, setting and great female character. The setting is fantastic, decent romance, good writing and a pretty much Beauty and the Beast type story that fans of that tale will love. It didn't blow my mind, but I read so much every time I opened it and I truly admire Rose's qualities that YA is starting to loose.
Rating: 
.75 stars
Have your read these books? What are some of your older retellings you love? Do you have older ones to recommend?