Happy Saturday everyone! Again, my concept of time kinda sucks. We were spending time getting house stuff done,  more tiring P90X3 and other adult things. So I'm sorry this post is also late, but better late than not at all right?
I first wanted to say that I surpassed 250 followers this week! I can't thank you guys enough for your support, online friendship and comments 🙂 No matter how many followers you have, that feeling of seeing more people talk to you and support you is always awesome. I'm glad you guys like my stuff, even if I don't read a ton or have fancy blog formats and all that. I hope we can continue being friends and talking about books and there's plenty more to come in the future. THANKS GUYS 😀
April Book Haul
So…when I finally gathered all the books I got this month, I was surprised. All these books consist of: pre-orders, Book Depository, trades on Twitter and Amazon purchases. You know when you're on a roll when you see how much you get. So here's all the physical books I got:
Yesternight by Cat Winters: I got this from a Twitter trade and couldn't be happier. This is one of her adult novels, about a woman who goes to a town to investigate why a young girl claims she's someone else. You all know I'm a huge Cat Winters fan, so now I have one book to finish my collection 🙂
Pitch Dark (ARC & finished copy) by Courtney Alameda: This is her new science fiction horror book about a guy and girl on a spaceship trying survive against aliens. I loved her first book last month, so I'm happy to have both an ARC and finished copy of it. I got the ARC from a trade and also bought the finished copy on Amazon.
A Shiver of Snow and Sky by Lisa Luddecke: I got this on Amazon after reading the synopsis. It's about an island where the Northern Lights glow certain colors and one day it glows red for danger. Reviews have said it's really atompsheric and cool so I hope I think the same.
The Loneliest Girl in the Universe by Lauren James: This doesn't come out in the US until July but it is available in the UK so I got the UK finished copy and it's gorgeous! It's about a girl whose alone on a spaceship that's supposed to habitat a distant planet. But Earth sends another ship with a person she starts to communicate with and I keep hearing rave reviews.
Gunslinger Girl (ARC)by Lindsay Ely: This was another trade on Twitter. It's been described as a "western dystopian" and I haven't heard a lot about it but I've been getting into Westerns more so we'll see.
An Enchantment of Ravens (ARC) by Margaret Rogerson: I'm SO happy I have an ARC of this book since loving it late last year. This was another Twitter trade (there's quite a few in here) and while I still need a finished copy, I need editions of this pretty book. I highly recommend it 🙂
Brightly Burning (ARC) by Alexa Donne: I was really excited to get this for trade. This Jane Eyre retelling really intrigued me after reading a sample on NetGalley and I've heard good things. I've never read the original Brontë novel but I'm sure it'll be fun! It's also out now.
A Psalm for Lost Girls by Katie Bayerl: I won 6 copies of this book from a giveaway the author was doing to celebrate the book coming out in paperback. I'm trying to organize a book club with my neighbors for this book, but I'm happy to have a physical copy of this amazing debut novel 🙂
Reign the Earth (ARC) by A.C. Gaughen: Another Twitter trade. This was the first book I read this year from NetGalley and it's a really good desert fantasy! Another to grow my collection 🙂
Scarlet by A.C. Gaughen: Now that I read her most recent novel, I had to get a copy of her debut novel which is a Robin Hood retelling and it gets amazing reviews. I hope to read this soon!
The Wicked Deep (ARC) by Shea Earnshaw: This was one of the first Twitter trades I made and I LOVE the ARC of this book; it's stunning! This is everywhere on social media as well as amazing reviews! Plus the fact that it picked for a Netflix TV show is pretty awesome too.
The Forest Queen (ARC) by Betsy Cornwell: This isn't out until August, but it was another Twitter trade and it's an upcoming gender bent Robin Hood retelling. While the GR reviews aren't great, I still hope it will be entertaining at least. Plus the green and white on the cover is so pretty 🙂
The Bird and the Blade (ARC) by Megan Bannen: This one I'm SO stoked about! This was another Twitter trade that I was so excited to get in the mail. This comes out in early June and it's based on the opera Turnadot and it's get in the 1200's in the Mongol empire!
Love, Hate and Other Filters (ARC) by Samira Ahmed: I've been hearing amazing things about this own voices contemporary about a Muslim teen. I hope to learn a lot about that culture when I read it.
Vengeance Road (ARC) by Erin Bowman: This Western has been out for a while, but I'm so excited to read it in the ARC format. This was another trade book and I hear great things about this book and it's companion. It's cool to see Western books coming back in YA.
Pacficia (signed copy) by Kristen Simmons: I did a fun book mail post about a week ago about how I got a signed copy of this book with some swag from the author! It was an awesome surprise and I'm currently reading it.
Sky in the Deep by Adrienne Young: I had pre-ordered this popular book back in February and got in the mail on release day! I wasn't a pre-order person and still not really one, but I really enjoyed seeing this author's posts on social media about her publishing journey and I wanted to support her. I'm gonna try really hard to read it this month 🙂
Audible & Library Books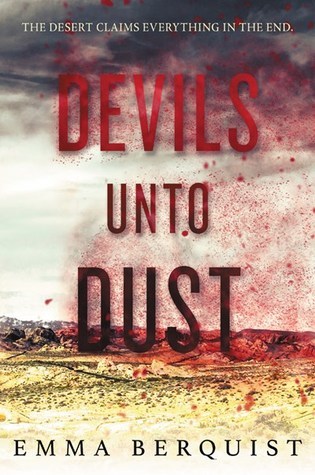 Devils Unto Dust: I got this from Overdrive through my library! It's an alternate reality Western book with zombie elements in it. I'm more than halfway and loving it!
Tess of the Road: I got this with an Audible credit at the beginning of April. I've been listening to it for a while but I'll have a review up next week. The narrator is incredible!
Beware the Wild: This author's upcoming book Seafire is getting a lot of buzz and being highly sought after, so I saw that she published a couple other books already and wanted to try her debut novel. It's described as an American Gothic book which immediately intrigued me 🙂
What books did you get in April? Did you get any of these? Are you excited for any of them?