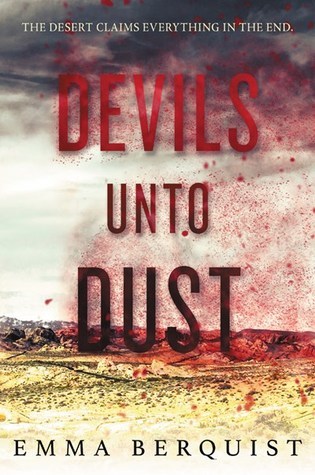 Title: Devils Unto Dust
Author: Emma Berquist (Debut)
Genre: YA Western
Release Date: April 10th  2018 from Greenwillow Books
Pages: 488 (US Kindle Edition)
Format: Library Overdrive Book
Goodreads Synopsis: Ten years ago, a horrifying disease began spreading across the West Texas desert. Infected people—shakes—attacked the living and created havoc and destruction. No one has ever survived the infection. Daisy Wilcox, known as Willie, has been protecting her siblings within the relatively safe walls of Glory, Texas. When Willie's good-for-nothing father steals a fortune from one of the most dangerous shake-hunters in town, she finds herself on the hook for his debt. With two hunters, including the gruff and handsome Ben, to accompany her, she sets out across the desert in search of her father. But the desert is not kind to travelers, and not everyone will pass through alive.
When I saw reviews from Heather and Destiny give praises to this book, I had to pick it up. It's cool that this is a stand alone western with a horror element! I'm starting to really enjoy YA westerns and this was no different! I was excited when my Overdrive got it and I was sucked in. Here's five reasons to read this debut novel:
Great Main Character: Daisy, or Willie is what she calls herself, is a fascinating and flawed girl. She's the oldest in her family, taking care of her younger brother Micah and the twins Catherine and Calvin after their mother died and absent dead beat father. But when she realizes that she has track down her father to protect her family, she goes full speed ahead! She shows no fear and I loved how fearless she was to protect her family. She also endures pain and horror on this journey, coming to realize the harshness of the world while also seeing her own strength. While she does make some irrational decisions, who doesn't when faced with threatening situations? But she stays true to  her goals and lets nothing distract her. She reminds me a bit of Helene from An Ember in the Ashes which I was totally here for 🙂
Pacing: To put this into perspective, I read 40% of this book in one day! That rarely happens these days with the busy weeks I have. But one day I simply refused to put this book down. The thrill of running and fighting the shakes, corrupted hunters and survival is gripping and sometimes intense. While it lets you breathe a bit in some parts, this is a compelling story and the pace surprised me with what happened later. Plus the chapters are short which will help readers that struggle with long chapters.
Character Relationships: Man, the sibling relationships got me in this book! I have three brothers and the bond between Micah and Willie especially mad me think: What would I do for my brother in life threatening situations? It was great to see their struggle with trusting each other, telling the truth and explaining how they feel with all they've been through. Also, the love Willie has for the twins and ensuring their survival was great. Also, the Garrett brothers are great side characters. They assist Willie on her journey and while they are rough at times, they show their true selves in small conversations and honest help to her. Benjamin Garrett especially shines as he slowly unwinds who he really is. There's also some side characters that show kindness and mercy to offset the harsh desert world. Everyone was awesome.
Action Scenes with the shakes: The shakes are the zombies in this book and you get some amazing scenes when the characters have to survive against them. The explanations you do get about the disease is really well done and enough so you get the world. I like how the author makes you questions how human they actually are 🙂
Fantastic Writing: I don't know how many of you know this, but I do not enjoy reading first person POV all the time. I prefer third person much more but some authors do first person well and this book was one of them! I never felt like I was bored or couldn't truly relate to Willie. Here's some great examples of the writing:
"I love the desert, love the hidden beauty of it. When the light falls just so and the heat shimmers off the ground, the desert is as graceful and endless as the sky. I love the way the ground cracks open under my feet, the fissures spreading out like veins in a shattered mirror. The air so hot it burns your lungs, the dust collecting in the corners of your eyes, the sand whipping against your skin until it's raw; this is my home, and it is beautiful. If I could, I would turn my back on this town and start walking, leaving behind the unbearable weight. But I know better than that; the desert may have my heart, but this town will take my bones." (2% mark)

"The desert is still, no sign of movement, not even dust. But it's a calm stillness, ancient and unchanging. The desert was here before us, and it will be here long after, watchful and patient and unmoved." (24% mark)

"It would be so easy to disappear this way, to wander off the path and leave no trace of yourself behind; to become nothing but a ghost, a name whispered in hushed tones." (29% mark)

"Everything is gray and murky, like my eyes are wrapped in gauze. The sun's gone black and the air feels like it's on fire, spitting and sparking in the dark. The wind whips and howls around me, an angry and vengeful thing; it freezes the sweat at my back and I start to shiver, cold and raw and frantic." (48% mark)
Rating: 
.5 stars
Have you guys read this? What did you think of it? Do you have any YA western books that you would recommend?