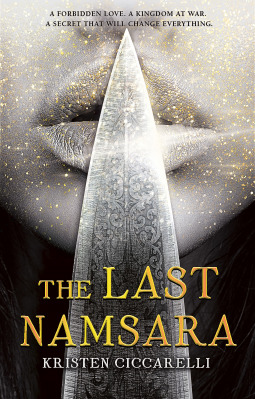 Title: The Last Namsara (Iskari #1)
Author: Kristen Ciccarelli (Debut)
Genre: YA Fantasy
Release Date: October 3rd 2017 from HarperTeen
Narrator: Pearl Mackie
Listen Time: 11 hours, 16 mins
Format: Library Audio Book
Goodreads Synopsis: These are the legends that Asha, daughter of the king of Firgaard, has grown up learning in hushed whispers, drawn to the forbidden figures of the past. But it isn't until she becomes the fiercest, most feared dragon slayer in the land that she takes on the role of the next Iskari—a lonely destiny that leaves her feeling more like a weapon than a girl.
Asha conquers each dragon and brings its head to the king, but no kill can free her from the shackles that await at home: her betrothal to the cruel commandant, a man who holds the truth about her nature in his palm. When she's offered the chance to gain her freedom in exchange for the life of the most powerful dragon in Firgaard, she finds that there may be more truth to the ancient stories than she ever could have expected. With the help of a secret friend—a slave boy from her betrothed's household—Asha must shed the layers of her Iskari bondage and open her heart to love, light, and a truth that has been kept from her.
I talked about this audio book in my last post (currently reading) that I found this on my library Overdrive and decided to give it a try. I got  this book in my November Fairyloot box but hadn't gotten to it yet. But since I seem to waffle into more audio book mode recently (who knows really) and I got sucked into this amazing novel! Here's five reasons to experience this book:
1) Concept of Old Stories: In this world, the old stories are forbidden to say out loud. If you speak these stories out loud, they lure the dragons to you and allow them to breathe fire. Asha's people believe the stories to be dangerous and have a magic to them. This original idea was captivating from the beginning and the author weaves some of these old stories in the narrative between chapters. These brief stories build this world filled with mythology of death, dragons and the Old One. The way these stories helped unravel the truth in this story was masterfully done.
2) Vibes of Other Amazing Stories: YOU GUYS this book gave me Princess Mononoke and Ember in the Ashes vibes that made my heart happy! The author mentions in the acknowledgements that she's always been inspired by women like Mulan, Eowyn and Princess Mononoke and you feel that in this novel. Asha reminds me of San because she's trying to forge her own path and do the right thing despite people and fate trying to prevent her from reaching her goal. I also go the Ember vibes from the dessert like landscape, the villains and a character called Jarek whose the commendant to the Dragon King (Asha's father). That ring a bell to anyone? But yes, those vibes are very palpable and if you love these stories, you'll love the way this story plays off that inspiration.
3) Asha!: I love this female heroine so  much. She's been raised as a killer her whole life and been constantly told that she's "wicked" and "corrupted" by the old stories and that her scars from the dragon Kozu are her fault. She's very hard and doesn't trust anyone due to her upbringing so her character arc was so amazing to see unfold. I loved seeing that she starts to learn what kindness means, letting people try to understand you, learning the truth and becoming what you want to be. She shows both fierce strength and vulnerability as well. She does remind me a little of Helen Aquilla which also helped 🙂 But if you like your main characters show many emotions (not just plain "i'm so strong but actually do nothing") than you'll like Asha. The author shows this girl's journey in sad and sometimes dark ways but so satisfying in the end.
4) Dragons: These dragons are cool! I won't spoil it but you get some cool interactions with the dragons in this book, as well as seeing how they play into the past and the old stories. They're role is really cool; I could see that some people would want more, but since this is a companion trilogy, there will definitely be more to come. But yeah I NEED more dragon books now!
5) Writing Style: For me, the biggest thing that the writing did for me was the emotional stuff! I don't tear up or feel a ton of emotions from most books I read. But there are a few series or certain books that make feel things and this one is no exception. You experience the pain of feeling alone, feeling shame for something you didn't do, feeling unloved and also having someone actually care for you was so impactful. There were parts, especially conversations between Asha and Torwin (the male character who helps and comes to love Asha) that just got me. They are angry for their positions in life and even mad at each other; but then they talk and express how they feel! This is such an important thing for me since I feel like this type of thing is ignored in YA. Both of them have suffered abuse, neglect and many other things that make them who they are and the author makes the emotion seep from the words on the page. Here are some quotes that I love:
"Asha lured the dragon with a story. It was an ancient story, older than the mountains at her back, and Asha had to dredge it up where it lay deep and dormant inside her." -pg. 1 first line

"The Old One was lonely. So he made himself two companions. He formed the first one out of sky and spirit and named him Namsara. Namsara was a golden child. When he laughed, stars shone in his eyes. When he danced, wars ceased. When he sang, ailments were healed. His very presence was a needle sewing the world together.

The One One formed the second out of blood and moonlight. He named her Iskari. Iskari was a sorrowful child. Where Namsara brought laughter and love, Iskari brought destruction and death. When Iskari walked, people cowered in their homes. When she spoke, people wept. When she hunted, she never missed her mark." -pg. 12

"The old stories say that Namsra is a needle sewing the world together." -pg. 397

"Asha felt herself unravel. As if she were a carpet or a tapestry, and his words were claws tearing out all her threads." -pg. 214

"He was waiting in the trees, waiting for the girl to come out of the rock. It was dark and he was waiting. Craving the voice thrumming with ancient power. Wanting the girl speaking the stories aloud." -pg. 264
Final Note: Since I listened to the audio book, I liked the narrator. She added some great layers to the story with her voice, but she's not a new favorite narrator of mine. If you have chance to listen to the audio book, I do recommend it though 🙂
Overall: This is hands down a top favorite of all time now! The romance just spoke to me, the vibes I mentioned made me nostalgic and I just love how someone who always thought they were corrupted and unloved start to change and see the world in a new light. I do think some people will want a bit more for development of the villain characters and a little bit more world building, but there's two more books in store! The next book will follow a character called Roa and I can't wait for her story; she was amazing just like Asha.
Rating: 
Have you read this book? What did you think of it? Are you excited for the next book? What books with dragons do you recommend?