Hey everyone! I'm giving you all an extra post talking about all the fun book news that's been going on for the last little bit. From cover reveals, to upcoming books, there's some exciting stuff coming our way so let's jump in!
COVER REVEALS & RELEASE DATES
1. Undying (Unearthed) #2 by Amie Kaufman and Meagan Spooner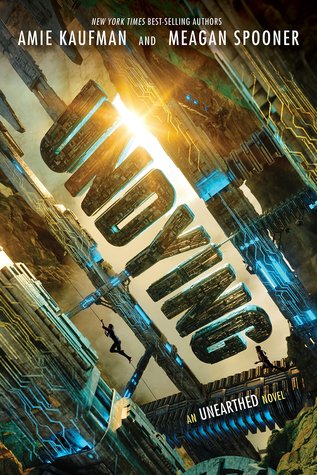 Release Date: January 8th 2019
OH MAN! We have a cover and a release date! The author duo shared their news via Entertainment Weekly this month for the sequel to Unearthed which I loved. This continues Jules and Amelia's story and while I'm sad that this is the last book, January feels a bit closer now 🙂
2. The Piory of the Orange Tree by Samantha Shannon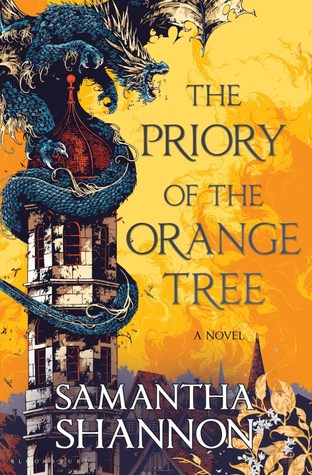 Release Date: February 26th 2019
AT LAST! I had heard that Samantha Shannon was working on a new book that's separate from her Bone Season series. This is a tome of a standalone novel about a world on the brink of war with dragons and the main characters set out to make things right. That cover is stunning! It actually reminds me of the similar art work of The Shadow of What Was Lost. But regardless, it's going to be cool to see a different world written by Samantha Shannon 🙂
3. Last of Her Name by Jessica Khoury
Release Date: February 26th 2019
If you recognize this author's name, she's the one that wrote the amazing book The Forbidden Wish. I was hoping she was writing a new novel and BOOM. This cover just dropped on her Twitter feed this past week 🙂 This is another retelling of Anastasia set in space with a princess named Anya and I'm beyond excited! I love Jessica's other book I previously mentioned and I'm glad February isn't far away.
4. Imprison the Sky (Elementae #2) by A.C. Gaughen
Release Date: January 22nd 2019
This is the sequel to Reign the Earth and follows a different character Aspasia who controls air who might come into contact with Shalia from the first book. I'm very curious to see where this sequel goes, since I thought we'd continue following Shalia's POV. But it'll still be a fun ride and if you love elemental magic, I highly recommend the first book!
5. Warrior of the Wild by Tricia Levenseller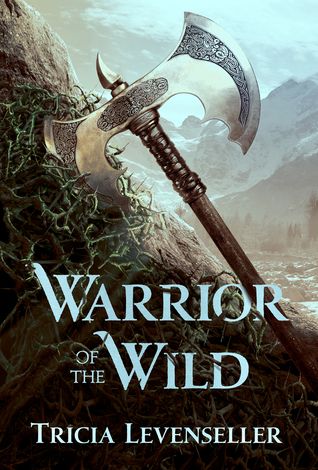 Release Date: February 26th 2019
This amazing cover just got revealed on social media yesterday and it's really something! I am not a fan of her pirate series at all, but I am kinda curious of this upcoming standalone novel. It's a Viking story about a girl who fails her coming of age trial and she must kill the god in the wild to settle her banishment. Since Vikings are definitely a trend right now, I'll wait and see what the reviews say once they start coming in 🙂
6. The Shadowglass (The Bone Witch #3) by Rin Chupeco
Release Date: March 1st 2019
The publisher Sourcebooks Fire released this gorgeous cover of the final book in this fantasy trilogy within the last couple weeks. These covers are just so dark and beautiful 🙂 I do need to actually catch up on this series but honestly, I'm so glad that these covers never changed. This series is about a girl whose a Bone Witch who can raise the dead and I NEED to catch up.
7. Archenemies (Renegades #2) by Marissa Meyer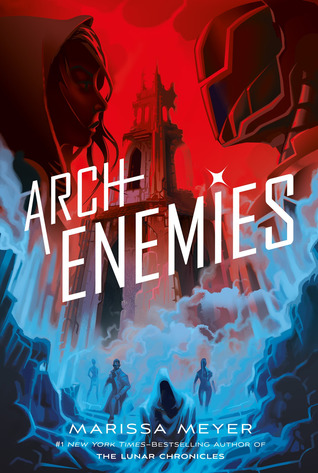 Release Date: November 6th 2018
Not only did the cover reveal happen this month, but this series is now a trilogy! Marissa Meyer mentioned this news on her Twitter page and other social media. I'm not surprised since she's such a popular author but I know many people will be happy to get a third book. I do have the first one now so I hope this is the series that gets my vote for a good series by her 🙂
8. Sherwood by Meagan Spooner
Release Date: March 19th 2019
I know this is a bit of older news, but I can't help myself! This cover just screams the same vibes as the cover of Hunted and I'm living for it! This is her new retelling of Robin Hood, where Robin himself is dead and Maid Marian takes up his green cloak for herself! Can we just fast forward to 2019 already?! I need this beauty in my life 🙂 It'll be cool to have Marian as a main character since Robin is usually the main character in many adaptations of the legend.
NEW BOOKS ANNOUNCED
This section are books that have been announced and may have either a title, tentative release date or recent announcement but cover. Any info on here is subject to change however.
1. New Margaret Rogerson book
Recently on Twitter, author Margaret Rogerson has revealed that she's working on a new book! It will be another fantasy stand alone and won't be related to her debut novel An Enchantment of Ravens. The info she has revealed is that it's about a supernatural being who has a true and false name and that's a big detail in the story. I seriously loved her first book so I'm STOKED for more info on this one 🙂
2. New Shea Earnshaw book
The author of the vastly popular book The Wicked Deep (which got picked up by Netflix) has info on her book for 2019! It's called Winterwood and it's about a snowy mountain town where a boy, supposedly dead, returns to the sleepy town. I still need to read her first book but this sounds very atmospheric and very enjoyable to wait for (impatiently of course).
3. Children of Blood and Bone Book 2 news!
Recently, Tomi shared on Twitter that the title of book 2 will be called Children of Virtue and Vengeance and has a release date of March 5, 2019. The cover will be revealed down the road but this series has seriously blown up everywhere. (I still have to read it, but we'll ignore that for now. Don't worry, it's on my TBR)
4. New Debut novel in 2020
If you follow a lot of authors and publishers on Twitter, there's news about book deals all the time! This one caught my eye a couple weeks ago. It's a book coming out in 2020 that's "Phantom of the Opera meets Moulin Rogue" and it's a planned duology!! WHAT?! This novel is something I've secretly been wanting to read forever and now it's actually being published. The first one is called When Dreams Descend and the series is called Kingdom of Cards. The wait is going to be very long…lol
5. Enchantée by Gita Trelease
This is an upcoming book in 2019 from Flatiron books that publishes Legendary and The Hazel Wood. It's set in Paris in 1789 about a girl who wants to support her two siblings and manages getting caught up in royalty with Marie Antoinette and King Louis XVI and their obsession with magic. With her having magic, she creates an alias as "Baroness de la Fontaine" and things get out of control as the French Revolution starts to creep up. I have always found the French Revolution fascinating since I was a young teen learning about it in school so this sounds like awesome fun. The release date is expected to be February 5th of next year.
And for the biggest piece of news…
6. The Owl King by Erin Morgenstern
IT HAS A TITLE! Finally we have more info! Morgenstern's debut novel The Night Circus has been well loved and hyped up since it came out in 2011 and we've been waiting to see what her next book will be. Recently, this new info was found on Goodreads. Apparently her UK publisher has an ISBN number and it has a tentative release date of January 2019!!! Rejoice everyone 🙂 I hope there's more info coming soon but I couldn't be happier 🙂
What book news are you excited about? What do you think of the new cover reveals? Are there other upcoming books that you want me to know about?