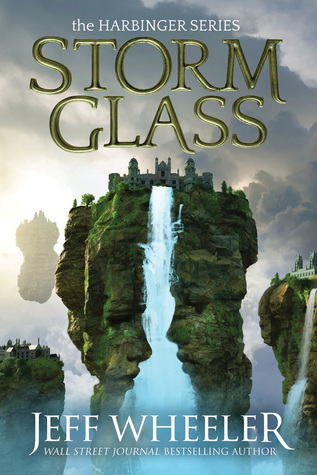 Title: Storm Glass (Harbingers #1)
Author: Jeff Wheeler
Release Date: June 19th 2018 by 47 North
Genre: YA Fantasy
Format: Kindle ARC
*I requested this ARC from NetGalley in exchange for review. All thoughts and opinions are my own. No quotations will be used in this review.*
Goodreads Synopsis: Theirs is a world of opposites. The privileged live in sky manors held aloft by a secretive magic known only as the Mysteries. Below, the earthbound poor are forced into factory work to maintain the engine of commerce. Only the wealthy can afford to learn the Mysteries, and they use their knowledge to further lock their hold on society.
Cettie Pratt is a waif doomed to the world below, until an admiral attempts to adopt her. But in her new home in the clouds, not everyone treats her as one of the family.
Sera Fitzempress is a princess born into power. She yearns to meet the orphan girl she has heard so much about, but her father deems the girl unworthy of his daughter's curiosity.
Neither girl feels that she belongs. Each seeks to break free of imposed rules. Now, as Cettie dreams of living above and as Sera is drawn to the world below, they will follow the paths of their own choosing. But both girls will be needed for the coming storm that threatens to overturn both their worlds.
DNF @ 25%
I was first intrigued to read this based on the cover when I saw it on NetGalley. I also have some friends reading his books and really enjoying them. This author has been around for a bit and has written a few series. But this was not for me and I had no motivation to continue. Here are the reasons why:
Writing Style: For me, I was bored the whole time with the writing. It was never engaging with its pacing, world building, etc. While it was easy to read with how simple it was, it was simple enough that nothing ever stood out and kept my attention. I would skim read a few sections and still understand what was going on by how simple everything was described. But not only that, it felt dry of emotion or imagination.
Odd Beginning: The first couple chapters in this book went by way too fast. Things developed faster than you would want. One of the main girl is an orphan but lives in an orphanage home and within the first chapter, this rich guy intervenes and they have a "moment" where they look at each other and she asks to adopt him and he wants to so badly. But it never explains WHY he cares so badly. Sure the situation is bad, but why would he take one look at this girl and want to adopt her? Also she has an ability that comes in out of nowhere and it's never explained at all in the first quarter of the book I read.
Too Similar POVs: You get two female POVs in this first book: the orphan girl Cettie and the rich girl Sera. But both of them sounded too similar in their rebellious thoughts and actions. While both come from different backgrounds, they both didn't sound too different that I almost had to go back and see whose POV I was reading from. With this author being male writing a female character, it just didn't work for me. Their personalities never developed enough in the first quarter to care about them.
Lack of Plot: By the 25% mark, genuinely not much happens in this book. You barely get any kind of inkling of the main plot of both girls wanting to explore the world and follow their own path. Chapters are just filled with boring conversations, wandering around and a lot of inner monologues. I never felt motivated to keep going past that mark. You're given nothing to make you want to keep reading and find out what happens. I have read fantasy novels that are over 500 pages and found much more plot developing by the 25% mark in those books.
So sadly, I didn't enjoy this book. I don't think I'll try anything from this author in the future either. From all the reasons I listed, this did not stand out to me against the other fantasy novels I have read before. If you have a younger reader getting into fantasy, they might enjoy it more. But if you read a lot of detailed and well built fantasies, you might be bored by this one. For NetGalley purposes only, I gave this book 2 stars but I don't leave official ratings if I don't finish a book.
Rating: No Rating
Have you read this book? Have you read his other series and if so, do you want to read this one?