Happy Wednesday everyone! It's time for another Top 5 Wednesday 🙂 Today's topic is a "back to school" reading list of bookish topic of your choice. I think this is a really fun idea to think of cool classes on bookish topics. I hope everyone is having a good time back to school and hopefully it won't be too stressful!
I have decided to show a list of historical fiction novels that talk about unique or less talked about periods in history that can teach cool things about history. We see the historical fiction books all the time set in Victorian England, Regency romances and WWII stories. While some of these do revolve around WWII, there aren't in the typical fashion like most popular novels. I did also include TBR books for this one, since I know enough of the general plot and the synopsis is what made me want to read it. Let's jump in!
1. Odd and True by Cat Winters
This paranormal historical fiction book centers around the 1909 urban legend and sightings of the Leeds Devil. When I went to this book signing, the author talked about her research about this interesting urban legend and how you don't really know about it if you don't live in the New Jersey area. Basically, these two sisters go to hunt down this devil creature, since they believe they are descendants of monster hunters like her mother. This legend is creepy and is a fun story to read, especially with Halloween approaching 🙂
2. Girl in the Blue Coat by Monica Hesse
I heard about this book recently and had to learn more about it. This Edgar Award winning book shows what happened to the Dutch during WWII. We follow our main character Hanneke, who works in the black market to support her family. She is tasked with finding a Jewish girl, who was wearing a blue coat when she disappeared. I think there's so many facets of what happened to some countries that many of us know about, which draws me to this book. What was that black market like? What about the student resistance at the time? This book offers up rich questions to a intriguing book 🙂
3. Beneath a Scarlet Sky by Mark T. Sullivan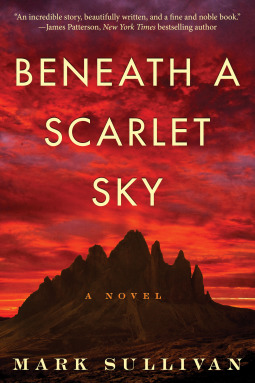 This is an adult historical biography that some neighbors read recently and I heard their discussion about the book. This follows the true story of Italian man Pino Lella who starts helping Jews cross the Alps before being enlisted as a German soldier to avoid seeing combat. Then, he becomes a driver for the left hand man of Hitler himself. The author, Sullivan, did interview Lella several times over the years to get the details exactly right and he was going through his own dark thoughts as well and that this book helped him deal with his own problems. This book sounds so honest and raw, since what Italy went through during the war is very unknown in popular discussions of the war. My neighbors convinced me to try this tearjerker of a book.
4. In Another Time by Caroline Leech
This new historical fiction takes place in Scotland during WWII in 1942. It centers around a female who joined the Women's Timber Corps, basically a female lumberjack. That happened?! Just hearing that plot enough has me very interested. We follow Maisie who starts to fall for fellow lumberjack John. I think it's cool to center around an occupation that is seldom, if at all, ever touched in books, especially during WWII.
5. Burial Rites by Hannah Kent
This historical fiction debut novel follows the last woman to be publicly executed in Iceland in 1829, going into this woman's head and exploring her actions as her execution nears. The author herself lived in Iceland for a few years and did a lot of research and this book has received accolades since it's release. Iceland is a small country that I know next to nothing of, so that obviously intrigued me to put this on my TBR. Some of my co-workers who primarily read adult fiction also gives this book high praises and I hope to read this soon.
What unique historical fiction books have you read? Have you read any of these? What bookish topic would you make a required reading list from?