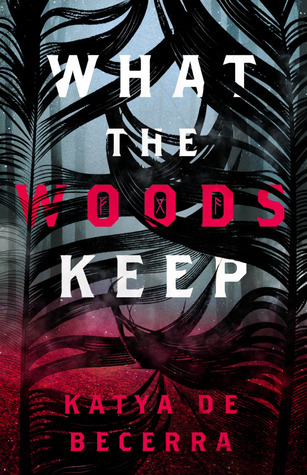 Title: What the Woods Keep
Author: Katya de Becerra (Debut)
Genre: YA Paranormal/Thriller/Sci-Fi/Dark Fantasy
Release Date: September 18th from Imprint Macmillan
Format: Kindle ARC
*I received this ARC from the publisher via NetGalley for this blog tour and in exchange for an honest review. All thoughts are my own and no quotations will be used in this review.*
Goodreads Synopsis: On her eighteenth birthday, Hayden inherits her childhood home—on the condition that she uncover its dark secrets.
Hayden tried to put the past behind her, and it worked. She's getting ready for college, living in a Brooklyn apartment, and hanging out with her best friend and roommate Del. But now it's all catching up with her: her mother's mysterious disappearance a decade before, her father's outlandish theories about a lost supernatural race, and Hayden's own dark dreams of strange symbols and rituals in the Colorado woods where she grew up.
As soon as Hayden arrives at her hometown, her friend Del in tow, it begins: Neighbors whisper secrets about Hayden's mother; the boy next door is now all grown-up in a very distracting way; and Hayden feels the trees calling to her. And among them, deep in the woods, Hayden will discover something incredible—something that threatens reality itself.
About the Author
Katya de Becerra was born in Russia, studied in California, lived in Peru, and then stayed in Australia long enough to become a local. She was going to be an Egyptologist when she grew up, but instead earned a PhD in Anthropology. What the Woods Keep is her first novel.
Author Website Twitter Instagram Facebook
Tour Schedule
I definitely recommend that you guys follow this great blog tour set up by the lovely Cherry at Tale Out Loud who organized this whole tour and provided the lovely graphics. There will be great author Q&A's and reviews, with a giveaway going on as well 🙂
Purchase Links
Book Depository Amazon Barnes & Noble Books A Million IndieBound
Book Review
I first saw this book on NetGalley while browsing their titles to request, read the synopsis and immediately knew that I had to read it. The way the synopsis built up this supposed supernatural race and creepy woods setting ticked many of my boxes. So when I heard Cherry was organizing this blog tour, I immediately jumped on board to read this book. What did I think? This is quite an original novel compared to what's being published and popular in YA, which is always a great thing. Here are my top three pros and one con of this upcoming book:
PROS
Genre Blending: Man this novel does blend contemporary/thriller/paranormal/fantasy very well in this novel, making it a rare genre bender in YA. These elements create a story that is at times creepy, quietly dark and full of interesting imagery. This blend of genres makes the book unique and it even reminds me of Stephen King with the writing style and how he tends to bend genres as well.
Germanic Mythology: The way that the author includes the Germanic mythology of this supernatural race was very interesting, especially including the actual myths in the narrative. It draws the reader in and it was a cool story I had never heard of before. I'm glad that I learned about this new myth and it also reminds me of Norse mythology as well. This was my favorite part of the novel and I wanted more of it.
Setting: The primary setting of this novel is Promise, Colorado, a fictional town where Hayden grew up and where the main conflict resides. While this town is fictional, it felt real with its small shops, local food and the description of the town's geography. This reminded me of the creepy towns that you can feel have secrets and it worked so well. I liked feeling how downright dark the woods felt and how it seemed to have a mind of its own. This was my other favorite part of the book, with giving me imagery that did make me want to know what happened next.
Con
The major con I will tell readers is that I felt like there was a lack of genuine answers. If the author left it more open to interpretation or made it more philosophical, that's the set preference. But with the amount of building and imagery/foreshadowing this book has, I felt like that when we finally got to the point to learn the truth, only a small amount was given to us purely through expositional dialogue. That way of revealing the truth is never satisfying for me as a reader. Since the mythology and this supernatural race was really cool, it felt very anti-climatic when we finally got there. So the ending might not be for everyone.
Overall: I like that this novel feels very original and blends genres very well. I'm thankful to read a more refreshing YA novel that breaks the mold of what's popular right now. There's also some mixed media that adds more atmosphere and mystery which I wanted more of. But with the very rushed ending and lack of definite answers, I did want more from that.
Rating: 
Giveaway
There are 2 copies of What the Woods Keep up for grabs so there will be two winners! Here is the rafflecopter link where you can enter to win 🙂
Are you excited for this book? If you have read it, what are your thoughts? What books that blend many genres would you recommend?