Happy Monday guys! I apologize for no post on Saturday; I was traveling and had no time to write anything. But we're back in full swing now. Today is my wrap up about the attempt I made for the recent contemporary-a-thon that ran from the 17th to the 23rd. To sum it up in a honest way, I fizzled out and also got distracted lol. I didn't expect to get in a weird reading mood where I would start a bunch of things but nothing would hold my attention enough to keep reading consistently
But here's what I did finish and attempted.
Finished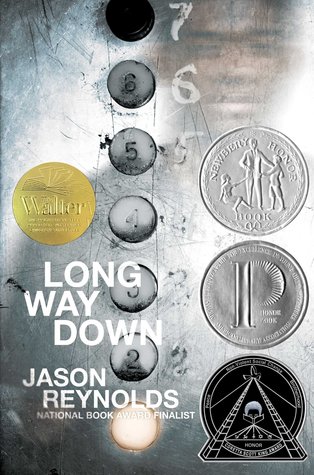 I read this YA contemporary book in about a day and a half. I have heard so many good things about Jason Reynolds in general so I wanted to start with this one. He writes YA and children's books in verse, which I haven't read since college. This is about a boy whose brother gets gunned down and he gets his brother's hidden gun and goes into an elevator. He's going down this elevator to get revenge on the guy that he's pretty sure who did it. But as he reaches each floor, a new person enters the elevator with him. That's all I want to say as far as the plot, since it is written in verse so things progress very quickly.
After finishing, I had to think on this book for a little bit to grasp the messages in there. With it being in a non-traditional format, I had to keep reminding myself that this format is different and that I had to look at it in a different way. This is about the cycle of violence that people suffer through and the spectrum of the consequences, the casualties and the thoughts of those people who suffer from this cycle. This boy is so blind with rage and grief, which he was never taught how to express completely, that part of him wonders if he can carry out this revenge. It's so sad to see kids like this that don't have a stable foundation on how to grieve or express their feelings. Reynolds portrays this with no punches and parts of the verses were powerful with simple statements. While I wish I could've known what the kid decided to do at the end, I still think that teens need to read and then ponder the messages. I want to read more of Reynolds's work now.
Rating: 
Started, Didn't Finish
Pages read: 66 pages
*Spoiler for part of my upcoming book haul* I got this ARC from trading on Twitter and I was so excited to read this book. It's about a girl whose father dies, leaving a  1968 Firebird 400 car that's worth a lot of money. Someone outside of her town will pay the money that she and her mother need to prevent the foreclosure of their house. But she can't drive stick shift…but her ex-boyfriend does. I've heard great things about this roadtrip book and I did enjoy what I read during the readathon so I will finish this soon 🙂
So that's all I accomplished for this contemporary-a-thon. I'm glad that I finished something but also, I'm glad that I focused on reading contemporary since a genre that I'm diving into more. My hope is to participate next year and find more new favorites along the way 🙂
Did you participate in this readathon? Have you read these books and what are your thoughts on them? What's a YA contemporary that you read recently and loved?