Guys, it's October already. Who keeps pushing the fast forward button?! LOL, but it's time for the reading wrap up. I only finished 4 things this month, DNF'd one and started a bunch. I'm still trying to break my reading problem and finish more stuff but we're slowly getting there. But let's go ahead and dive in!
Total Books Read: 4
ARCS: 1
Audio Book: 1
Physical Books: 2
DNFs: 1
Read from September 2-7th
Rating: 2.5 stars
I got this ARC for the blog tour that I participated in this month, but over time, my rating has dwindled on this book which really sucks. This is about a girl named Hayden whose mother disappeared into the woods near her home. Years later, she turns 18 and gets her old home passed down to her in her mother's will and the pledge to solve the mystery of the woods. This book does blend many genres like contemporary, sci-fi, dark fantasy and mystery well enough. But the weird way the book handles the truth frustrated me! I actually wanted answers and I feel like I didn't get anything straight out of the story and the ending was way too opened ended. Plus Hayden was a weird POV to read from; her scientific theories she mentions at the beginning of every chapter and how they apply to the story really bugged me and a lot of the creepy imagery felt fake for just "shock value." Another hard miss for me 😦
Blog Tour Review: What the Woods Keep
Listened from August 29th-September 12th
Rating: 3.5 stars
This historical fiction about a girl whose father is a plant hunter, and has to go back to China to find an orchid to save their family from becoming poor had so much promise! About half the book was a 4.5 star rating, with the rich writing, family dynamics, dialogue and great character of Elodie. But by the end, a few things really bugged me. For one, the plot in China was too "stop and go" as far as the action and pacing, making me want things not to only move along but also get more interesting. I feel like some of the interesting bits were never put into the novel. Plus, Elodie became so stubborn and rude that she didn't deserve Alex in my opinion; she digressed instead of progressed by the end. But it was still a solid read and I loved the plant aspect of the book and the author has a great writing style. A solid recommendation but not a few favorite.
Audio Book Review: The Forbidden Orchid
Read from September 4-14th
Rating: 2 stars
Guys…I'm getting mad! LOL I was so looking forward to this new spin off series, since I devoured the original trilogy back in 2014 and I also love his Midnighters series. But this, to me, is just a cash grab at attempting nostalgia. Frey, the Impostor and main character, never felt fully fleshed out to me. She's supposed to be a trained killer, but you can guess it, she never acts like it! She doesn't live up to her reputation in many scenes in the book. Plus, the male love interest is awful, unnecessary and the author has written way better male characters. Plus the action was so abrupt every time they had to fight that there was no feeling of high stakes or actual fun during those scenes. I skimmed through most of the end and being very unimpressed, not going to continue with this new series. Another one bites the dust…
Mini Review: Impostors (Uglies #5)
Read on September 17 & 18th
Rating: 3.75-4 stars
I read this book for the Contemporary-a-thon, basically reading this in just over 24 hours. Written in verse, it's about a black teen who gets his dead brother's gun, goes to the supposed killer's apartment and enters the elevator to get revenge. But as a new person arrives in the elevator with him after every floor, he starts to realize who is with him. Admittedly, I did have to keep changing my thought process while reading this because I'm not used to reading novels in verse. But overall, the themes are really important and my wish is that young teens will read this and truly understand what the author is trying to say about the cycle of violence. My only complaint is that I wish the ending was more clear of what decision the boy made; I think that closure could have cemented some of the themes much more. But I still enjoyed it and want to try the author's other works.
Contemporary-a-Thon Wrap Up: I Fizzled Out…
DNF at 55 pages
No Rating
I was sent this E-ARC for review on NetGalley from the same publicist that sent me Meet the Sky, Damsel and A Touch of Gold. This is a political thriller about a boy who goes to Washington D.C. to do a political internship, but then a girl on his team gets killed and he has to find out the truth. But I never got that far. This was by far one the most boring, cliche and poorly written books I couldn't finish in a long time. I don't want to feel so harshly about it, but I do
go check out my review for more thoughts if you're interested but I don't recommend this at all.
ARC Review: The Perfect Candidate
Started, Not Finished Yet
*ARC* Read 110 pages
This book was sent to me from a publicist for review and I have been struggling with this as of late. The writing and story is simple and easy to read, but I don't like the male love interest and I feel like the author is trying to force the two to end up together which I don't think works.
Audio book, got to 80%
Still working through my recap listening and I'm just about done. I'm so happy that I came back to this book (mentioned this last time) but now I'm ready to finish this and then dive into the sequel.
*ARC* read 103 pages
This was the second book that I attempted to read during the readathon but didn't get farther than 103 pages. But I like the story so far and plan to finish it this month. I hope it's another contemporary that's fun to read and has great character development 🙂
Read 35 pages
I did get the book from the library initially but I have decided to get the audio book since I seem to do better right now so this is another audio book for October. Necromancy and a spreading plague? Sounds perfect to me!
Read 30 pages
I started this sometime last month, after hearing great things and the hype over the sequel. But knowing me…I didn't get to read more that month. But this month, I plan to read at least half of it, if not finish it if I can break my reading curse. But I do love what I read 🙂
October TBR: Small Goals
So while September wasn't a great reading month, I have such high hopes that October will be better with finally finishing a few, getting some anticipated releases and of course, trying some more creepy books. Besides the ones that I haven't finished yet, these books are ones I want to finish in October.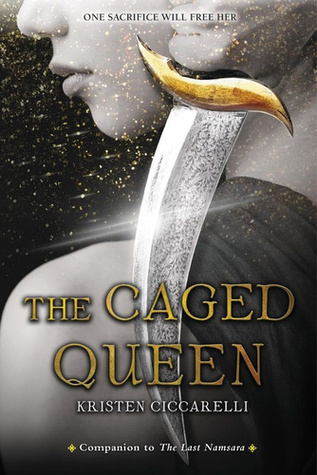 This TBR feels ambitious to me honestly, being my current reading state isn't great, but I do have two ARCs (Cruel Design and Wren Hunt) to review this month and the rest are audio books, review books or new releases to get to. But with some being short, audio or highly anticipated books, I will keep my fingers crossed. I know that if I can get the two ARCs and the finished review copy of Damsel done (even though I'm absolutely terrified), I will be in good shape and that can be enough. But wish me luck guys 🙂
What did you read in September? Did you read any of these? What are your reading plans for October? Do you have suggestions for breaking a semi reading slump?