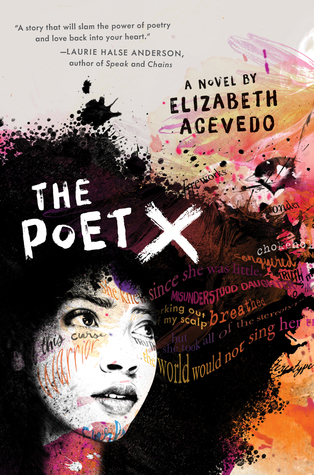 Title: The Poet X
Author: Elizabeth Acevedo (Debut)
Genre: YA Contemporary/Slam Poetry
Release Date: March 6th 2018 from HarperTeen
Pages: 368 pages
Format: Library Kindle Book
Goodreads Synopsis: Xiomara Batista feels unheard and unable to hide in her Harlem neighborhood. Ever since her body grew into curves, she has learned to let her fists and her fierceness do the talking.
But Xiomara has plenty she wants to say, and she pours all her frustration and passion onto the pages of a leather notebook, reciting the words to herself like prayers—especially after she catches feelings for a boy in her bio class named Aman, who her family can never know about. With Mami's determination to force her daughter to obey the laws of the church, Xiomara understands that her thoughts are best kept to herself.
So when she is invited to join her school's slam poetry club, she doesn't know how she could ever attend without her mami finding out, much less speak her words out loud. But still, she can't stop thinking about performing her poems. Because in the face of a world that may not want to hear her, Xiomara refuses to be silent.
I've been hearing nothing but glowing praise about this debut novel since it came out! I'm not a person who reads books in verse at all; reading Long Way Down last month was definitely out of my comfort zone. But when I saw on my library Overdrive that this was available, I gave it a shot. I have to say that these types of books are SO easy to consume very quickly; I read more than 100 pages in a couple sittings and then finished the rest over the weekend. But what did I think about this book? Here's the breakdown:
PROS
Culture: This book is a diverse contemporary. Xiomara's family is from the Dominican Republic, so you see the Latin culture with the family life, religion and social interactions. Xiomara's mother is strictly religious who butts heads with her daughter, the father has a past and hardly says anything and her twin brother is quiet and more book centered than wanting to be more like the other boys in their neighborhood. I learned a lot about the culture from this book and I gained an appreciation for learning about a culture different from mine.
Messages: The main messages I really got from this book are: 1) finding your voice is the most freeing thing in the world, 2) acceptance and 3) loving yourself despite your flaws. These messages were sprinkled throughout the story and I got a bit emotional in parts, especially towards the end. Xiomara is very quick to violence, refuses to conform to her mother's ideas and religion and doesn't even let her best friend or brother in when she's hurting. Her discovery of finding her voice is so rewarding and this book is important for teens to read today.
Characters: While I didn't always connect to Xiomara, I loved seeing her growth as a person as she found herself by the end. But I loved Aman, the boy she falls for, since he was a sweet guy who never pushed Xiomara and always respected her talent and helped her come out of her shell. Her teacher that introduces her to the slam poetry was also a great side character, who truly cares for the main character and is a great example to her. Now, her mother is a very complex person who has different sides to her. She doesn't understand why her daughter rebels or doesn't talk about her true feelings and their confrontations are hard to read, since I have always had a great relationship with my mom. But I love how the author brings these problems to the forefront and how they try to work things out.
Passages: While the writing in the slam poetry format was confusing on occasion, I did enjoy some passages a lot. The author brings simple thoughts or emotions very well in a couple sentences. Here are a couple quotes that I really liked:
"It's funny how the smallest moments are like dominoes lining up, being stacked with the purpose of knocking you on your ass. In a good way." (71% mark)

"When has anyone ever told me I had the right to stop it all/without my knuckles, or my anger, with just some simple words." (91% mark)
CONS
Disconnection: For some of the book, like I mentioned previously, I didn't always connect with the main character. I understood what she was feeling because of her circumstances, but a small part of me was hoping that she would be more accepting of people's help sooner. But this was a small hindrance and I know I'm probably in the minority.
Format: Since this is more slam poetry instead of free verse, it's a little different than some of the other YA books. I'm not familiar with slam poetry, so there were a few times where some phrases didn't make sense to me and took me out of the story.
Ending (Sort Of): The last thing that wasn't quite there for me was the ending. Once Xiomara and her mother duked out their feelings, I feel like the whole family was all happy and go lucky a tiny bit too fast. Since there was years of contention between all the family members, the ending seemed a little bit too conveniently happy.
Overall: I really enjoyed this contemporary novel. It has some fantastic messages, a sweet love interest and made me learn more about the Latin culture. Despite some minor issues, I still recommend this book to teens who like reading about other cultures and especially for the positive messages.
Ratings: 
Have you read this book? What did you think of it? What other diverse contemporaries would you recommend?