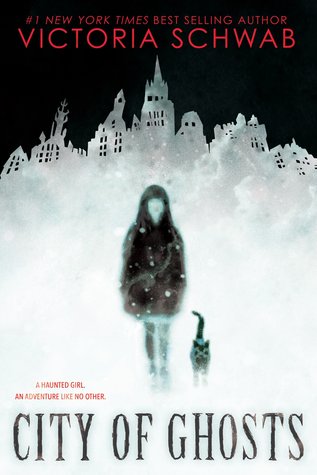 Title: City of Ghosts (Cassidy Blake #1)
Author: Victoria Schwab
Genre: Middle Grade Mystery/Paranormal
Release Date: August 28th 2018 from Scholastic
Narrator: Reba Buhr
Audio Book Time: 5 hours, 2 minutes
Goodreads Synopsis: Cassidy Blake's parents are The Inspectres, a (somewhat inept) ghost-hunting team. But Cass herself can REALLY see ghosts. In fact, her best friend, Jacob, just happens to be one.
When The Inspectres head to ultra-haunted Edinburgh, Scotland, for their new TV show, Cass—and Jacob—come along. In Scotland, Cass is surrounded by ghosts, not all of them friendly. Then she meets Lara, a girl who can also see the dead. But Lara tells Cassidy that as an In-betweener, their job is to send ghosts permanently beyond the Veil. Cass isn't sure about her new mission, but she does know the sinister Red Raven haunting the city doesn't belong in her world. Cassidy's powers will draw her into an epic fight that stretches through the worlds of the living and the dead, in order to save herself.
I will honestly say that I haven't been the biggest Victoria Schwab fan. I DNF'd a couple of her books and won't finish one of her popular series. I haven't jumped onto the hype train at all. But after listening to a sample of this audio book, I loved the narrator so much that I gave it a try. I'm glad that I was wrong! For being the first middle grade book I've read in years, this was so much fun! Here are my favorite parts of the overall story!
Narrator: This was the first time I listened to an audio book narrated by Reba Buhr. She gives a voice to Cassidy that sounds like a normal girl, with using her normal voice and not dumbing anything down. She also does the Scottish accents very well, from what I have heard of the accent myself. She also uses small vocal changes for other characters like the mom, Jacob and Laura. She also made the book very fun, sweet and her voice is rich and inviting. I need more audio books by her!
Characters: Cassidy is a normal girl who endured a terrible near death experience that causes her to see ghosts. She can go in-between the veil as easily stepping through a curtain. She was a great girl with loves her parents, wants to do the right thing and treats her ghost friend Jacob with great respect and mutual friendship. She never tried to be reckless or never became a tropey female character. She gets scared, doesn't always say the right thing and isn't always sure of what to do. But she goes off of what she knows and pulls through no matter what happens.
Then there's Jacob who was such a great character as well. While we don't know much about his past, he acts like a normal young boy. He reminds me of boys his age that I've met in real life. He loves comics, doesn't like to be scared but will do anything for his friend. He is very selfless for Cassidy and does respect her opinions, and she does the same for him. The friendship between them is the sweetest thing ever! (I did want more of Grim the cat, but hopefully in the sequel)
As far as side characters, her parents are present enough in the book and care about Cassidy. They're not eccentric or anything, but are professional about their work and they were written very well. I also liked Finlay, the Scottish guy who was their guide in Scotland and also helps Cassidy. There is Laura, who is a British girl that does appear waspish and not quite nice, but the little bit of development was fun enough that I wonder where she'll end up in the sequel.
Setting: The whole setting/creepy atmosphere of Scotland in the novel was also really fun, kind of creepy (but not too scary) and also educational. You see some of the haunted locations, with some very macabre looking ghosts (and villain) and you learn some history of Scotland and some of the different terms they use compared to what terms we Americans use. I did want a little more of the setting, but what you do get is worth it 🙂
Cons: I only have a couple of cons (small ones) about the book overall. I do think the villain wasn't as scary as I'd hoped and the way she was dealt with was a bit too quick. It also took a tiny bit too long to get to Scotland, but again, these were small cons 🙂
Overall: This was a major surprise for me that was spooky, sweet and super entertaining. I loved that it had great focus, atmosphere and friendship with ghosts. I think many kids shouldn't find this too scary (maybe about age 9 and older, depending on the sensitivity to scary stuff) but it's totally worth it. I can't wait for the sequel and see where Cassidy goes next.
Rating: 
Have you read this? What did you think of it? Do you want to read the sequel? Do you have any spooky middle grade recommendations?