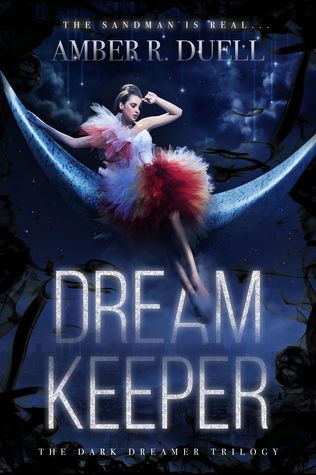 Title: The Dream Keeper (The Dark Dreamer Trilogy #1)
Author: Amber R. Duell
Genre: YA Dark Fantasy/Romance
Release Date: January 29th 2019 from The Parliament House
Pages: 288 (US paperback/Kindle)
Goodreads Synopsis: The Sandman is seventeen-year-old Nora's closest friend and best-kept secret. He has to be, if she doesn't want a one-way ticket back to the psychiatrist. It took her too long to learn not to mention the hooded figure in her dreams to her mother, who still watches Nora as if she'll crack. So when Nora's friends start mysteriously dying gruesome deaths in their sleep, she isn't altogether surprised when the police direct their suspicion at her. The Sandman is the only one she can turn to for answers. But the truth might be more than she bargained for…
For the last five years, the Sandman has spent every night protecting Nora. When he hid the secret to the Nightmare Lord's escape inside her dreams, he never expected to fall in love with her. Neither did he think his nemesis would find her so quickly, but there's no mistaking his cruel handiwork. The Nightmare Lord is tired of playing by the rules and will do anything to release his deadly nightmares into the world, even if that means tormenting Nora until she breaks.
When the Nightmare Lord kidnaps Nora's sister, Nora must enter enemy territory to save her. The Sandman is determined to help, but if Nora isn't careful, she could lose even more than her family to the darkness.
**I received an E-ARC of this book from the author and Rock Star Book Tours in exchange for a free and honest review for the blog tour. My review is after the tour, due to the tour guidelines. All thoughts and opinions are my own and no quotes will be used.**
I did a spotlight post about this book recently on my blog, but like I said in my wrap up, I had to wait to post my review after the tour. The blog tour people have certain requirements when it comes to posting reviews, so mine is now here. I was super excited about this book after seeing it on Goodreads and interacting with the author on Twitter a bit. I hadn't read a story involving the Sandman before, so I was hoping it would be a fun fantasy. But unfortunately, this book didn't live up to my hopes and didn't work for me. Here's the breakdown of my thoughts:
PROS
Interesting Synopsis: The ideas of the Sandman, people dying in their nightmares and the protagonist having something that she's unaware of having sounded very intriguing. I was wondering how the fantasy aspects would mix with the real life chapters of Nora. The synopsis is very inviting and interesting, so after reading it, it did motivate me to pick it up.
Some Interesting Nightmare Scenes: With the Nightmare Realm being a strong aspect of the book, as well as the vivid nightmare/scary death scenes, some were bloodier than I expected. The first ones I read were interesting enough that I respected that they weren't really glazed over.
CONS
The Sandman himself: For the Sandman being an entity of power, especially with being the "equal" to the Weaver (antagonist), I don't think he was well written. To me, he sounded much weaker compared to the Weaver which bummed me out. His power wasn't as exciting as the Weaver, but if he is the equal to the bad guy, I didn't get that from the story at all. He also acted too human to me. For being a non-human, it would make more sense to not really follow/agree/act like regular humans but he sounded like a male love interest from older YA novels. Some of his chapters were also kind of confusing.
Length: I don't say this often, but I think this book needed to be much longer by about 100 pages. Sounds like a lot right? I think it needed to be longer because of a few factors: random side characters or nightmare figures were dropped in but didn't have any weight to them, paper thin romance, not enough world building or explanation of the magic. Everything felt very rushed by the last half of the novel.
Not Quite Scary Enough: While I did say that some of the nightmare scenes were bloodier than expected, they don't last very long and some of them just weren't scary enough. The characters very easily escaped the nightmares, which didn't make them scary or have any stakes to them. I wanted more details and longer time in these nightmares to show how scary it actually is.
Romance: I did mention that the romance was paper thin in this. Nora and the Sandman hadn't really seen each other in 5 years, but once the events of the book make them reunite again, they act like they've always been together. Everything developed way too fast for me to believe their relationship. There was also a ton of miscommunication; the Sandman never told her of some of the consequences of her plan towards the end (that annoyed me the most) and he was jealous of the human form he was disguised as! (Basically, this human guy is the guy that Nora started having feelings for and when they talked about this human guy, the Sandman gets jealous even though it's him. Why??)
World Building/Magic: For being a huge fantasy reader, I wanted more background and explanation of the magic. Are there more entities like Sandman and the Weaver? Why did they have a huge falling out? How does Sandman strengthen the Weaver's prison? What's the Blood Army? The answers I did get were very thin and didn't satisfy me enough. While there are two more books, I still think there could haven been more development.
Overall: I wanted to enjoy this, but after I finished it, it did tank for me. I was enjoying it enough in the first half, but the last half was way too rushed, convenient, not scary enough and too dramatic as far as the romance. It need to be much longer to develop many of the aspects of the book. Sadly I will not continue with the series.
Rating: 
Have you heard of this book? Does it sound interesting to you? Do you have any book recommendations that features the Sandman?