Since November is all about being and expressing our thankfulness, this monthly recommendation's theme is "Relatable Characters." These are characters that have really spoken to you for a variety of reasons in books. We should talk about what makes these characters relatable to us 🙂 So here's a few books with characters that have affected me for mostly different reasons. Some I feel like I can't completely explain why, but I'll do my best.
1. Spensa from Skyward by Brandon Sanderson
This sci-fi series opener is the newest book on this list. I immediately got the audio book when it came out earlier this month and it seriously gave me some personal feels with our protagonist Spensa. The basic story is that her father was a pilot, and during a battle with the alien Krell, it looked like he ran away and was branded a traitor. With this offense, her family is looked down upon. She has always dreamed of flying, but can be a blunt, aggressive person due to the bullying she's had all her life. But throughout the entire novel, she grows so much and I related to her a lot. We all have ideas of things we're going to do and that nothing will get in our way. We get wrapped up in our dreams and we can even get snappy when those dreams are challenged. But as Spensa learns to be apart of a flight crew, as well as crushing truths, her tough exterior shatters and we see a very vulnerable girl underneath. Sanderson expertly gives us a protagonist who is a dreamer, fighter but also a young girl trying to find her way and also learn how to react to the things life throws at her. I cannot recommend this book enough 🙂
2. Kora from A Touch of Gold by Annie Sullivan
This book took me by surprise a few months ago and I still think about it and love it so much since reading it. This follows Kora, the daughter of King Midas, whom touched her when she was young and she temporarily turned into gold. But when she can move again, she has gold skin and she's feared by the whole kingdom and even her family due to her "curse." But when some family artifacts are stolen, Kora realizes that she is the only one who can get them back. This book is on here because the strong theme in this book is loving yourself. Kora has very low self esteem due to how she's been treated and she's always unsure of her abilities and all of that. But her sea adventure story brings her out of her shell more. We all have struggles with our appearance/self esteem/our talents and we can beat ourselves up. But life can give us chances to prove ourselves wrong and this book really brings wonderful character growth. This is another favorite 🙂
3. Hanalee from The Steep & Thorny Way by Cat Winters
When we face persecution, we could face in a couple of ways: run away from it or face it. This theme is searing and brutally honest in this brilliant historical fiction. I love Hanalee because she isn't afraid of the serious consequences before her. She is half white, half black and her father was killed by a car and she wants to know the truth behind his death and she faces down members of the KKK. At times, this book is scary and hard to read, but Hanalee's heart is honest and brave as she faces the persecutions before her. If you love brave characters, you need to read this!
4. Shalia from Reign the Earth #1 by A.C. Gaughen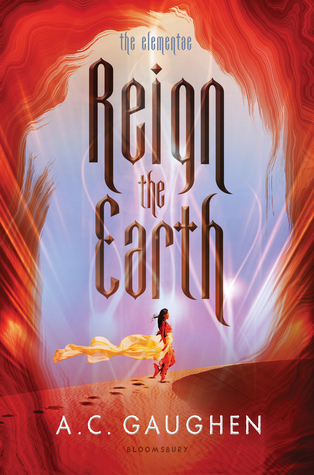 I've mentioned this book a few times in different posts since I read it clear back in January. This elemental fantasy book was my first read of this year and it was great! Shalia is a daughter of the desert who marries Calix, a ruler from a neighbor nation to unite both groups to prevent war. But Calix is a terrible man, who vows to destroy the gifted Elementae out there. Then, to make matters worse, Shalia realizes that she has earth abilities. This book truly spoke me through Shalia's story. She is strong in the way that she doesn't stoop down to those who abuse her or judge her. She loves her people and teaches them to be independent and strong. She doesn't back down from those who wrong her. She is a role model that we need more of 🙂
5. Kaladin from The Stormlight Archive by Brandon Sanderson
This guy is seriously amazing! In this epic fantasy series (these books are serious tomes), Kaladin is one of the main characters. He is a young man who struggles with grief and betrayal after his brother is killed in war and he is branded a slave. But when he is put in Bridge Four, where these men have to LIFT these bridges themselves and run them into battle,  he thinks his life is over. But through a chain of events, he learns his true potential and also tries to learn that it's okay to grieve, mess up but also not be afraid to do the right thing. With the three volumes that are out right now, Kaladin is an amazing protagonist who goes through a ton of growth. Sanderson never gives Kaladin too much to seem like a "special snowflake." Kaladin is flawed, but he still tries and doesn't give up and that always stands out to me in every book. If you love characters to really get attached to and root for, this series is for you 🙂
6. Laia from An Ember in the Ashes series by Sabaa Tahir
My final entry here of what could be a list that would be too long is Laia from this amazing series. Laia's brother is captured for treason at the very beginning and in order to save him, she has to go undercover as a slave at the dangerous Blackcliff Academy. She has to spy on the most ruthless woman in the empire to save her brother. Laia is a terrified teenage girl who doesn't know how to be brave, especially when spying on the enemy. She isn't strong and I have seen people complain about her being so cowardly. But I understood why she was hesitant throughout most the book. Her fear is so palpable and also very true to how someone whose grown up under oppression can feel. Now, as the series continues, she finds her strengths and she's a character I really got attached to. Fear isn't always weakness and Laia shows this throughout the published books. She's a favorite for me 🙂
What characters do you relate to? Which characters listed here do you relate to?