Happy Wednesday everyone! We're officially into 2019 and there's so much coming out that it's gonna be an awesome year. Today's topic are our five reading resolutions for the new year. Mine aren't in any order but are things I've been thinking about since the last half of last year and I hope to accomplish them!
1. Read different genres
About 80-90% of what I read is YA, but there have been occasions where I have read an adult fantasy or a middle grade book. This year I want to try and read a few different genres to expand my reading. I mainly want to read more of: adult historical fiction, middle grade books and graphic novels. While I love reading YA, I know there's a lot more out there to be explored 🙂
2. Increase my reading speed
I'm not entirely sure if this is possible, but I do want to learn how to read faster. I feel like a lot of the time, I'm a slow reader and I know that I'm capable of much more. So whether I just need to take more advantage of reading time when I have it, or find methods to make my reading faster, I'll take whichever one 🙂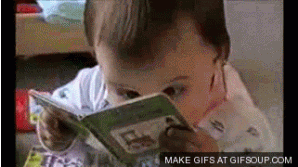 3. Read what I want!
This was really hard last year. I have a ton of stuff on my shelves that I was dying to get to throughout 2018, but when I had blog tour deadlines, NetGalley deadlines and many distractions, I always rant out of time to read more of the stuff I wanted. So this year, I want to stop worrying about deadlines and all the upcoming releases as much as I did and grab the stuff off my shelves and enjoy them.
4. Spend less by using the library even more
Do you know that weird longing to just buy a new book that came out, even though you obviously haven't read it? That happened a lot to me this year and that needs to change. I bought so many books last year that just stayed on my shelves for the rest of the year. So I want to genuinely take advantage of my library's online and physical collection more and try to ignore that itchy feeling to go buy it. Not only will I save money for a short time, but I think getting a book from the library is the best way to see if you like it before you buy it (unless it's an author you trust).
5. Read more back list titles
We all get so excited about new releases that so so many back list titles get pushed to the side. I read a few back list titles last year and they ended up being some top books of the year for me. So with that luck that I did have, I want to read more back list books to not only support that author, but in a way, have a more clean slate when it comes to them. I tend to do better (almost all the time) when I have a pretty blank slate for a back list title. I'm able to experience it more freely for myself without having the hype looking over my shoulder.
What are your reading resolutions for this year? Are any of these your goals as well?