Happy Thursday everyone! I'm playing catch up on my blog content, since the holidays got away from me more than I had planned. But I'm nearly done with my previous content 🙂 here's a bunch of mini reviews of most of the books I read in December. These aren't in any order so let's get going!
Title: The Uninvited
Author: Cat Winters
Genre: Adult Historical Fiction/Paranormal
Release Date: August 11th 2015 from William Morrow 
Format: Library Book
Pages: 343 pages
Goodreads Synopsis: Twenty-five year old Ivy Rowan rises from her bed after being struck by the flu, only to discover the world has been torn apart in just a few short days.
But Ivy's life-long gift—or curse—remains. For she sees the uninvited ones—ghosts of loved ones who appear to her, unasked, unwelcomed, for they always herald impending death. On that October evening in 1918 she sees the spirit of her grandmother, rocking in her mother's chair. An hour later, she learns her younger brother and father have killed a young German out of retaliation for the death of Ivy's older brother Billy in the Great War.
Horrified, she leaves home, to discover the flu has caused utter panic and the rules governing society have broken down. Ivy is drawn into this new world of jazz, passion, and freedom, where people live for the day, because they could be stricken by nightfall. But as her 'uninvited guests' begin to appear to her more often, she knows her life will be torn apart once more, but Ivy has no inkling of the other-worldly revelations about to unfold.
You all know that I'm a HUGE Cat Winters fan since reading her debut novel last year. I decided to get her first adult novel from my local library that I work at and give it a try. I was really interested to see how her adult books are different in any way compared to her YA books. To be honest, while I did enjoy elements of this book, I was disappointed by this one. I don't love this one like I do with her YA novels.
The elements I enjoyed the most were: discussions of the prejudice during that time, the mass hysteria and not quite healthy practices during the flu, who is really an American and the desperate things people do to escape reality. Winters never sugar coats how awful people were a century ago, trying to purge anything German from their towns and states. She puts all the pain, hurt, suspicion and harshness in the strongest light. Some parts were genuinely surprising to me towards the end and I really liked how a lot of the ending handled the subject matter. And of course, her strong writing always comes through.
But unfortunately, everything else fell somewhat short for me. While Ivy does have a good head on her shoulders about many things, I still felt a little bit of distance from her. Her romantic relationship also wasn't one I could completely root for; the foundation behind it wasn't exactly healthy and they aren't the nicest towards each other. Daniel's fury and his past are tragic which do make him complex and I think I liked his character a bit more than Ivy. But I didn't like them together.
Another thing I didn't like very much is that the paranormal element Winters is known for using isn't present for much of the book. The plot took a turn I didn't expect and stuck with that for a lot longer than I anticipated. There was a good chunk of the middle that was getting repetitive and like I mentioned, the sexual relationship they have wasn't something that I liked reading personally. So while the atmosphere and themes were strong, along with the writing, this is my least favorite of her works to date.
Rating: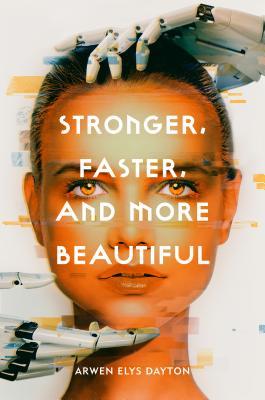 Title: Stronger, Faster and More Beautiful
Author: Arwen Elys Dayton
Genre: YA Science Fiction
Release Date: December 4th 2018 from Delacorte Press
Format: Library Audio Book
Narrators: Michael Crouch, Brittany Pressley, Karissa Vacker and Full Cast
Listening Time: 10 hours
Goodreads Synopsis: Set in our world, spanning the near to distant futures, Stronger, Faster, and More Beautiful is a novel made up of six interconnected stories that ask how far we will go to remake ourselves into the perfect human specimens, and how hard that will push the definition of "human."
This extraordinary work explores the amazing possibilities of genetic manipulation and life extension, as well as the ethical quandaries that will arise with these advances. The results range from the heavenly to the monstrous. Deeply thoughtful, poignant, horrifying, and action-packed, Arwen Elys Dayton's Stronger, Faster, and More Beautiful is groundbreaking in both form and substance.
DNF @ 50%
I decided to try this audio book, since it was a recent release and a couple YA authors were giving it praise. So my husband and I listened to some in the car and then I got halfway through on my own before giving up. This book really wasn't for me for a few reasons. While I don't mind short story collection type books, the scientific themes in here weren't explored enough. The three full stories I had listened to only gave a few descriptions of how the human characters had changed their bodies and references to how people reacted.
The first story is about two siblings Evan and Julia, where they are both in a hospital room and Evan is being tested on. Julia is in a hospital bed and isn't moving, but Evan can her clearly in his head. They think about their childhood and how they've been changed. Their dialogue interactions were interesting, since you feel a sense of dread of the unknown through Evan. Sadly, this first story was too short that it felt incomplete to me; I wanted to know Evan more and his fate. The story felt cut off at the end.
The second story was about a girl who had been modified after a severe accident. Much of her body is not human anymore in order to save her. She likes a boy, who takes an interest in her and things go wrong from there. She is looked down upon and made fun of at school for how she really is, after a nasty story spreads. Of course, she's angry and tries to figure out how to react to this story being spread. I felt bad for her for most of the story. The one theme I did enjoy in the half I listened to is seeing how people react to this evolving science.
But the ending came out of left field and completely ruined it for me. It defeated the whole purpose of the character's actions, so I felt cheated again but in a different sort of way. So while most of it was decent, the ending killed what enjoyment I had. Then, the final story I listened to was about a preacher's daughter who also had had surgeries and been changed. She and her preacher father had emotional trauma, after what happened to their family during a riot and the story was very well done. I wish the story had been all about her family and what had transpired. This was solid and emotionally effective.
So while one story was great, I didn't feel motivated to continue. Most of the themes, like I mentioned, really left something to be desired. I never felt like the author went far enough with her examination of humanity's drive to change what they don't like and the consequences that come from that. Most of the characters also didn't really give anything to root for, which is something I like to have to enjoy the story more. So after the halfway point, I gave up. If you want to try this book, I would recommend the audio book, since the narrators did great jobs. If you like sci-fi stories, then give this a try. But if you don't like genre or need more characters to connect with, this might not be for you.
Rating: NONE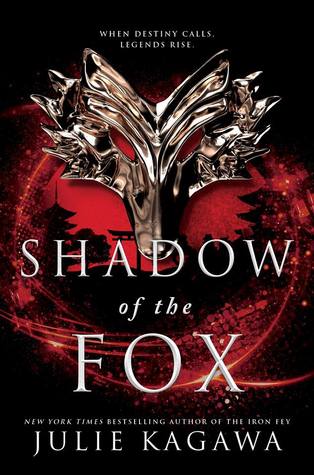 Title: Shadow of the Fox (Shadow of the Fox #1)
Author: Julie Kagawa
Genre: YA Fantasy
Release Date: October 2nd from Harlequin Teen
Format: Library Audio Book
Narrators: Emily Woo Zeller, Joy Osmanski and Brian Nishii
Narration Time: 14 hours, 45 mins
Goodreads Synopsis: One thousand years ago, the great Kami Dragon was summoned to grant a single terrible wish—and the land of Iwagoto was plunged into an age of darkness and chaos.
Now, for whoever holds the Scroll of a Thousand Prayers, a new wish will be granted. A new age is about to dawn.
Raised by monks in the isolated Silent Winds temple, Yumeko has trained all her life to hide her yokai nature. Half kitsune, half human, her skill with illusion is matched only by her penchant for mischief. Until the day her home is burned to the ground, her adoptive family is brutally slain and she is forced to flee for her life with the temple's greatest treasure—one part of the ancient scroll.
There are many who would claim the dragon's wish for their own. Kage Tatsumi, a mysterious samurai of the Shadow Clan, is one such hunter, under orders to retrieve the scroll…at any cost. Fate brings Kage and Yumeko together. With a promise to lead him to the scroll, an uneasy alliance is formed, offering Yumeko her best hope for survival. But he seeks what she has hidden away, and her deception could ultimately tear them both apart.
My husband and I needed an audio book for an unexpected long trip, and this came in on my library Overdrive app so I figured it was a good chance to listen to it. This made a few people's lists of their favorites of 2018 and it was one I was excited about. I will say that the best parts of this book was hearing the Japanese language in the story and any chapters with Lady Satomi and Suki. Since the author has Japanese heritage, hearing all the language used in there made it that much more authentic and brought the story to life. I also thought the first and last chapters were my favorite parts. Lady Satomi is a despicable villain in this first book any chapter with her was really engaging and had a sense of dread in them. The action towards the end was interesting and the ending leaves some interesting questions for the next books. I also think that two of the three narrators did really well. All three sounded like they were of Asian heritage to bring even more authenticity to the story.
However, this story just didn't grab me like the others I had read this year. Yumeko felt like a bland character to me for most of the book. Her upbringing and her being half kitsune was fun, but she never felt fleshed out. She has good intentions and wants to do the right thing, so that made her likable at least for me. There was also the samurai Tatsumi, who reads like a normal broody male character you see in a lot of anime. He felt like a standard male character in a Japanese story, so he didn't really stick with me either. The majority of this book is also a journey book and most of the time, the sense of urgency wasn't there. It felt like a journey where there wasn't a time limit, which is the total opposite. Parts felt like filler, where there could've been more going on.
While I liked this first book okay, I was disappointed in the pacing, no sense of urgency for a huge chunk, characters that didn't stick with me except for the villain and overall just an okay story. I will try the sequel when it comes out, but I see what early reviews look like first before making a final decision. I will try another book by this author to give her another chance, but this didn't quite do it for me.
Rating: 
Title: Out of the Easy
Author: Ruta Sepetys
Genre: YA Historical Fiction
Release Date: February 12th 2013 from Philomel Books
Narrator: Lauren Fortgang
Listen time: 9 hours, 51 mins
Goodreads Synopsis: It's 1950, and as the French Quarter of New Orleans simmers with secrets, seventeen-year-old Josie Moraine is silently stirring a pot of her own. Known among locals as the daughter of a brothel prostitute, Josie wants more out of life than the Big Easy has to offer. She devises a plan get out, but a mysterious death in the Quarter leaves Josie tangled in an investigation that will challenge her allegiance to her mother, her conscience, and Willie Woodley, the brusque madam on Conti Street.  Josie is caught between the dream of an elite college and a clandestine underworld. New Orleans lures her in her quest for truth, dangling temptation at every turn, and escalating to the ultimate test. 
This was available on my library Overdrive, so I immediately picked it up and started listening. I had read her debut novel Between Shades of Grey and enjoyed it until the ending that didn't give any closure. I heard great things about this other book, set in 1950's New Orleans and this was another satisfying novel. The setting of the French Quarter felt dirty, sleazy, lived in and unforgiving and the author never pulls any punches here. Josie's upbringing around her horrible prostitute mother is sad and bleak, but she still longs to get out. The narrator also brings the fragile hope and the sharp personalities of New Orleans to life.
To be honest, my favorite characters in this book were Cokie and Willie. Cokie is an African American and the driver for Willie, who runs the brothel that Josie's mother lives. Willie is an iron woman with no fear and quite the interesting look on life. I loved her fire and spunk, while also surprised to see her vulnerability at times. Both of them try to help Willie in their own way, especially once a murder happens. I also liked Josie's friend Patrick, who runs the book shop that Josie works at. His good heart and genuine personality was a great contrast to the nasty and power hungry people in the Quarter. There was also great discussions on education, personal freedom and not letting your demons control your life.
But there were downsides to the book that didn't make it a 5 star read for me. My first problem was Josie herself. While I admire her intentions to find out the truth and get to college, she felt one sided at times. She was never angry with her mother as much as I expected. She never showed a ton of emotion besides fear of the murder aspect of the story, wondering about romantic feelings or just wanting to leave. There wasn't a huge amount of growth with her like I expected. The other downside was the pacing. I LOVED the murder mystery part of the plot, but there were huge chunks that were repetitive and uneven that it started to feel like an after thought. While the murder plot was wrapped up, it still felt like it wasn't as important and didn't leave as much of a punch as I hoped it would. The small romance aspect of the book was boring and I felt like it distracted the story somewhat.
But overall, this was another good read. This But I will say that this isn't for younger readers due to the topics of child neglect, abuse and prostituion in this book. This book does need a mature understanding to get the impact that it is trying to give. The setting was fantastic and I did learn some things about the time period, which is always a bonus with historical fiction. I also got some more closure of the novel like I didn't exactly get from her debut novel. So while Josie wasn't the best main character, the side characters, setting, narration and themes pulled it through.
Rating: 
.75 stars
Have you read any of these? Do you have the same thoughts or different thoughts? What other books by these authors should I try?