Happy Saturday everyone! I hope you all are having a great weekend so far! It's that time again to talk about upcoming books! 😀 This round is for YA books coming out in the months of April, May and June. These are all the books that are announced as of right now, so dates are subject to change and some could be announced alter. But these are the TOP books I seriously want in my hands so badly lol. I'm also trying to catch more upcoming releases to include them here, since I ended up missing a few for my first list. Of course, there's a ton to be excited about, but these are the icing on the cake! These are in chronological order according to their publication dates on Goodreads. Let's jump in!
APRIL
1. We Rule the Night by Claire Eliza Barlett (4/2/19)
Goodreads Synopsis: Seventeen-year-old Revna is a factory worker, manufacturing war machines for the Union of the North. When she's caught using illegal magic, she fears being branded a traitor and imprisoned. Meanwhile, on the front lines, Linné defied her father, a Union general, and disguised herself as a boy to join the army. They're both offered a reprieve from punishment if they use their magic in a special women's military flight unit and undertake terrifying, deadly missions under cover of darkness. Revna and Linné can hardly stand to be in the same cockpit, but if they can't fly together, and if they can't find a way to fly well, the enemy's superior firepower will destroy them–if they don't destroy each other first.
I heard about this book over book Twitter earlier this year and that it was about a rebellion story with machines, it had my attention. This book is reminiscent of WWII, which is always a time period that is fascinating. I haven't heard a ton of buzz about this debut novel about a war with magic and machines sounds so freaking cool!
2. Through the White Wood by Jessica Leake (4/9/19)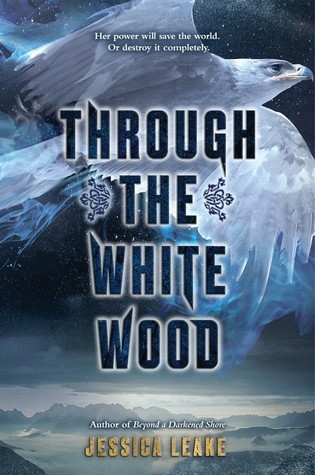 Goodreads Synopsis: Katya's power to freeze anything she touches has made her an outcast in her isolated village. And when she loses control of her ability, accidentally killing several villagers, she is banished to the palace of the terrifying Prince Sasha in Kiev.
At the castle, though, she is surprised to find that Sasha is just like her—with his own strange talent, the ability to summon fire. Instead of punishment, Sasha offers Katya friendship, and the chance to embrace her power rather than fear it.
But outside the walls of Kiev, Sasha's enemies have organized their own army of people who can control the very earth. Bent on taking over the entire world, they won't stop until they've destroyed everything.
Katya and Sasha are desperate to stop the encroaching army, and together their powers are a fearsome weapon. But as their enemies draw nearer, leaving destruction in their wake, will fire and frost be enough to save the world? Or will they lose everything they hold dear?
This book sounds amazing! I still have to read her previous novel Beyond A Darkened Shore that got some buzz when it came out. But this one sounds cool with a wintery setting 🙂 Why not be excited?
3. The Raven's Tale by Cat Winters (4/16/19)
Goodreads Synopsis: Seventeen-year-old Edgar Poe counts down the days until he can escape his foster family—the wealthy Allans of Richmond, Virginia. He hungers for his upcoming life as a student at the prestigious new university, almost as much as he longs to marry his beloved Elmira Royster. However, on the brink of his departure, all his plans go awry when a macabre Muse named Lenore appears to him. Muses are frightful creatures that lead Artists down a path of ruin and disgrace, and no respectable person could possibly understand or accept them. But Lenore steps out of the shadows with one request: "Let them see me!"
It's Cat Winters…if you follow me, you know I'm a massive fan of her novels since last year. This one focuses on the teenage years of Edgar Allen Poe and his experience with a Macabre Lenore. It looks so creepy, addicting and all the dark decadence to follow. I've enjoyed all of her YA books she's written so I know she can do no wrong 🙂
4. The Tiger at Midnight ( The Tiger at Midnight Trilogy #1) by Swati Teerdhala (4/23/19)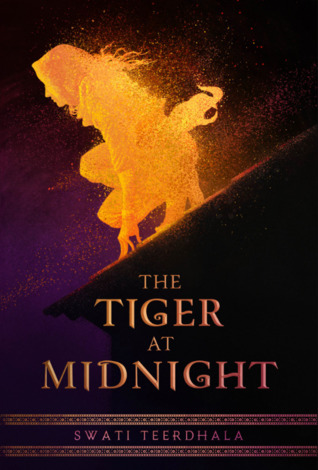 Goodreads Synopsis: Esha is a legend, but no one knows. It's only in the shadows that she moonlights as the Viper, the rebels' highly skilled assassin. She's devoted her life to avenging what she lost in the royal coup, and now she's been tasked with her most important mission to date: taking down the ruthless General Hotha.
Kunal has been a soldier since childhood, training morning and night to uphold the power of King Vardaan. His uncle, the general, has ensured that Kunal never strays from the path—even as a part of Kunal longs to join the outside world, which has been growing only more volatile.
Then Esha's and Kunal's paths cross—and an unimaginable chain of events unfolds. Both the Viper and the soldier think they're calling the shots, but they're not the only players moving the pieces. As the bonds that hold their land in order break down and the sins of the past meet the promise of a new future, both rebel and soldier must make unforgivable choices
I heard about this book quite a while ago on Twitter either when it was announced or when the cover was dropped. But I've been beyond excited for this diverse fantasy ever since hearing about it 🙂 It's centered in Indian culture and Hindu mythology about a girl named Esha who vows to take down the ruthless General Hotha. I don't need to know much more; the diverse fantasies that have shown other cultures have been amazing. I truly enjoyed the ones I've read and I'm certain this one is no exception.
May
1. A Court of Miracles #1 by Kester Grant (5/2/19???)
Goodreads Synopsis: A diverse fantasy reimagining of Les Misérables and The Jungle Book.
In the dark days following a failed French Revolution, in the violent jungle of an alternate 1828 Paris, young cat-burglar Eponine (Nina) Thenardier goes head to head with merciless royalty, and the lords of the city's criminal underworld to save the life of her adopted sister Cosette (Ettie).
Her vow will take her from the city's dark underbelly, through a dawning revolution, to the very heart of the glittering court of Louis XVII, where she must make an impossible choice between guild, blood, betrayal and war.
This is a tentative place holder for this book, since the date has changed quite a few times since it was announced. I've heard that it's definitely coming out as the far as the author has said on Twitter, but other than that, nothing is set in stone yet. But GUYS A DIVERSE RETELLING OF THE JUNGLE BOOK MEETS LES MIS?! I've been dying for this book since I heard about it clear back in late 2017. I'm really hoping that we'll get more info soon but it's slated for this May.
2. Nocturna (A Forgery of Magic #1) by Maya Moytane (5/7/19)
Goodreads Synopsis: To Finn Voy, magic is two things. The first: a knife to hold under the chin of anyone who crosses her. The second: a disguise she shrugs on as easily as others pull on cloaks. A talented shapeshifter, it's been years since Finn has seen her own face, and that's exactly how she likes it. But when Finn gets caught by a powerful mobster she's indebted to, she's forced into an impossible mission—steal a legendary treasure from the palace or lose her shapeshifting magic forever.
After the murder of his older brother, Prince Alfehr is first in line for the Castallan throne. But Alfie can't help but feel that he will never live up to his brother's legacy. Riddled with grief, Alfie is obsessed with finding a way to bring his brother back, even if it means dabbling in forbidden magic.
In a cruel twist of fate, Alfie's best friend is nearly killed in the crossfire of Finn's heist, and Alfie accidentally unlocks a terrible, ancient magic to save him—a magic, which, if not contained, will devour the world. Alfie and Finn race to vanquish what they have unleashed. But to do so, they each must contend with the darkness hiding in their pasts.
I first heard about this upcoming #ownvoices fantasy from Anissa who runs Fairyloot. This book sounds amazing, since it's inspired by the author's Dominican heritage. This just sounds like a really fun fantasy inspired by a culture that I know nothing about. I hope to get some great insight to Latin culture and maybe find a few favorite 🙂
3. We Hunt the Flame (Sands of Arawiya #1) by Hafsah Faizal (5/14/19)
Goodreads Synopsis: People lived because she killed. People died because he lived.
Zafira is the Hunter, disguising herself as a man when she braves the cursed forest of the Arz to feed her people. Nasir is the Prince of Death, assassinating those foolish enough to defy his autocratic father, the king. If Zafira was exposed as a girl, all of her achievements would be rejected; if Nasir displayed his compassion, his father would punish him in the most brutal of ways.
Both are legends in the kingdom of Arawiya—but neither wants to be.
War is brewing, and the Arz sweeps closer with each passing day, engulfing the land in shadow. When Zafira embarks on a quest to uncover a lost artifact that can restore magic to her suffering world and stop the Arz, Nasir is sent by the king on a similar mission: retrieve the artifact and kill the Hunter. But an ancient evil stirs as their journey unfolds—and the prize they seek may pose a threat greater than either can imagine.
OH MAN this probably one of the MOST hyped releases of this whole year! I've been following Hafsah's Twitter account for some time and I love how she interacts with the book community. Plus I keep being drawn towards more desert fantasies and this sounds like another gem of a book 🙂 This is the newest cover that got revealed and I'm with the hype train on this one.
June
1. Sorcery of Thorns by Margaret Rogerson (6/4/19)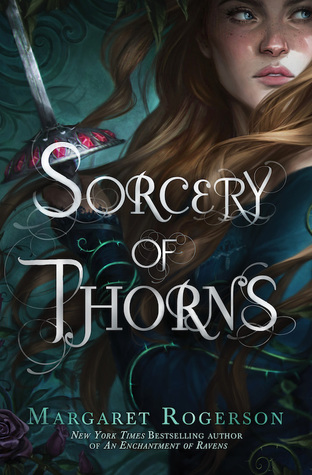 Goodreads Synopsis: All sorcerers are evil. Elisabeth has known that as long as she has known anything. Raised as a foundling in one of Austermeer's Great Libraries, Elisabeth has grown up among the tools of sorcery—magical grimoires that whisper on shelves and rattle beneath iron chains. If provoked, they transform into grotesque monsters of ink and leather. She hopes to become a warden, charged with protecting the kingdom from their power.
Then an act of sabotage releases the library's most dangerous grimoire. Elisabeth's desperate intervention implicates her in the crime, and she is torn from her home to face justice in the capital. With no one to turn to but her sworn enemy, the sorcerer Nathaniel Thorn, and his mysterious demonic servant, she finds herself entangled in a centuries-old conspiracy. Not only could the Great Libraries go up in flames, but the world along with them.
As her alliance with Nathaniel grows stronger, Elisabeth starts to question everything she's been taught—about sorcerers, about the libraries she loves, even about herself. For Elisabeth has a power she has never guessed, and a future she could never have imagined.
THIS BOOK THIS BOOK THIS BOOK I WANT! Ever since I read her debut novel in the winter of 2017, I have been impatiently waiting for more news on her next book. Since it's another standalone book and it's even longer than her last one, I've been ready since day one of the cover being dropped. I love the idea of a magical library where the tomes have to be chained up and she has to go find the most dangerous one. Time to be prepared people!
2. Blood Heir (Blood Heir #1) by Amélie Wen Zhao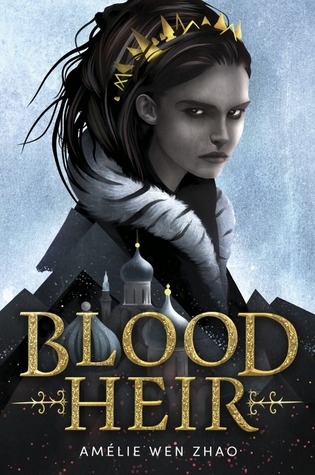 Goodreads Synopsis: The Cyrilian Empire: a glittering white sprawl of frozen tundras and ancient, snow-capped forests, where ice spirits roam beneath the flickering northern lights, and where slavers hunt Affinites — those born with powers to manipulate elements.
Born with a horrifying Affinity to blood, Anastacya Mikhailov has never believed herself to be anything more than a monster. Her curse rings true when an accident in the dead of the night results in the death of her father, the Emperor of Cyrilia — and she is sentenced for his murder.
But Ana knows what she saw that night: the scent of poison in Papa's blood, and the face of a murderer vanishing into the dark.
Alone, hunted, and on the run, Ana makes a bargain with Ramson Quicktongue, a handsome yet dangerous underground crime lord: help her find the true murderer and clear her name in exchange for her alliance.
When Ana's search lands her in the lair of the most powerful slave trader in the Empire, she uncovers a horrifying truth. A new monarch stands poised to lead the empire to a path of hatred and divisiveness, and Ana must stop her before Cyrilia falls to darkness. But first, she must come to terms with the monster she thinks she is and the heir she was destined to be.
If you guys hadn't heard earlier this month, there was a NetGalley glitch for about 24-48 hours where people could download this ARC for free. I flipped my lid like many of the other people that made NetGalley crash. So I'm very lucky to have an ARC of this book. But back when the book was announced last year, I've been one of this supporting it from the beginning. Any book with blood type magic is usually on my radar. The fact that the princess has to prove her own innocence, despite her power, sounds every kind of awesome. This is HIGHLY hyped just like We Hunt the Flame so I'm seriously hoping that it'll blow my mind.
3. Seven Deadly Shadows by Courtney Alameda and Valynne E. Maetani (6/4/19)
Goodreads Synopsis: In Seven Deadly Shadows, which is set in modern-day Japan, 17-year-old Kira, who is the victim of bullying at her school, finds solace working in her grandfather's Shinto shrine. After realizing that she can see and commune with demons, Kira – with her younger sister in tow – partners with seven "death gods," or "Shinigami" in Japanese, to save Kyoto from destruction.
This book has been pushed to this year, after previously having a fall 2018 release date on Goodreads. But after loving Shutter by Courtney Alameda, I've been wanting to support her future books. The synopsis hasn't changed and I don't think we've gotten new info on it, but this sounds like another anime type book. I'm ALWAYS up for another Japanese book set in Japan and I believe it will be ownvoices from one of the authors. I'm crossing my fingers for this one!
4. Stronger Than A Bronze Dragon by Mary Fan (6/11/19)
Goodreads Synopsis: When a powerful viceroy arrives with a fleet of mechanical dragons and stops an attack on Anlei's village, the villagers see him as a godsend. They agree to give him their sacred, enchanted River Pearl in exchange for permanent protection—if he'll marry one of the village girls to solidify the alliance. Anlei is appalled when the viceroy selects her as a bride, but with the fate of her people at stake, she sees no choice but to consent. Anlei's noble plans are sent into a tailspin, however, when a young thief steals the River Pearl for himself.
Knowing the viceroy won't protect her village without the jewel, she takes matters into her own hands. But once she catches the thief, she discovers he needs the pearl just as much as she does. The two embark on an epic quest across the land and into the Courts of Hell, taking Anlei on a journey that reveals more is at stake than she could have ever imagined.
GUYS THERE'S GONNA BE MECHANICAL DRAGONS! I need this bad boy! I saw this on NetGalley this month and it immediately jumped onto my radar. I had seen lots of different takes on dragons in anime but never books! I'm not sure if this just a standalone or the beginning to a series, but this truly original and so much fun. I think Mushu would agree ;p
There's all I've got for now! I'm sure that more books will be announced for the upcoming months, but man these ones are ones I'm ITCHING to get my hands on. Many of these books keep giving me the impression that 2019 is gonna be an epic year for books 🙂 Have you heard of any of these? Are you also excited for them? Let me know in the comments!