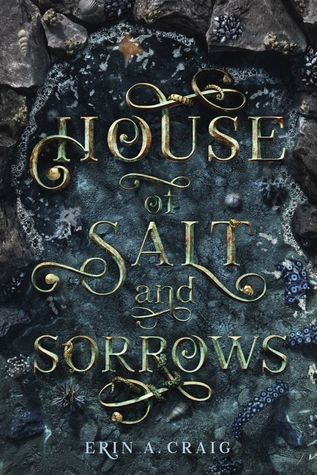 Title: House of Salt and Sorrows
Author: Erin A. Craig (Debut)
Genre: YA Fantasy/Retelling
Release Date: August 6th 2019 from Delacorte Press
Format: Kindle ARC
Goodreads Synopsis: Annaleigh lives a sheltered life at Highmoor, a manor by the sea, with her sisters, their father, and stepmother. Once they were twelve, but loneliness fills the grand halls now that four of the girls' lives have been cut short. Each death was more tragic than the last—the plague, a plummeting fall, a drowning, a slippery plunge—and there are whispers throughout the surrounding villages that the family is cursed by the gods.
Disturbed by a series of ghostly visions, Annaleigh becomes increasingly suspicious that the deaths were no accidents. Her sisters have been sneaking out every night to attend glittering balls, dancing until dawn in silk gowns and shimmering slippers, and Annaleigh isn't sure whether to try to stop them or to join their forbidden trysts. Because who—or what—are they really dancing with?
When Annaleigh's involvement with a mysterious stranger who has secrets of his own intensifies, it's a race to unravel the darkness that has fallen over her family—before it claims her next.
**I requested an ARC from the publisher and was granted an E-ARC on NetGalley in exchange for a free and honest review. All thoughts and opinions are my own and no quotations will be used.**
YOU GUYS THIS COVER TRIED TO MURDER ME WHEN IT WAS RELEASED! As soon as I heard about this book and since the cover was dropped, it was immediately on my radar. I also love interacting with the author on social media, so it made me even more excited to read her debut novel. This book is basically Twelve Dancing Princesses meets the movie The Others and just a touch of Guillermo Del Toro. This was fan-freaking-tastic you guys! I wanted to do a mini review of this book, since it's not coming out until August so I want be more vague so nothing gets spoiled, even if a little bit. So here's my breakdown:
PROS
Setting: This book is set in an original fantasy world that's divided into islands. Annaleigh and her family's estate Highmoor live on one island and they have to take a boat to another main island. I think there's going to be a map in the final version and seriously, I CAN'T wait to see this map! The setting of a huge house estate by the sea was so briny and beautiful. The author truly had so much fun creating this world. This feels a little bit like the regency area with the clothing and the way that the people talk and act which was cool. But there's also their own religion with worshiping Pontus (like Poseidon). If you have been wanting more fantasy novels with island settings, keep this on your radar!
Writing Style/Descriptions: I'm still in awe of Erin's writing for her debut novel! This book does not read like a debut novel, with her fresh descriptions, lush word choices and sometimes creepy imagery! Plus, there are dresses, shoes, food and decorations of all the sea colors and my heart is so happy. Her descriptions truly reminded me of a teen favorite Wildwood Dancing by Juliet Marillier (which is another Twelve Dancing Princesses retelling that I can't recommend enough) and I was transported to this amazing world every time I turned my Kindle on. But then there's a few times where I seriously creeped out where I was glad that I had a light on nearby.
Atmosphere: This was another major highlight for me! Since there is a recent death at the beginning of the book, there is a sense of grief and also foreboding as Annaleigh wonders if her sister's death was an accident. There is such a heavy, creepy atmosphere that's similar to the film The Others and even the tension felt like the BBC version of And Then There Were None which I couldn't get enough of. There were times were I could feel the protagonist's fear and hesitation as she tries to uncover the truth and what exactly is going on. I haven't felt such a palpable atmosphere like this in such a long time.
Sisterly Relationships: Since Annaleigh's family is pretty large, I still got the voices of the other sisters very well. Since a few of the 12 sisters have already passed away before the book opens, there's at least 8 of them alive for the book. The sisters that have the most presence are Camille (the oldest) and Verity (young sister) and I really liked both of them. Camille is the typical older sister and while her personality didn't click with mine, she was dealing with the grief and the fate of their family in her own way. But my favorite sister was Verity, one of the younger sisters. Her involvement in the story as a whole was very well done and her voice was so interesting and authentic for her age. Some of the other sisters don't have much "screen time" but you get the feeling of how close they all are in their own ways and their bond felt genuine.
Ending: The way that you learn the truth of the whole story was crazy good! I stayed up late trying to finish it, which is something I haven't done in a while and it was very satisfying. I was honestly surprised at how one aspect played out and I think the author hid the truth very well in my opinion. For being standalone fantasy novel, things wrap up very well in a way that was both dark and also well balanced.
CONS
Slow Middle: Since this book is a bit longer, there was a chunk in the middle that did drag for a bit. It felt like some of the main plot was being ignored, but luckily it didn't last too long and the story picked up again. This is a small nitpick for me.
Romance: While I do think that the romance was cute and honestly sweet, it didn't have quite enough of a foundation to care about it as much as I have in other books. I do think it ends a bit too neatly with the romance, but again, this was a small nitpick.
Ending (sort of): This is mainly one thing I was confused about with the ending. There's something that isn't addressed and while it's small, I did notice it and I'm curious to know why this small thing wasn't addressed again. I am trying to be vague for spoilers, but this was tiny thing I was just surprised wasn't completely wrapped up.
Overall: This debut novel is so fantastic you guys! I had high hopes for this book to deliver and it totally does. I loved so much about it from the setting, writing style, world building, atmosphere and all of the creepiness in it. While I was wondering about one tiny thing at the end and had a couple tiny nitpicks, I can't recommend this book enough. Go request it, pre-order it…anything to support this debut novel 😀
Rating: 
.5 stars
Have you heard of this book? Are you excited for it? If you've read it, what did you think of it? Tell me in the comments 😀