We all get caught up in the new books and the popular, hyped authors and sometimes its hard to look back at back list titles. Today I want to try the "if you like this, try this" but with books! I am a person whom based on my reading habits, tend to read more underrated or back list titles. While lately I've been reading more upcoming and new books due to reading ARCs of them, I want to show some older books some love. These might be authors you've recognized or books you've heard talked about, but nonetheless, let's begin round one of this bookish type tag. This will compare a more recently published book with a back list title that I highly recommend, due to either being the same genre, similar in plot/writing, etc. I will do a future tag like this but with debut novels later this year 🙂
1. If you like "A Thousand Beginnings and Endings", Try: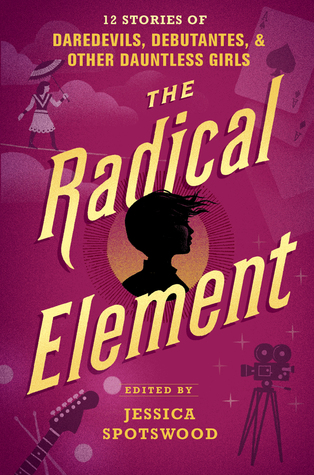 YA anthologies are becoming more popular lately, with various topics being the center of the short story collection. From cultural anthologies like Black Enough and the upcoming Hungry Hearts, to horror like Slasher Girls and Monster Boys to the fluffy My True Love Gave to Me, these collections are on the rise. But I was very surprised when I read The Radical Element last year. From a girl idealizing women comedians like Lucille Ball, Jewish culture, old Hollywood with LGBT rep and so many more, this anthology opened my eyes to so many different stories as well as newer authors to me. I discovered authors like Dahlia Adler, Megan Shepherd, Sarvenaz Tash and many others. If you love reading short stories, pick up this hidden gem.
2. If you like "Cinder", Try:
\
Along the same vein of fairy tale retellings, I love this 2007 novel with all my heart! My old high school librarian ordered this book for her collection when I was there and she asked me and my best friend to read it and see if she should keep it. Obviously we said yes 🙂 This is a take on the twelve dancing princesses and takes place in the Transylvanian woods. The daughters that live at home discover a magical world where they dance and fall in love. I have recommended this book to many young girls who want something to read at my work and they all told me that they loved it. If you can't get enough of fairy tale stories, this one is truly wonderful.
3. If you like "The Bone Season", Try:
If you like paranormal plot lines to your stories, then try this 1982 ya fantasy series opener. This book was one that fascinated me in my early teen years when I was reading a lot of paranormal stuff. A young girl is taken by a darkangel, a black winged vampire set on claiming his immortality and she tries to survive the situation before her. This book was long before the vampire craze that we now kinda shudder at from the early 2010's. This book is more about self discovery for the young protagonist and while there is a romance involved, from what my memory serves me, the romance doesn't completely take over the story. The world and the vampiric lore was very original when I read it. I recommend this for fans who love reading older fantasy books, or ones that need something different from current, popular trends.
4. If you like "A Curse So Dark and Lonely", Try:
If you talk to many current YA authors, some of them will cite this 1978 Beauty and the Beast retelling as a monumental book from their younger years. Not only has Robin McKinley reached the highest regards for her work from authors like Garth Nix, but this novel was one of the earliest retelling novels for a younger audience. This one does follow closer to the original tale, like the Disney movie does, but it's still sweet, honest and wonderfully written that still stands the test of time. Beauty is our protagonist who is thin, flat footed and awkward who isn't sure if her name reflects her as a person. But when she stays with the beast, she starts to see the different aspects of beauty that the person can have. If you love this fairy tale and want to experience a classic version of it, look no further than this influential novel. While some of the themes are a bit outdated compared to more modern books, we have this book to thank for many of the ones we have now.
5. If you like "Nevermoor: The Trials of Morrigan Crow," Try:
This book, the first in a trilogy, is another nostalgic favorite from my younger years. German-American author Cornelia Funke is very well known for crafting imaginative and original stories for younger readers and Inkheart is no exception. Meggie is a girl who has discovers that she has the talent to read a book out loud and something will come out of it. You can imagine how my mind was blown at that concept at an early age. I have also heard how whimsical and magical the Morrigan Crow series is and that's how middle grade should be at its finest right? To show us bright fantasy worlds with whimsy and fun and I think this book would match well against Nevermoor 🙂
6. If you like Anna Marie McLemore's books, Try:
I discovered this hidden gem through my digital library's collection and loved it so much! This is set in Puerto Rico and we follow an American boy who is trying to find out how girls are disappearing on the island and if a poisonous girl connects them together. I've read samples of McLemore's novels and her writing is polished and sweeping and I think that Mabry's writing is similar with her debut novel. Magical elements in real life offers us a glimpse of enchantment, especially in books and if you like magical realism, go into this book and give it a try 🙂
7. If you like hard hitting contemporaries, Try:
Whenever I think about a book that forced my eyes to be glued to the pages and ignore reality for a time, it's this book. I read this while on vacation a while ago and read it in 48 hours, which I've said before, is very rare for me. This book follows Sophie, a recovered drug addict, who gets out of an unnecessary rehab visit to find out who killed her friend Mina. The grief and dealing with addiction really shines in this book and it's an unflinching look at what Sophie's had to go through. Plus Tess's writing is realistic, portraying these teens in a way that made them real people to me. If you like hard hitting contemporaries by Jeff Zentner, Laurie Halse Anderson and many other contemporary authors, this one fits the bill very well. I still think about it sometimes since finishing it.
8. If you like funny non-fiction, Try:
This book is something my best friend made all new library staff read and I second this notion. There's funny non-fiction that's become popular recently, whether it's a comedy book, memoir or any other types of non-fiction. This one is a collection of real stories from a real librarian over the years and man I relate to this a lot. From weird questions, thinking that some people know better and other funny situations, this book is clever and very entertaining to read, especially if you have worked or work at a library. There's nothing a snarky slice to life to read on occasion 🙂
That's it for round one of "If you like this, try this!" book post. I hope you guys found some new books to try! It was interesting digging through my memory to recall what I remember about certain books lol. If you guys do a tag like this, let me know. Also, what recommendations like this would you give to me?