Happy Monday everyone! I was tagged by the freaking amazing Mandy to do the Sunshine Blogger Award! I think I did this award a long time ago when I first started, so it's time for an update. If guys don't follow Mandy and Sha, they have such awesome princess book reviews, fangirling and collaboration posts. They're amazing book friends!
Thank the person who nominated you and link them back
Answer the 11 questions provided to you
Nominate 11 other bloggers and ask them 11 questions
Notify the nominees by pinging them to one of their blog posts
List the rules and use the logo in your post
1. What is your favorite TV show?
If I really had to pick, it would be Downton Abbey. I first discovered this BBC show after season 2 had aired. I had access to Amazon Prime Video and started watching the show and instantly got hooked. It's a show that really deserves the hype. It takes place during the years of 1912-1925 and some of the characters are so memorable, lavish costumes and settings and some true fantastic writing. Maggie Smith as the grandmother steals every moment she's in and the romance between Anna and Mr. Bates is everything! Plus the movie is supposed to come out later this year and I'm SO SO happy to get more of it 🙂
2. You have a book case and you can decorate it. What would you decorate it with?
I'm not a person who decorates my book shelves 🙂 I know some people use fairy lights or other things, but all the book spines are good enough for me.
3. What's your choice reading spot?
I just prefer a couch usually with a pillow in my lap and a water bottle nearby. I don't need much.
4. If you could get any 2019 release right now, what would it be?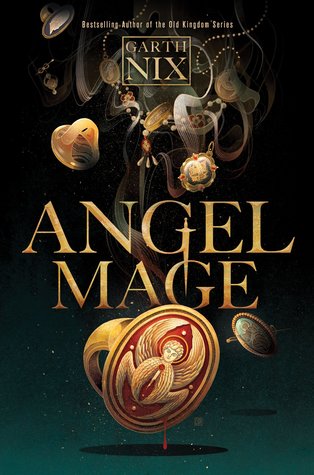 Two words: Angel Mage! This is Garth  Nix's newest upcoming book and after being a fan of him for 17 years, I NEED this next book so bad 😀
5. What's your favorite smoothie combination?
I have a couple. Banana and peanut butter or pineapple and spinach, depending on my mood.
6. If you could have any animal, real or imaginary, what would it be?
I would pick a dragon, so I can ride on it like Toothless 😀
7. What book blogger(s) would you choose to be your superhero sidekick?
I would totally want Mandy and Amanda from Literary Weaponry as my sidekicks!
8. What's your comfort food?
Soup with bread and butter
9. What's the first memory that you can recall?
I remember when I was young that it snowed over 2 feet in the winter! We have to carve a pathway with the shovels to get out onto the driveway to go play with friends
10. What is your favorite Disney movie?
I knew you'd ask that question Mandy! :p If I truly could only pick one, it would be Aladdin (the animated one). Whenever I watched that movie as a kid and even now, I love the songs, getting transported to Agrabah and all the amazing characters, especially Robin Williams as the genie. (Don't ask about my thoughts on the upcoming remake, I hate the idea). But yep that one has a special place in my heart 🙂
11. Who is the first person you usually recommend a good book to?
It depends on the genre. If it's fantasy, I usually tell my husband about it. But if it's historical or contemporary, I talk to my co-workers about them 🙂
I therefore tag the following people. I'm not doing 11 but close enough 🙂
Here are the 11 questions to answer:
Favorite Disney movie
Favorite older book? (year 2000 or older)
Favorite anime or anime movie?
What is a blog post that you're most proud of?
What got you into book blogging?
If you could meet any author (that you haven't met before), dead or alive, who would you want to meet and why?
Do you prefer open ended books or solid endings?
Do you have a favorite audio book, or an audio book that you want to listen to? (from hype or just interest in it)
Who are the book bloggers that you would team up with to make your bookish Avengers?
Who are your top 5 favorite solo artists/bands?
What was a memorable music concert you went to?