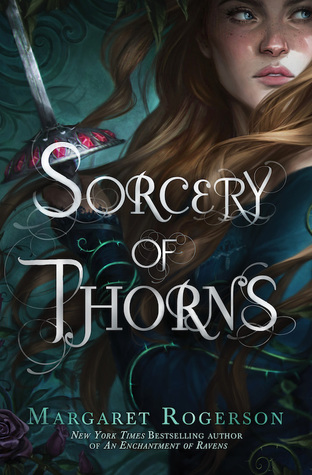 Title: Sorcery of Thorns
Author: Margaret Rogerson
Genre: YA Epic Fantasy
Release Date: June 4th 2019 from Margaret K. McElderry Books
Format: Kindle ARC
**A HUGE and grateful thank you to the publisher and Edelweiss for providing an E-ARC in exchange for a free and honest review. All thoughts are my own and no quotations will be used in this review**
Goodreads Synopsis: All sorcerers are evil. Elisabeth has known that as long as she has known anything. Raised as a foundling in one of Austermeer's Great Libraries, Elisabeth has grown up among the tools of sorcery—magical grimoires that whisper on shelves and rattle beneath iron chains. If provoked, they transform into grotesque monsters of ink and leather. She hopes to become a warden, charged with protecting the kingdom from their power.
Then an act of sabotage releases the library's most dangerous grimoire. Elisabeth's desperate intervention implicates her in the crime, and she is torn from her home to face justice in the capital. With no one to turn to but her sworn enemy, the sorcerer Nathaniel Thorn, and his mysterious demonic servant, she finds herself entangled in a centuries-old conspiracy. Not only could the Great Libraries go up in flames, but the world along with them.
As her alliance with Nathaniel grows stronger, Elisabeth starts to question everything she's been taught—about sorcerers, about the libraries she loves, even about herself. For Elisabeth has a power she has never guessed, and a future she could never have imagined.
It's official that I can say that this book is my TOP book of 2019 so far and I loved every single second of it. Since I loved her debut novel An Enchantment of Ravens, I was dying for her next book. Then Edelweiss came through with an e-ARC and I screamed like a rabid fangirl when I got approved. I also did a buddy read of this book with the lovely Destiny with this book and this was literally everything! I think we always get a tiny bit nervous when we get one of our most highly anticipated books right? I kinda had that, but no worries, this book was epic in every way and Margaret Rogerson can do no wrong. Here are five reasons to check out this book:
Nathaniel Thorn: Nathaniel Thorn is a sorcerer that our protagonist Elisabeth meets in this story. He's not wanting to get involved with her. He's sarcastic and also vain in some ways. But I loved his character.  His humor was hilarious when he was trying to be serious and while he wasn't in the book quite as much as I thought, but he has a good character arc. But some of his lines made me laugh out loud and some of his humor even reminds me of a friend in real life. So his personality was very refreshing.
Fantastic Protagonist: I freaking LOVED Elisabeth so much! Since she's grown up in one of the Great Libraries, she doesn't really know some social customs and freely speaks her mind. But she is also very observant, clever and strong. She doesn't use magic and that was a nice thing to see in a YA novel; while she doesn't use magical powers, she uses her knowledge of grimoires, books and even some fighting skills. There's one scene where she has to sneak into another library and it was SO awesome to read. Elisabeth inspired me with how determined she was to find out the truth and while she doesn't exactly care about what happens to her, she's honest and brave and I loved her.
Creepy Grimoires/Magic: The magic in this world was dark, creepy and also reminded me a bit of Library of the Clayr from the Old Kingdom series by Garth Nix. So in this world, the Great Libraries have classified grimoires on a scale from 1 to 10. Some libraries house more dangerous tomes than others. But the tomes in the libraries are also chained on the shelves are wardens are trained with weapons and salt to combat the tomes if they manage to turn into monsters. There are also demons in this world and sorcerers can summon them in a summoning circle and bargain with them so that the demon serves the family. The dark magic that the characters face, the personalities of the grimoires and the stakes were so much fun to read. Even some parts of the demons freaked me out.
Length: One thing I really loved is how long this book is compared to her debut novel. I think this is in about the 400 page range, so this length gives the proper time to build the world, explore it, show different situations and also give the proper time for both the characters to grow. I appreciate how the author paced this book, with showing how things unravel both quickly and slowly throughout this whole story. No part ever felt like it was being too slow or dragging. There was purpose behind seeing the libraries, the Capital city and the different phases of Elisabeth's journey.
Empowering Themes: The final thing that I loved about this book were the themes of courage, bravery and also seeing people as they are. Elisabeth is both naive about many things, but still brave and she messes up as she learns things. I related to how she had little to go on for her journey, but knew the stakes and kept going no matter what. I also liked how she realized how wrong her perceptions were, especially about Nathaniel. The way they learn about each other felt organic, funny at times and of course a sweet romance. Elisabeth became empowered by her knowledge, bravery and also the love that she develops. Nathaniel even comes to learn how to accept life and live it. Rogerson takes simple themes and really brings them to life in books.
Bonus Points: I felt like the inspirations to the Old Kingdom series made my heart so happy. There's a white cat int this book and the libraries gave me vibes of the Library of the Clayr that I had previously mentioned. All the bonus points for making my nostalgic self overjoyed.
Overall: This book is practically perfect to me. I got creeped out, felt wonder and awe, laughed out loud and also had the happy feelings with the romance. I promise that if you liked her first book, you're bound to love this one too. Go request if you can or pre-order this book! This 2019 book blew me away and I'm gonna keep shouting its praises.
Rating:
Have you read this book yet? If so, what did you think of it? What other 2019 upcoming fantasies have you loved? Let me know in the comments!