Title: The Kingdome
Author: Jess Rothenburg
Genre: YA Sci-Fi
Release Date: May 28th 2019 from Fierce Reads
Format: Kindle ARC
**I requested an ARC and was approved for an ARC of this book via NetGalley in exchange for a free and honest review. All thoughts and opinions are my own and no quotations will be used. A huge thank you to the publisher and NetGalley for the review copy**
Goodreads Synopsis: Welcome to the Kingdom… where 'Happily Ever After' isn't just a promise, but a rule. 
Glimmering like a jewel behind its gateway, The Kingdom(TM) is an immersive fantasy theme park where guests soar on virtual dragons, castles loom like giants, and bioengineered species–formerly extinct–roam free.
Ana is one of seven Fantasists, beautiful "princesses" engineered to make dreams come true. When she meets park employee Owen, Ana begins to experience emotions beyond her programming including, for the first time… love.
But the fairytale becomes a nightmare when Ana is accused of murdering Owen, igniting the trial of the century. Through courtroom testimony, interviews, and Ana's memories of Owen, emerges a tale of love, lies, and cruelty–and what it truly means to be human.
YOU GUYS! This book took me down a rabbit hole of a glorious Disney-esque theme park, but lurking in the shadows was a mystery and shocking revelations that awaited me. I consumed this book within 24 hours and I was nearly like this when I finished this book: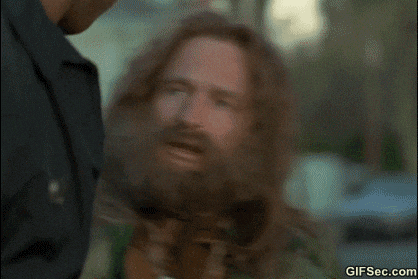 This was book was such a trip as we follow Ana, one of the Fantastist princesses that was created for this park. There's a mystery surrounding this book in whether she killed Owen, a park employee and we have the normal story prose from Ana's POV but also court transcripts as we dig deeper into this mystery. This book IS competing with Sorcery of Thorns for my absolute favorite book this year. Here's my five reasons to experience this original, thrilling and fascinating book.
Theme Park Setting: This setting of The Kingdom theme park was both fantastic in its scope and ideas, but also creepy knowing that there's darkness behind the scenes. But I love that this is totally inspired by parks like Disneyland/DisneyWorld with the princesses, the animal kingdom, tea time and other things that are mentioned. I hadn't read any YA book centered by a theme park and it was honestly refreshing.
Ana, our protagonist: Ana is one of the seven Fantasist princesses created specifically for The Kingdom. Along with six others, they wear ball gowns, take pictures with children, do the normal dances and acts that the princesses would do. They're programmed to make the tourists happy and mainly to obey. But when things start to slowly go out of control, Ana questions if her home really is safe. I really felt for Ana as she tried to uncover the truth and try to process what happens to her. She's not human, but starts to have thoughts of her own and have feelings that aren't part of her programming. It does scare her that something isn't "routine" but after seeing the darkness behind the scenes, her innocence is shattered. I loved seeing her journey as she tries to figure out if she can be human and her fate.
Mystery/Thriller plot: This mystery of whether Ana really did kill Owen is such an addictive ride. There's court and interview transcripts along the normal prose that show the moments before the trial and post trial. The author did a masterful job of keeping you on the edge of your seat, with giving you tiny details and a gradual build to the truth. I really questioned if Ana did kill him and the predictions that kept coming throughout. Things can get really dark with themes of sexual assault, moral agency of non-humans, abuse of the animal hybrids, corporate greed and cruelty. As you peel back the curtain on The Kingdom and all of its secrets, it made me both squirm and keep reading to the point where I wanted to not sleep in order to finish the story.
It's possible: With how much technology keeps evolving and how much we depend on it now, I can see how a park like this could be a high possibility. The park has genetically engineered animals (many of whom are actually extinct), a monorail going all over the castle, a full living ocean for sea shows, an authentic African safari with the heat to boot and also the lifelike princesses. The author doesn't shy away with how excessive and kinda terrifying a future like this could be. There's mentioned of effects of the ice caps melting, things no existing anymore and of course extinct animals. This park is where any dream of kids can come true and it feels entirely believable throughout the story.
It's a standalone: While there is a possible way to have at least one more book, I loved that this was a standalone book. The pacing was perfectly balancing the mystery plot line, as well as the gradual descent as Ana uncovers the truth. The author was a editor for many YA books, so she shows her skill at balancing tension, wonder, a budding romance, innocence and the important themes/questions posed throughout the story. This is a book that answers many questions and builds the world while moving the story along seamlessly. While I do want more purely on how much I loved it, the ending is fitting and satisfying. While I know some people might want the few loose threads answered, I didn't mind it at all. I got what I needed for the main story to be solved and it completely sucked me in to where I wanted to refuse sleep in order to finish.
Overall: This book is pretty much perfect. It completely made me forget the real world around me which is very rare for me. I devoured this book as fast as I consume chocolate. This book is original, thrilling, seriously dark at times but perfectly balanced with writing, characters, plot and keeping the mystery fun and engaging. I cannot recommend this book enough. This is a new book that sets itself apart with other YA being published and Jess Rothenburg is now an auto read author for me.
Rating: 
Have you heard of this book? Is it on your TBR? If you have read it, what did you think of it? Let me know in the comments!