Happy Saturday everyone! I'm so happy it's time for another weekend. It's time that I did another TBR Highs & Lows that was created by Destiny at Howling Libraries. This is a really fun post to talk about both exciting things that you've added to your TBR and the ones you're not so sure about. Let's get right into it!
Rules
Link back your post to the original one here
Sort our your Goodreads TBR by date added, ascending
Find 5-10 or more books that are at the bottom of your TBR or books you have removed from your TBR
Post the number of books and give a brief explanation
Next, sort your Goodreads TBR by date added, descending
Find 5-10 or more books you've added to your TBR and explain why you added them
LOWS (Keep or Delete?)
Brightly Woven by Alexandra Bracken: This is her debut novel and the reviews are pretty "meh." I don't know if I'll ever get to it
Little White Lies by Jennifer Lynn Barnes: Now that I look at the synopsis again, I don't think this book is for me. The whole being paid lots of money just to dress up seems silly and I've heard that the book is too long and the mystery isn't as present as the dust jacket makes you think.
The Darkdeep #1 by Ally Condie and Brendan Reichs: Mandy gave this book a terrible review and some other reviews I follow on Goodreads haven't been good about this book either. While I do like middle grade, I don't know if I want to read this one since the majority of friends didn't like it.
Slayer by Kiersten White: I've seen many Buffy fans that I follow (and trust their reviews) hate this so much! I know that this is a spin off for Buffy, but since I love the show so much, I think I've lost interest. Some liked it fine, but I don't think I'll waste my time anymore.
Lies You Never Told Me by Jennifer Donaldson: This is another case where I've lost interest. Some booktubers got this book for review and while some of them liked it, the plot sounds too dramatic for me to be intrigued enough to try it. So I'm gonna remove it.
HIGHS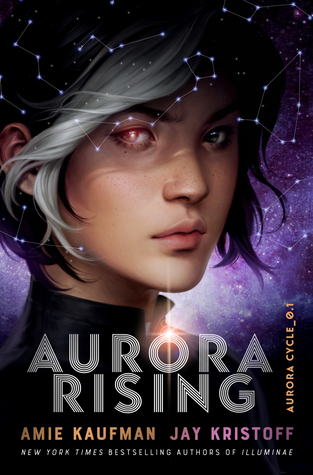 Come Find Me by Megan Miranda: I found out about this book from Kayla from the Booktube channel "booksandlala." She gave this a very high rating and she's very picky with YA mystery/thriller books. This about a girl and a guy who lost both their brothers. Then there's radio signals and the mystery surrounding that. I have been interested in this book since that review, so onto the TBR it goes.
Aurora Rising by Amie Kaufman and Jay Kristoff: I finally caved and added this highly talked about book on my TBR. I never finished Illuminae but I'm excited for this one about a ragtag group of characters in space. Both authors are very beloved in the community so I thought I would give it a try.
Start Here by Trish Doller: I saw this book Edelweiss to request and the synopsis had me interested. This follows two teens who go on a life-changing sailing trip after tragically losing their best friend. These kind of stories are ones I think we can relate to at any age if we lose a dear friend. I haven't read this author yet but I hope it's a good one.
Remember Me by Chelsea Bobulski: If you saw my Waiting on Wednesday this week, then you saw me get super pumped about this upcoming horror book. This follows a girl who comes to a hotel that has a murder mystery surrounding it. I've heard that it's pitched as "The Shining meets Titanic" and how cool of a pitch is that?
Kingdom of Souls by Rena Barron: While I'm not sure if this is adult or YA, this sounds awesome no matter what! This is about a girl who comes from a powerful family of witchdoctors, but continues to see disapproval from her family as her magic continues to elude her. But she trades years of her life for magic and that brings serious consequences. It's also being compared to a Wonder Woman type story and I'm HERE for that!
A House of Rage and Sorrow (The Celestial Trilogy #2) by Sangu Mandanna: This is the sequel to A Spark of White Fire which was one of my favorite books of last year and I SERIOUSLY can't wait for this next installment. This series is a seamless marriage of fantasy and sci-fi and political intrigue. I highly recommend the first book if you haven't read it yet 🙂
Song of the Crimson Flower by Julie C. Dao: THIS COVER! SO STUNNING! It stole my heart when it got revealed. This is another companion novel set in the same world as Forest of a Thousand Lanterns. This is about a girl who rejects a boy, but regrets her actions and tries to return his prized flute, not knowing his soul has been trapped by an evil witch. I've heard such amazing praise about Forest of a Thousand Lanterns and while I've heard you can read them separate, I'm still excited. I've been following Julie's social media for a long time and she's such a great person and I want to support and boost this book to support her 🙂
Dark Shores #1 by Danielle L. Jensen: I have been following the bookstagram tour for this book and it's on my radar now after seeing all the great pictures and the synopsis. I really like the cover, but kinda forgot about it until now. But it looks like a sea adventure with pirates! What's not to love? I have high hopes for this one 🙂
Scavenge the Stars #1 by Tara Sim: BEHOLD THE GOLDEN JEWEL! If I could do nearly anything to get an ARC of this book, this is the one! This is a gender bent retelling of The Count of Monte Cristo! Here's the Goodreads synopsis: When Amaya rescues a mysterious stranger from drowning, she fears her rash actions have earned her a longer sentence on the debtor ship where she's been held captive for years. Instead, the man she saved offers her unimaginable riches and a new identity, setting Amaya on a perilous course through the coastal city-state of Moray, where old-world opulence and desperate gamblers collide. Amaya wants one thing: revenge against the man who ruined her family and stole the life she once had. But the more entangled she becomes in this game of deception—and as her path intertwines with the son of the man she's plotting to bring down—the more she uncovers about the truth of her past. And the more she realizes she must trust no one…Now I've only seen the 2002 film version of Count but the general story is so interesting and has been a classic I've always wanted to attempt. But adventure stories like this feel kinda rare nowadays and I'm READY for a swashbuckling adventure like this 😀
What LOWS should I truly remove or keep? Have you read any of these? Are you anticipating any of them as well? Let me know in the comments!