Happy Monday everyone! If any of you celebrated Easter, I hope it was a great and fun holiday for you. I'm coming to you all with another double review. I've been spotty on here the last couple of weeks but I've gotten some reading done. While I didn't love either of these books, they still have aspects of them that some people will love and I do recommend you guys to at least try these books if they sound interesting to you. So let's jump in 🙂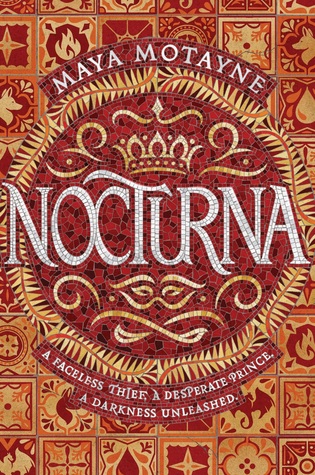 Title: Nocturna (A Forgery of Magic #1)
Author: Maya Motayne (Debut)
Genre: YA Fantasy
Publication Date: May 7th 2019 from Balzer + Bray
Format: Kindle ARC
Goodreads Synopsis: Set in a Latinx-inspired world, a face-changing thief and a risk-taking prince must team up to defeat a powerful evil they accidentally unleashed.
To Finn Voy, magic is two things: a knife to hold under the chin of anyone who crosses her…and a disguise she shrugs on as easily as others pull on cloaks.
As a talented faceshifter, it's been years since Finn has seen her own face, and that's exactly how she likes it. But when Finn gets caught by a powerful mobster, she's forced into an impossible mission: steal a legendary treasure from Castallan's royal palace or be stripped of her magic forever.
After the murder of his older brother, Prince Alfehr is first in line for the Castallan throne. But Alfie can't help but feel that he will never live up to his brother's legacy. Riddled with grief, Alfie is obsessed with finding a way to bring his brother back, even if it means dabbling in forbidden magic.
But when Finn and Alfie's fates collide, they accidentally unlock a terrible, ancient power—which, if not contained, will devour the world. And with Castallan's fate in their hands, Alfie and Finn must race to vanquish what they have unleashed, even if it means facing the deepest darkness in their pasts.
**I received an ARC of this book from the publisher via Edelweiss in exchange for a free and honest review. All thoughts and opinions are my own and no quotations will be used**
DNF @ 20%
I had such high hopes for this book! I was so stoked to see another Latinx inspired world, since I've read Labyrinth Lost and the whole Girl of Fire and Thorns trilogy. I will say that the world building is just perfect and exactly what I had hoped for. Since the author shows her Dominican heritage in this fantasy, this world is alive with mango trees, haciendas, tile work and all the food. It's vibrant and so so great. I know a book like this will really speak to so many #ownvoices readers and reviewers. Also the bits of history and the magic that I did read were great and seamlessly fit into the world and possible larger picture for the sequel.
But this book fell very flat with both the main leads. Alfie only thought about how he just couldn't measure up to his brother and he needs to find a way to bring him back, since he's very sure that the brother isn't dead. This is repeated SO many times without any deeper look into why he feels unworthy to rule and why he left for a time. All there was to him was making stupid decisions (and not being sneaky about it), thinking of no one else and never thought about what he did. I feel like I'm seeing a trend of this lately where characters just make sudden decisions but we don't see why they get to that point.
Then we have the female character Finn who just feels like a copy cat of Lila Bard from the Shades of Magic series by V.E. Schwab. She felt exactly the same to me, with being a sly character being very sure of herself, super gifted with an ability that no one else has and very much like Lila Bard. Both of these characters didn't have much to build them up in the beginning. They were very surface level and many of the scenes I read with them talking with each other felt repetitive.
The story never seemed to really go anywhere in the 20% that I read, despite a few scenes of talking about the magic and the world's history, which again, was well done. The story just didn't offer me anything interesting to keep reading. The main plot point had barely even started picking up by the time I put it down. Many reviews have said that there's a 35% mark before the main story even starts and that is a hard sell with some books to me. Both characters felt very one dimensional and felt like they were other characters from popular series.
Overall: I wanted to love this, but the magic and world building weren't enough to keep me invested. If you like the Shades of Magic series, then you might like the similarities. I do recommend that own voices readers do check this out and boost it. I can see many people enjoying this but I wasn't one of them. I will try another book by this author in the future though.
Rating: NONE (since I DNF'd)
♦♦♦♦
Title: Missing, Presumed Dead
Author: Emma Berquist
Genre: YA Urban Fantasy/Mystery
Release Date: May 21st 2019 from Greenwillow Books
Format: Kindle ARC
Goodreads Synopsis: With a touch, Lexi can sense how and when someone will die. Some say it's a gift. But to Lexi it's a curse—one that keeps her friendless and alone. All that changes when Lexi foresees the violent death of a young woman, Jane, outside a club. But Jane doesn't go to the afterlife quietly. Her ghost remains behind, determined to hunt down her murderer, and she needs Lexi's help. In life, Jane was everything Lexi is not—outgoing, happy, popular. But in death, all Jane wants is revenge. Lexi will do anything to help Jane, to make up for the fact that she didn't—couldn't—save Jane's life, and to keep this beautiful ghost of a girl by her side for as long as possible.
**I received an ARC of this book from the publisher via Edelweiss in exchange for a free and honest review. All thoughts and opinions are my own and no quotations will be used**
When I got approved for this book, I was so excited to see how this sophomore book would be because I love her debut novel Devils Unto Dust so much and it was a favorite book last year. I was also interested to see how she would do a different kind of story, which feels like an urban fantasy. The book is set in our world and people like Lexi has a magical ability and a man named Urie is the head guy who runs a club that employs people like Lexi. But they're also a tight knit community and look out for each other and Urie helps to provide for them as long as they follow the rules to help them stay safe. But unfortunately, this book really disappointed me and I'm so bummed!
The first problem I had with this book was the pacing. The cover makes it look like a dark murder mystery/thriller type book, but it didn't feel that way for most of the book. I felt like nothing was going on except the characters arguing, being angry or twiddling their thumbs. It didn't feel like they did enough to go out and find answers, despite having to wait for one. So the middle into the three quarters mark felt very repetitive with the same information and nothing moving the story forward. I kept waiting for something important to happen, but it felt like anything of real consequence didn't happen until towards the end.
The second problem that I had was the main character. Lexi is a very hard person, being drained and tired in every way from her ability to see how people die. That does create a major problem with building relationships, so to a point, I did understand why she was that way. But I will admit that when she didn't have any character growth bothered me. I get that many people don't really change and that books are only one small part of a character's life. But as she gets to know Jane more and gets deeper into this mystery, you would think that with Jane caring about her would've helped her loose a little bit of her hard edge. But with her being a very hard person, it's hard to root for her since she never seemed to allow herself to really care.
The final problem I had with the book was the romance. There is a female/female romance in here that becomes a focus of the story, but it didn't sit well with me. In Lexi's POV in the book, she admitted to herself that she would rather have her love interest be sad, cruel and angry like she was instead of happy. That direct statement really didn't sit well with me and that's not a healthy relationship. That kind of thought made it really hard for me to root for someone who doesn't want others to be happy, only miserable like her. I know that people do think that way and we all do at some point, but it never changed and the love interest never thought it was a problem with how badly she was talked to or treated sometimes. This could be a personal preference, but I didn't like how it seemed like a toxic relationship and didn't feel addressed.
But despite not enjoying this book, I will read her other books in the future. I did try my best to enjoy this book, but my main problems were too much to overlook. If you are interested in reading this book, definitely give it a try if you want to. I personally would recommend her debut novel instead. This was a major bummer.
Rating:
Have you read these books? If so, what did you think of them? Let me know in the comments!